1982 Toyota Corolla SR5 (TE72 liftback) 5 speed $650
Pittsburg, CA 94565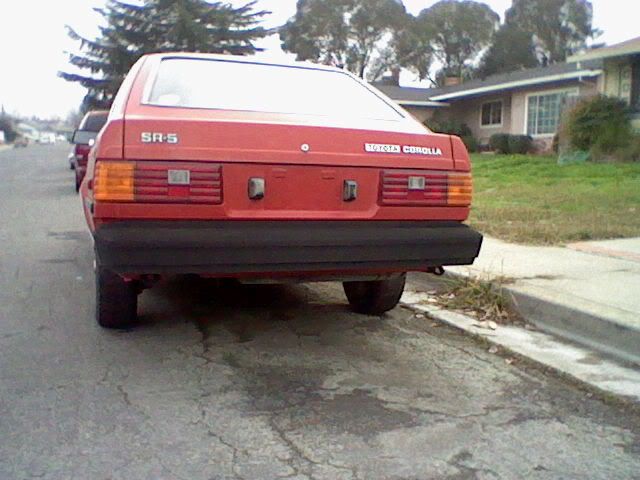 Thanks for your interest I got this vehicle from an auto dismantler in Sacramento. They said it wouldn't run but I took a gamble on it. Towed it home, charged the battery and sprayed some starter fluid down the carb and it has run without flaw ever since. I have used it to commute without issue.
It has a 3TC motor with 213XXX miles. Runs fine, might need a little carb tweaking
No power steering, Manual (crank) windows.
I've installed a new (lightweight) starter and changed the motor oil / oil filter, transmission fluid and fuel filter as well with receipts. Threw on an MA61 shift knob because the other one was pretty mangles. Comes with original owners manual, as well as a Haynes manual.
I received the vehicle as a SALVAGED TITLE because that is the only way the Auto Dismantler sold all of it's vehicles. I DO have the pink slip in hand, ready to sell immediately but I am NOT in a hurry.
To get this vehicle road LEGAL again, you will need: A muffler replacement in order to pass smog visually and tags as they are expired. You may need a brake and light inspection as well which is standard for getting Salvage Title vehicles back on the road again.
New tires and brakes wouldn't hurt either.
So you know what you're buying:
The rear end is blown and needs a desperate replacement (still drives fine). Right now it has a solid axle suspension but you can replace the rear end with one from a Corolla GTS if you like. This way you will gain Limited Slip Differential options for the rear suspension.
The rear end has held up without issue my whole time driving it – commuting to SF for work, over the bridge, etc – but it does make a constant noise as you drive.
There are also manageable areas of rust / rot at the bottom of the passenger door.
Slight dings to be expected from a vehicle of this age
And the paint is in need of some love as well. Wax works wonders as far as I have tried on it.