Discussion Starter
·
#1
·
Hi,
I posted earlier about a unidentified water leak that pools water in the back seat floor boards. The dealer said it was coming from a 3rd party 3 seat that I installed a few months ago. I couldn't see how since there were only 2 holes that were drilled that went to the out side strait under the tire compartment. The dealer wanted me to take the car home for the holiday and they would repair and reseal the holes that I made. They made the mistake of giving me the car back with everything torn out of the auto. Well guess what?
It's been raining for 4 days now and I found the problem. It's coming from the passenger side rear tail light assembly! I didn't think it was coming form 2 holes with bolts in them strait underneath the car! What pisses me off the most is that they didn't do a good job diagnosing the problem. It took me(actually my 11yr old daughter) 2 minutes to figure it out. We have new carpet on order and due to be installed tomorrow. If I hadn't found it. We would have shelled out over 1000+ bucks only to get wet again! I've bought 4 toyota's in my life. I've loved them all. I've had great service from "Stevens Creek Toyota" for all my services on all my cars. I'm very disappointed is a understatement. To top it off. They gave the Highlander back to my wife without windshield wipers. And did I say it's been raining for 4 days!? I'll let you all know how goes when I talk with the service rep in the morning..
Next Day:
The problem ended up being a crack in the unibody seam in the rear hatch door. The seam just above the compression piston bolts. They ended up putting some silicone over it and charging me 1200.00 for new carpet and trouble shooting. No warranty coverage.!
I'll be talking to upper management on monday!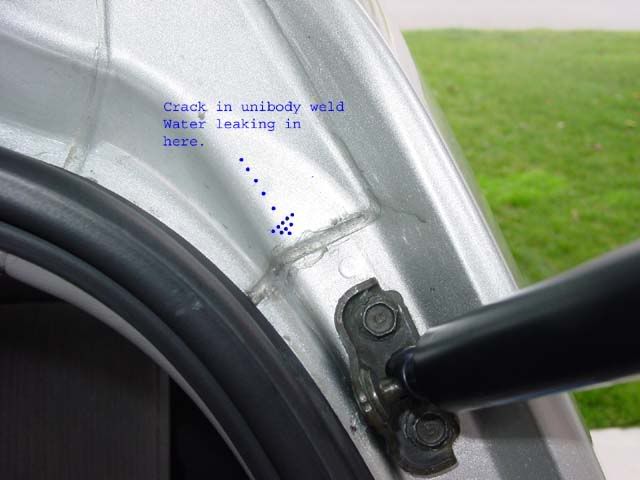 http://www.coastsidefishingclub.com/forums/user_uploads/263137-Toyota0copy.jpg