I've been talking to Marv and he's had a few requests for enclosures and baffles. He offered to do a groupbuy if more people are interested. He also has a few subs for a project that didn't go through so he is offering them with the enclosures.
The first three packages will be the two seperate sealed enclosures with amp rack in the middle and (2) 10" Subs. The subs are the Arc Audio Arc10D4 Subs.
http://www.arcaudio.com/arc-05/subwoofers/arc_10d4.htm
Do a search on some Car Audio forums and you will see these are
very
highly regarded subs for their sound quality, accuracy and the also hit hard too
. They will work well off 200-350 watts rms each.
The enclosures will be part MDF and part Baltic Birch. Very nice stuff.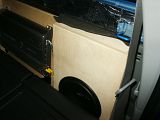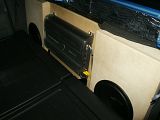 The price of this setup will be 630-640 USD shipped depending on your location. 3 of these sub/enclosure/amprack packages are available. Normally this would sell for 750 plus shipping.
If you would like to add all 4 baffles, front and rear, add 50 bucks.
If you would like the dual enclosure/amprack alone without the subs the groupbuy would be 250 plus shipping. Shipping is usually 30 bucks to the west coast and 40 bucks to the East.
If you'd like a single 10" or 8" enclosure it would be about 175 shipped. You can also add 4 baffles for 50.00 if you want baffles too.
The baffles are cut to the exact diameter of the speakers you will be using. Or they can just be cut out to your normal 6.5" mounting diameter. (6.5" Round Speakers rec'd over 6x9's)
He lives in Seaside, Northern California(By Monterey) if you'd like to pick it up local.
I can help you find a deal on a sub for the enclosures that don't come with a sub.