My 2008 Tacoma build
Updated 10/11/2018
Well, after several years of dreaming, I finally purchased my dream truck! I don't know how heavily I will mod my truck as I am not what you would refer to as a "hardcore" off roader, but I do a bit of mild off roading to get to my hunting and fishing area's, and I do enjoy playing in the mud on occasion.
SPECS:
08' Toyota Tacoma SR5
Double Cab, Short Bed
TRD Off-Road, Rear Locker
4.0 V6 5 speed Automatic
Indigo Ink Pearl
Purchased on October 20, 2007
Stock, a few days after I brought her home...
I lifted it in May of 2008 with 885 OME coils, TC UCA's and 1 1/2" rear block.
Here she is a little less stock, post-lift, pre-tires.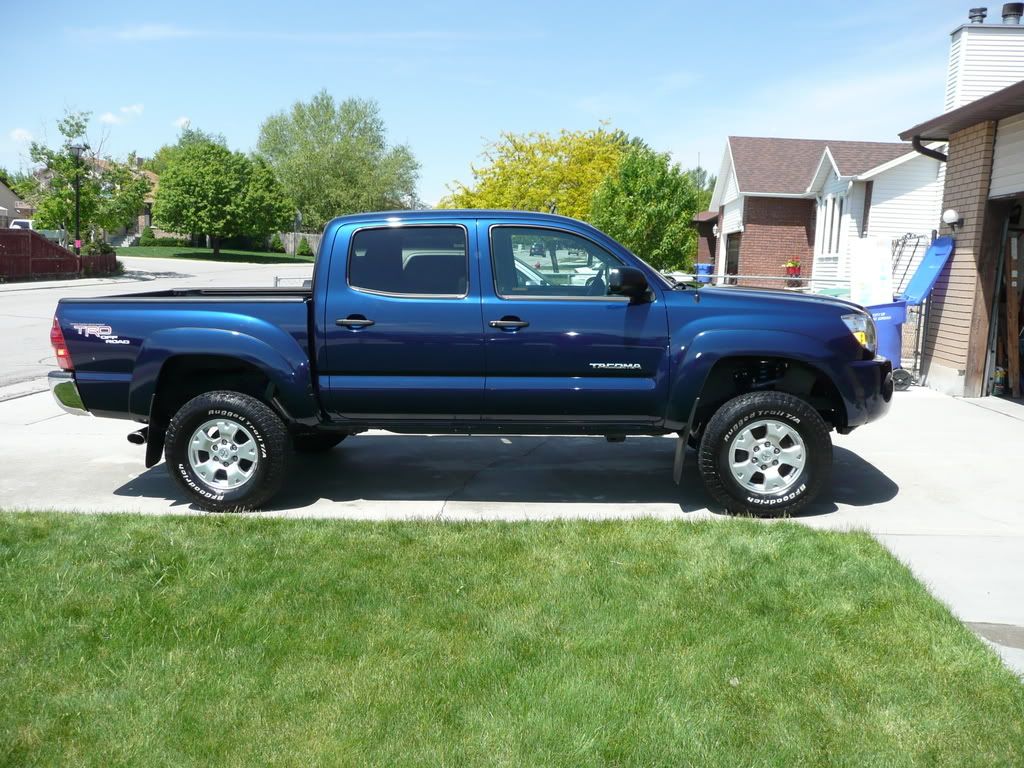 Here she is with OME lift, 17x9 Moto metal 951's, and 285/70/17 Cooper Discoverer STT's in January of 09'.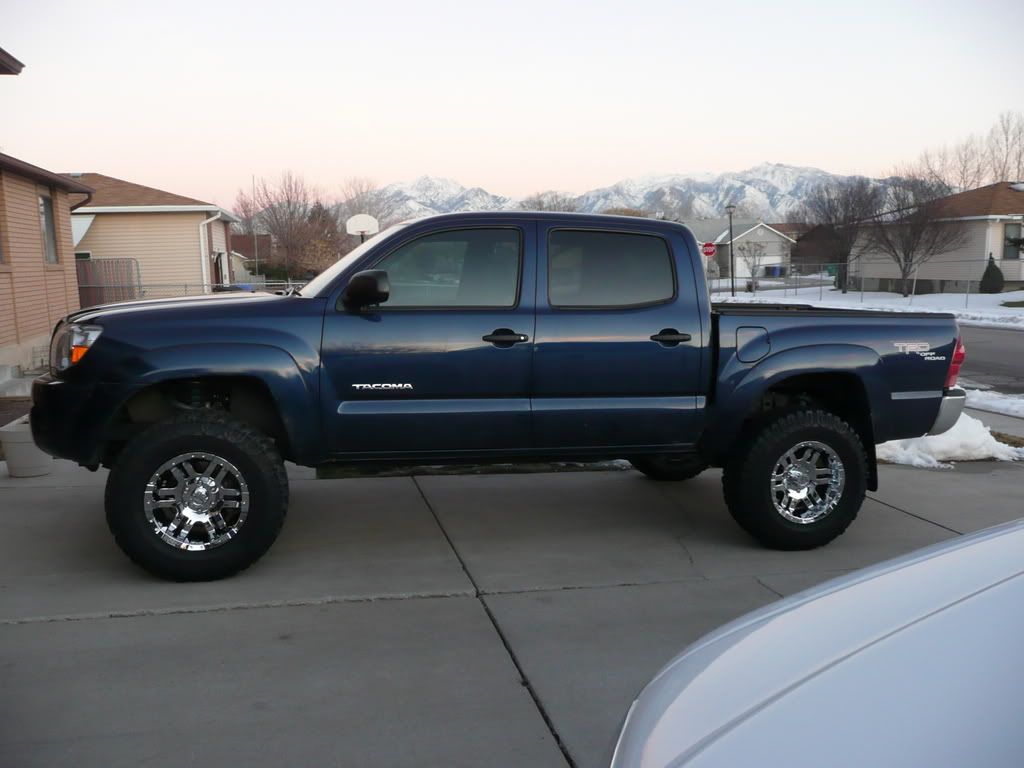 In Feburary of 09' I removed my OME lift after having problems with vibes from the front differential. I ran the truck stock except for 265/75/16 BF Goodrich AT TA KO's.
For Christmas 09' my fiancee bought me a colormatched grill and Grillcraft insert. I ordered a TRD emblem off ebay to go with it. Here it is installed...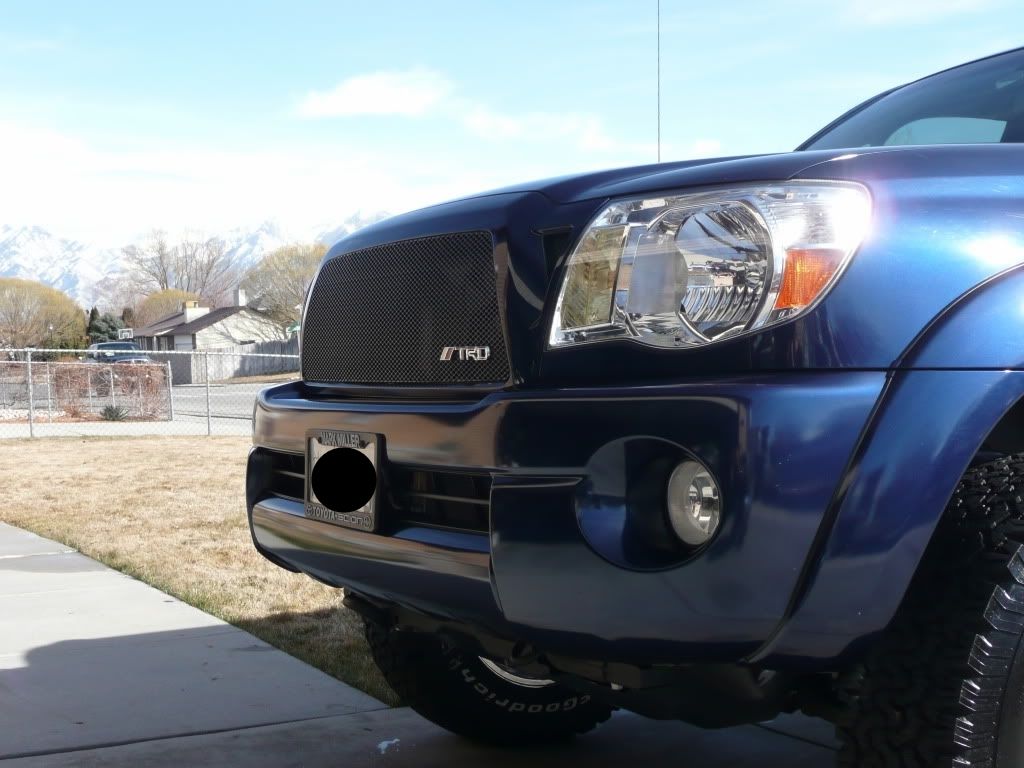 After running the truck stock for a year I grew bored with the look of my stock truck. In Febuary 10', after much debate I ordered a complete set of Bilstein 5100's. I installed them set at 1.75" of lift to level out the truck. At the same time I put the 17x9 Moto Metal's, and 265/70/17 BF Goodrich AT TA KO's back on the truck. This is how the truck sits today....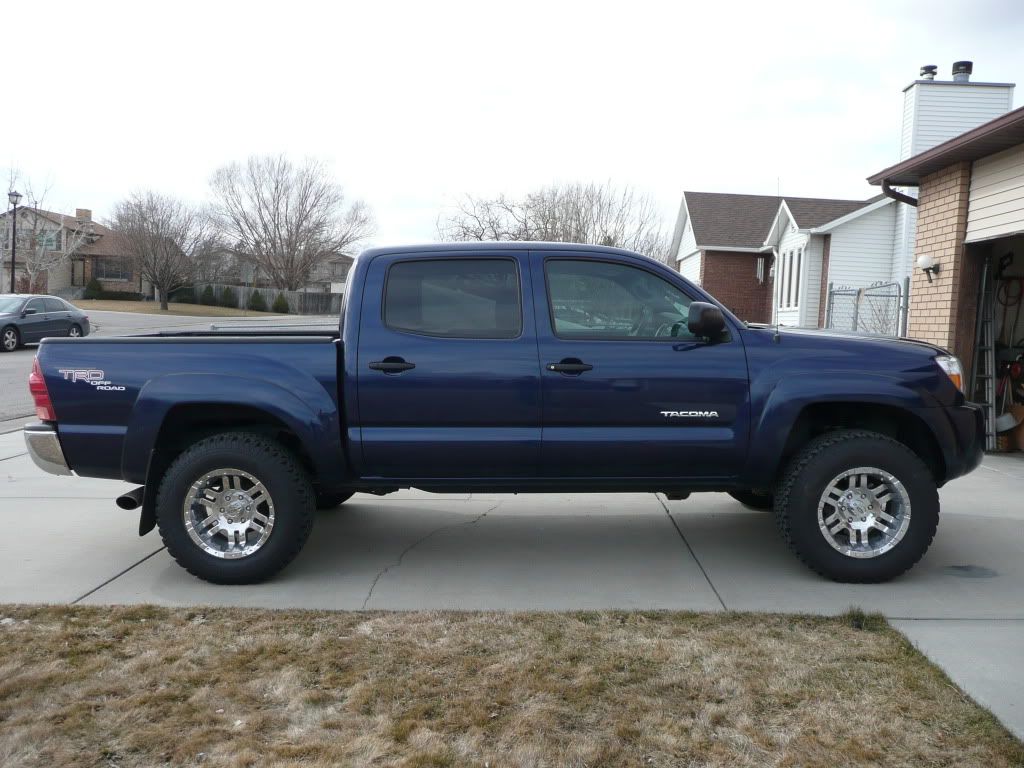 Finally added Wet Okole seat covers thanks to a hook up from a fellow TN member, although it is only the fronts, it is a start! Specs are Navy/Black with Navy Half piping.
Auto-dim/Homelink Mirror
BAMF 100% Bolt On 80" Sliders added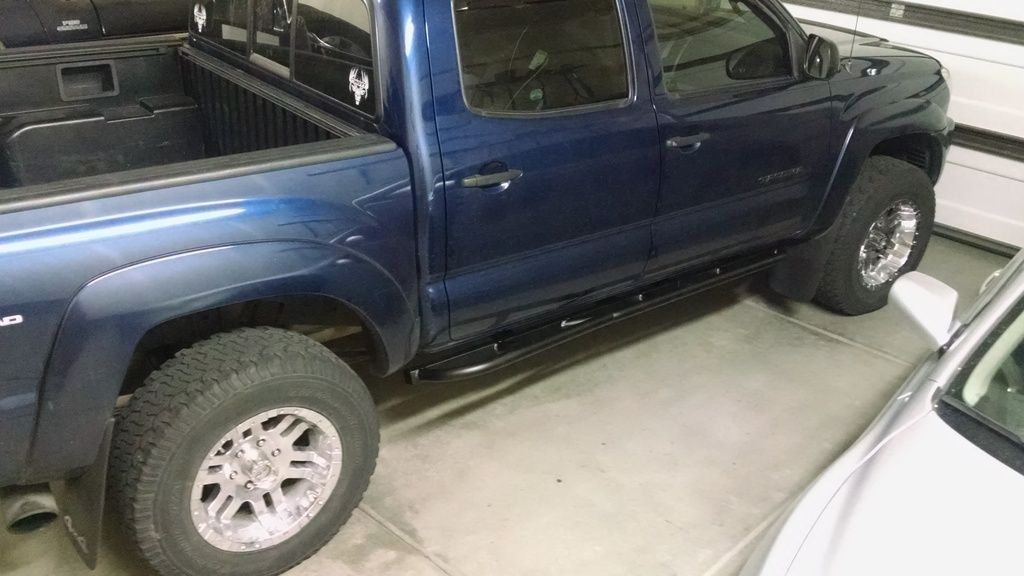 CURRENT MODIFICATIONS:
1. Recall leaf packs w/Toytec AAL
2. TRD exhaust
3. Toyota RS3200 Plus Security System
4. Pioneer AVH-2330NEX headunit with backup camera
5. Front windows tinted to legal limit (50%)
6. Bilstein 5100's all the way around with the front set at 1.75"
7. 17x9 Moto Metal 951's
8. 265/70/17 BF Goodrich All Terrain TA KO's
9. Color matched grill w/Grillcraft insert
10. Illuminated 4wd Switch
11. Hypertech Speedo/Odometer Calibrator
12. Wet Okole seat covers (Complete set) Navy/Black w/Navy half piping
13. EGR In-channel vent visors
14. Toyota Bed Mat
15. TRD Skid Plate
16. Plasti-dipped emblems and rear bumper
17. Auto-Dim/Homelink Mirror
18. BAMf 100% Bolt On 80" sliders
19. OEM Roof Rack
20. ECGS Front Diff Bushing
FUTURE MODIFICATIONS:
1. Dash Light swap to white or blue
If you have any questions, don't be afraid to post them up! I hope you enjoy reading through my build!