Discussion Starter
•
#1
•
My '12 Camry is coming up on 100K miles so I decided to change the coolant myself instead of having a shop or the dealer do the job. I've flushed antifreeze out of a 1/2 dozen or so vehicles in my time, but this is the first time for a Toyota ... and one of the most perplexing too I might add. Since this car's AR2FE engine has no block drain plug I had to drain, and re-drain the radiator until I thought all the factory installed coolant was out. Will explain further, but now that I'm finished I'm left wondering if I really did get all the original coolant out. Plus, as much as I searched Toyota Nation, Google, YouTube, and so on, there really wasn't much available showing a coolant change for the 7th generation Camry 4 cyl's.
OK, my weapons of choice were the Lisle funnel (thanks to the Toyota Nation posters who tipped me off to this cool little gadget) and some OEM brand
concentrated
Toyota coolant Pep Boys was selling on Amazon a few months ago. At $12/gallon I thought it was a steal too good to pass up.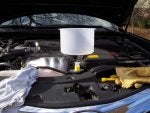 All I did was open the radiator drain valve and wait patiently for the coolant to flow into the catch pan. It was slow ... took about 15 minutes for the antifreeze to stop draining. I figured about 5 quarts came out with each drain. I pulled off the lower radiator hose a couple of times, but nothing came out, as the drain valve seemed to empty the radiator completely. The pic I posted of the lower hose shows what I saw the moment I pulled it for the 1st time (i.e.: nothing).