Hello Everyone !
Got a Gen 2 1989 and AC is not working.
This is what I have done so far:
I have a bunch of spare Camry's that I can steal from so I am lucky.
Evacuated & Charged system with 1 can Freon & Green Dye.
Compressor engages and everything gets cold but as soon as the can goes empty the AC Stops blowing cold. hmmm:facepalm:
Since it held a good vacuum for 20 min I was puzzled.
Hooked up the gauges and applied 12volt to the wire going to compressor to force engagement.
Found pressure at only 20 on Low & High showing something not holding pressure. ( maybe the Expansion Valve inside the AC Box under Dash EEEEKKKKK ).
Took my Yellow Glsses and Ultra Violet Light, pulled my car into the dark garage looking for any sign of Green Dye evidence ... NONE!
Proceeded to search forum then found thread by Dr. J on a tool to make to pressure test each unit separately . (THIS HELPS TO ELIMINATE UN NEEDED REPAIRS AND WASTED TIME). I would not want to tear the dash apart if not needed.. Right?:lurk:
Tested the Compressor... Fine! .. Tested front Components ... Fine! Then I proceeded to test the evaporator and WAA LAA Fast Leak Down! :rtfm:
Guess what I get to do now? OPen Up the AC Unit Under Dash :facepalm::cursin:...... OK Feel Better Now Might as well take some pics because I did NOT find any help besides Dr. J on the forum .
:naughty::nopics:
OK , Time to RECYCLE all I can and Start removing the AC Evapoator and Replace the Expansion Valve and or the Evaporator.
TIME TO DO A STEP BY STEP PROCEDURE with pics ON REMOVING THE EVAPORATOR UNIT FROM A GEN 2 CAMRY.
Remove right side glove box and dash unit.​

Loosen 10mm bolt holding hoses to fender well.​

Swivel clamp over top of hoses so you can move them freely


​

Remove 2 Hoses attaching to Firewall and Evapoator (NOTE.....MAKE SURE YOU USE 2 WRENCHES or you can do more damage )​

Do not take out fan or its housing just the attaching screw bolts.​

You might not think that this is loose enough to come out so after making sure you did not forget to remove the rubber wind guard from around the evaporator pipes at fire wall

.. Gently pry the evaporator at top by the upper mounting bolts sticking out of the firewall. Once they clear the bolts it will practically fall out

JUST CLICK ON THE PICS AND YOU SHOULD SEE THEM BETTER.

​



Look what I found!
:argh:



Let's Test the prior pressure test result Theory.
WHAT WAS LEAKING OR LOOSING PRESSURE?




Lets take apart the AC Unit and look who has been living in here!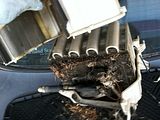 OK GONNA SWAP OUT FOR A TESTED ONE!




PLACE AC EVAPORATOR DRAIN HOSE BACK ON UNIT!

WHEN YOU REINSTALL.... MAKE SURE TO FEED THE DRAIN HOSE THROUGH THIS HOLE AS IF WILL FLOOD YOUR CARPET IF YOU FORGET THIS OR FORGET TO PUT HOSE BACK ON!


​