I wanted to add power lock actuators to my 06 Access cab
Tacoma
, and found that it had a cable lock system, instead of the rod systems I was used to. I also found that there were not a lot of good solutions. I found this system from a1 electric that is designed for cables:
http://www.a1electric.com/install/cable/s-04.htm
but did not like the way you had to modify the stock cable.
Then I found this post showing how someone added locks to a slightly different cable system:
http://www.clubfrontier.org/forums/f9/adding-power-door-lock-actuators-easy-way-42935/
I got some 5/32 round copper tube from ace hardware for a couple bucks.

I cut about a 4 inch piece, then took some pliers and put about 4-5 very small bends (as each one will kink it a bit) to get 30-45 degrees of total bend, then flatten out the end.

Drill a 1/16" hole in the flattened out end.

Now pull off the door latch and lock mechanism, and remove the cable from the lock, then slide the cable through the hole you drilled, and back into the lock. There is enough clearance for the tube to run between the mechanism and the door and still slide freely.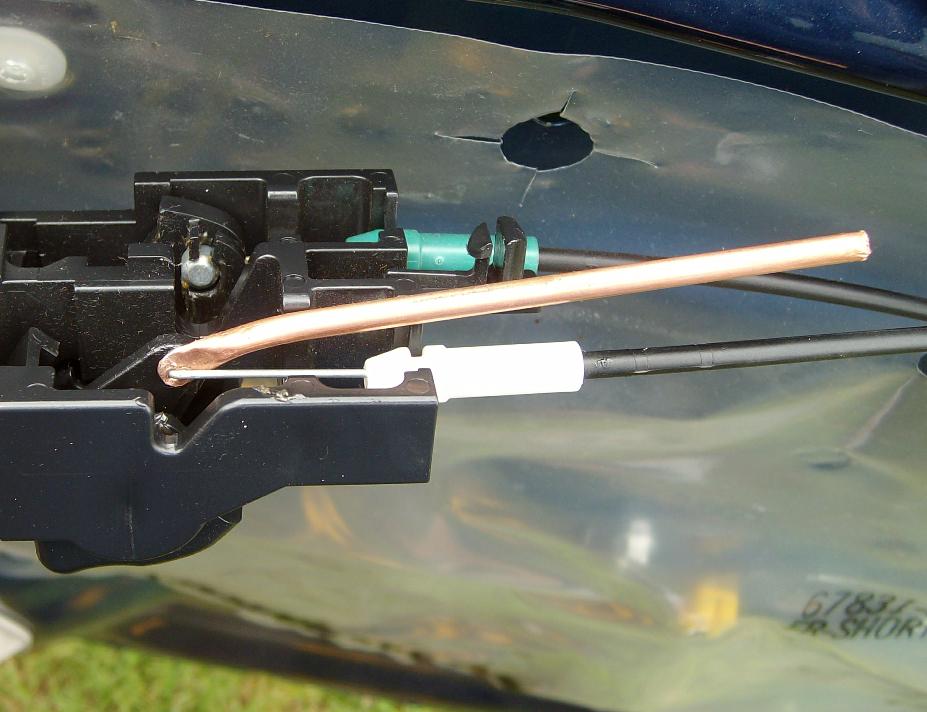 Now slide the rod for the lock actuator into the tube, and use the piece that normally connects the actuator rod to the locking rods, to clamp the rod and the tube together, this gives you adjustability and holds them together.
I mounted the actuator to have a pretty straight shot, so only a very little bend is needed in the rod. The door panel curves out quite a bit, so there is enough room there for the actuators. I left it so far back, because, the door is more flat there for mounting, and the panel curves out a bit more toward the rear, giving you a bit more room for the actuator.
http://www.1bad69.com/gallery/?path=/gallery/tacoma/powerlocks/&MaxCol=3&MaxRow=40
I found that after I got the panel mounted and tightened down, that the front screw was hitting the inside of the panel, so I opened them back up, and trimmed a little bit off the thickness of the mounting point on the actuator (it is basically a plastic tube). It clears fine now (the pic of the actuator is after trimming, I only took a little off with a set of wire cutters).

I did not even have to pull off the plastic to get to everything. I only had to pull the speaker, and reach in from the top.