Hey everyone. After looking through all the excellent build threads, I'd like to put one up of my own. My goal is to get my Corolla into as nice a shape as I can. Before any of the aesthetics can be addressed, I need to make sure she is mechanically sound. It doesn't matter how good my car looks if she isn't safe.
So some background on her, I purchased her for $650 off a random lady who happened to mention that she had a "cheap, reliable car", that she wanted to, "get rid of to someone who needs it". The car I was driving was on it's last hurrah, so I was eager to upgrade to that legendary Corolla reliability.
We met up and I took the Corolla for a test drive. She drove amazingly well. Her air conditioner worked, her interior was acceptable, the paint was alright and there were no serious dents or rust. The fuel gauge and temperature gauge were functional, her blinkers/wipers/hazards all worked and she had a low quality, after-market, cd player with a 160 watt amp + a 12 inch speaker box in the trunk.
She did have some "little" problems but nothing that really concerned me…at the time. Her battery was dead and the terminals/wires were corroded. Her speedometer/odometer didn't work. Some plastics were missing. The temp control levers were missing their covers. The driver side front, outer door handle was broken as well as the driver side, rear, inner and outer door handles. The driver seatbelt didn't retract, the front, passenger seatbelt retracts slowly and the rear passenger seatbelt was stuck and it's missing its slot-guard/bezel. And the front windshield has a nasty crack running about 12 inches down the passenger side. All minor stuff that I figured I could work on as I drove her back and forth to work.
My wife drove the car home that day with no problems. That evening I drove my neighbor and his mom to church and experienced the 1st hint that trouble was on the horizon. I was traveling about 40 mph when suddenly it felt like the car slipped out of gear. The engine was racing as I was pressing the accelerator but the vehicle was just coasting like I was in neutral. I let off the pedal and the car dropped into gear. I made it home without any further malfunctions and figured I needed to check my transmission fluid. It was dark by the time I got home so I didn't address the perceived non-issue.
The next morning the wife and I got the kids loaded up and took our new car to the store. We made it about 2 miles from home when suddenly the engine started racing, we were going like 30-35 mph, the accelerator was floored, the RPMs were crazy high, the car was just SCREAMING and she wouldn't shift. We pulled off the road and killed the engine. The transmission fluid showed full. It was a lovely pinkish-red and didn't smell weird or anything.
We started her back up and headed home via back roads. On the journey home she would not shift out of 1st. We could travel about 25-30 mph but the engine was under serious stress. I didn't have a tach but she sounded like she was at 4500+ RPMs the whole way. Her Check Engine Light lit up and her O/D light started blinking too which indicated a transmission error code. It was so disheartening. We'd owned her for less than 24 hours and she wasn't drivable.
I immediately bought a Haynes Repair Manual and started troubleshooting. I identified a code 12 and a code 42 from the seriously limited OBD1 system that my 94 runs. I'm thankful though because it at least enabled me to feel like I was addressing the correct problems to get the car drivable. Unfortunately, the OBD1 is vague and not very precise. With the odometer/speedometer/cruise control all not working, and the code 42, I figured my VSS was bad. So I got a cheapie, after-market Vehicle Speed Sensor off ebay and tried to install it myself. It didn't fit. Big surprise. So I sanded it down. Poorly. And promptly got it stuck halfway-in. The thing might as well have been welded into the transmission. I spent a full week trying to get it out of the tranny. It was stuck in there so well that pieces of the sensor were breaking off as I was trying to pull it out and it still wouldn't budge! I finally ended up having to drill it out. The whole neighborhood knew when I finally managed to remove that stupid thing!
Take a look at the side-by-side. Stupid, evil thing!
So I ended up just re-using the OEM part but I refurbished it by pulling the sensor out of the aftermarket part and just installing it to the original piece. This technique works PERFECTLY by-the-way. For anyone needing to repair their VSS, buy a cheapie one off flea-bay and just reuse the OEM aluminum housing. It's literally a couple of screws, a spring on a shaft and a plastic piece that swaps right into the OEM housing.
The new VSS eliminated the code 42, my odometer started back up and my cruise control began to work! The speedometer still didn't work but the car seemed to be running fine. I took the instrument cluster out and tried to clean the contacts up and tighten down the speedo gauge screws in the hope that it was just bad contact, but to no avail. The speedometer gauge was bad. The code 12 was still lighting up the C.E.L. and the mysterious shifting problem was still present though intermittent. The wife and I drove the baby to the doctor and the car made it the 7 miles with no mechanical failures. But on the ride home, it started acting up again! Stuck in 1st gear, engine SCREAMING, wouldn't go above 30 mph, same old-same old!
I knew the speedometer gauge was bad so I had ordered a replacement instrument cluster off the interwebs. It arrived shortly after the doctor visit fiasco. I installed it and the speedometer jumped to life. I was so happy to have a totally functional gauge as the wifey is bad at judging her speed and tends to attract police intervention. The car was running so great at this point but the annoying Check Engine Light was still lit up. Mockingly. OBD still read Code 12. No RPM signal to the ECM! Grrrr!
The very next day, not even 12 hours after I had installed the new instrument cluster and the car was doing great, my wife was taking our baby to the store when the Corolla just died. She was at a stop light, the light turned green, she pressed the gas, the car started accelerating and just went dead. The wife realized her speed was not increasing as she was pressing the gas, she tried to pull to the right, off the road, noticed her power steering was gone and the gauges were not showing anything either. Thankfully she had enough presence-of-mind to coast off the road instead of hitting her brakes and trying to re-start the vehicle! The starter was turning but the car would not fire up. We ended up having AAA tow the car back home. So frustrating that the car was finally running strong, the whole time the VSS was stuck, the car was starting up immediately, but the day I get her road worthy, she dies and will not re-start! Ugh!
Thankfully I had come across ToyotaNation when I was researching the car before I purchased her. The resources available here have been a God-send! I had been told from my very first mention of the code 12 to focus on the distributor. So I finally pulled the distributor and found all kinds of bad stuff. The coil module was cracked and the shaft was wrapped in wires. The distributor was definitely a problem. WTF are those copper wires that are wrapped up around the shaft? The crack in the coil module is hard to see but it runs straight across the bottom, starting on the right side, right above where the curve starts. I have no idea what could have caused it either. It drives me batty. How did this thing fail so spectacularly?!:
I made it to the junkyard and pulled a distributor off a 1995 Celica that was showing 150K on it's odometer. The install was a breeze since the tooth can only go in one way. I also marked the old distributor's position in an attempt to avoid shooting the timing. At this point I was praying that my timing belt wasn't broken as I had spent the day scouring the junkyard for a distributor. I am so glad another member here mentioned the compatibility with the Celica as the Corollas were all picked clean. Not a single distributor was remaining. The Celica was untouched tho! With the sun setting I was literally out of time as I reconnected the plug wires. I hooked up the battery, stuck the key in the ignition and she FIRED UP IMMEDIATELY! My wife was standing there praying the car stared as our other car had died on us that morning. And life sucks without a car. I was not relishing the thought of us being a "bus family".
So if you've made it through my story, thank you for reading along. I want to say that this is my favorite car. I am by no means a mechanic and my previous experience was limited to front brakes, oil changes and really basic aesthetic work- seats, mirrors, carpet, wipers, but thanks to this forum I gained the confidence to pull a part off a junkyard vehicle that was a different year and a different model and install it into my non-functional Corolla. And it was an emergency situation. I had to take the day off work, un-paid. There was no way I could afford to take the Corolla into a shop. And I was unable to source the broken part for my other car during my junkyard trip. So had the Corolla not started, I shudder to think how difficult my life would have become for a while. And the fact that I fixed this on my own means so much more to me and makes me love this car even more.
So, here's some pics!
Here she is! My oldest son named her
Sonya
. Instantly made me think of
Red Sonya,
the 80's movie, but the kid told me it is
Sonic the Hedgehog
's sister's name. I'm good with it. I like the name!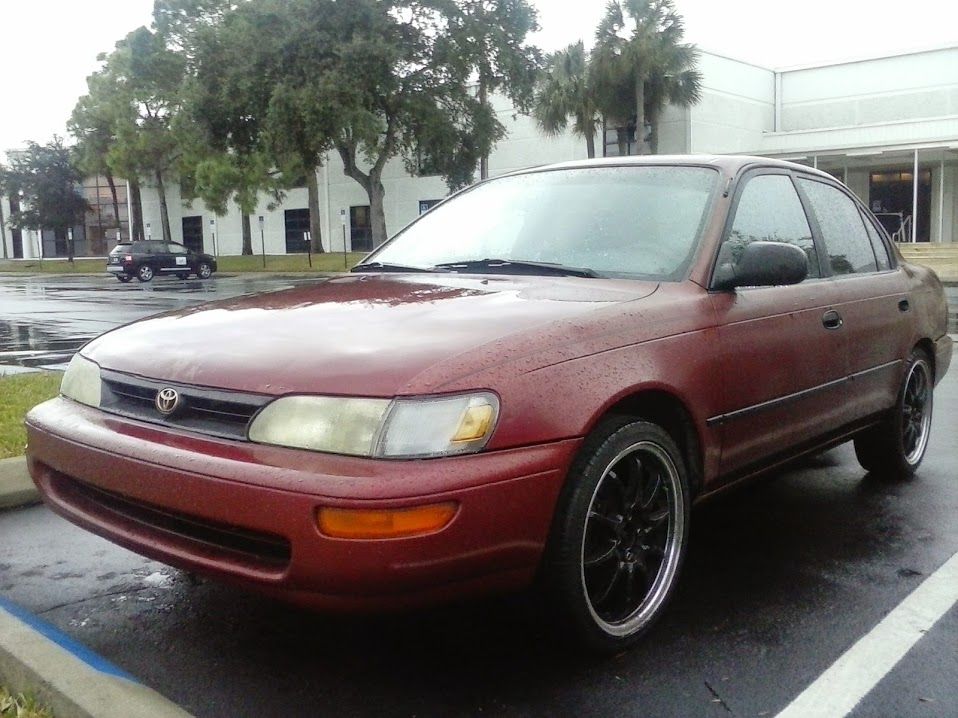 She's in really good shape and now that she's running right, I've been picking up goodies as I can afford them. Here's her back. I snapped the pic at night so the lighting is not the greatest, but you get the idea.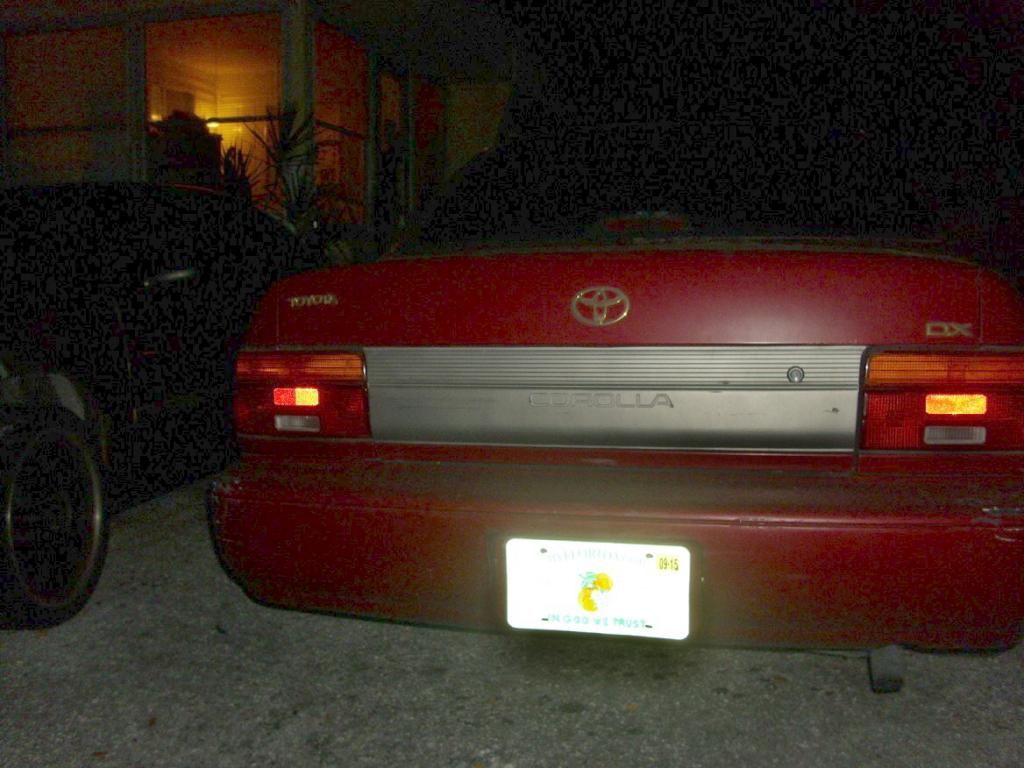 I like her tail-lights, but of course I wanted the center garnish. I found the red/clear variant at the junkyard, but the piece had some damage and I would have had to replace the tail-lights to match it, but I got lucky and found a beautiful center piece at the pick-and-pull for $30! Hubba-hubba!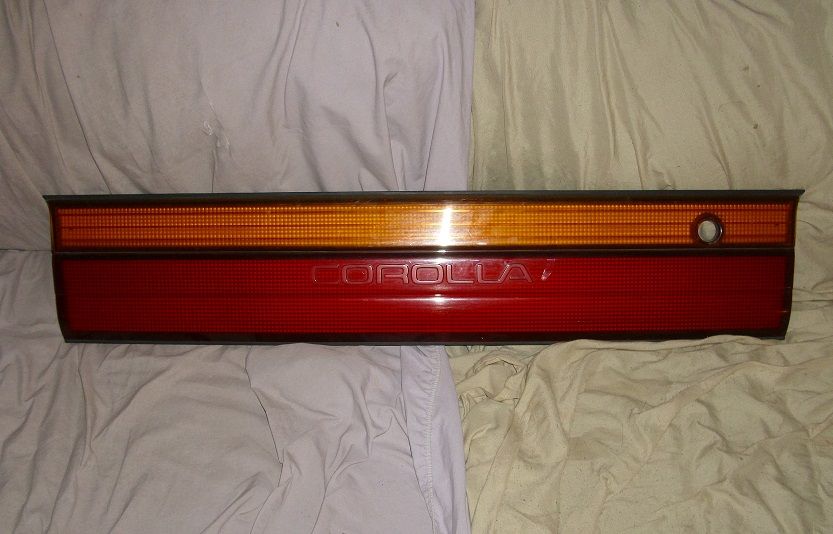 And here it is installed. Oh baby, baby! Ba, ba-baby, baby!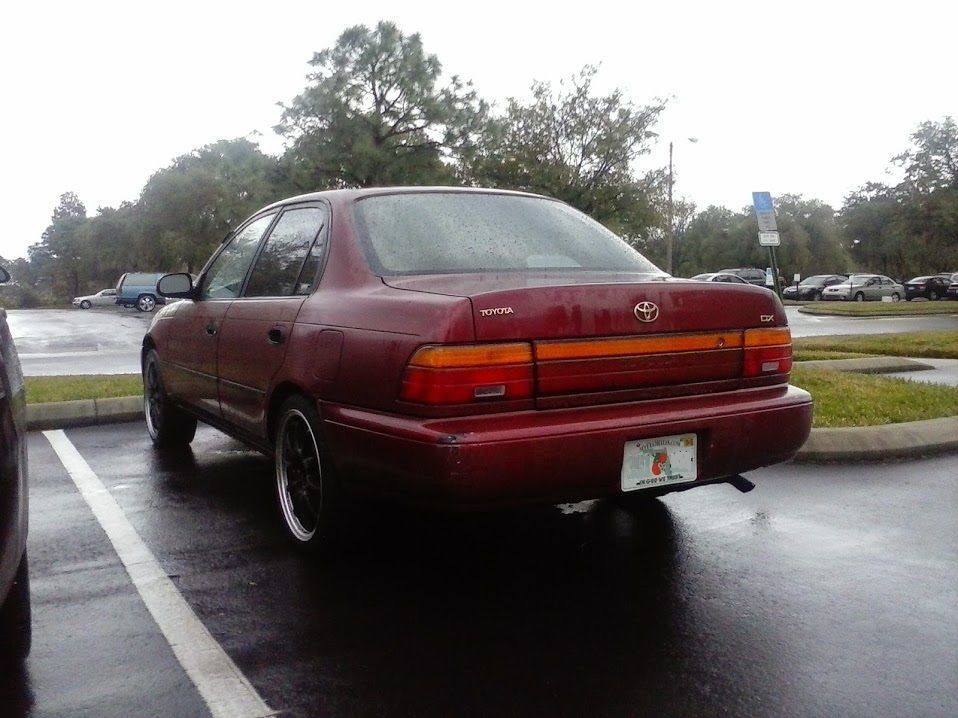 Lucky day, I also found a tach cluster! Woooo! $30 for this off the same donor vehicle! I do have it installed. I cleaned all the contacts and checked the bulbs to make sure they were good but when I flipped my lights on, only half the gauge lit up. Boo. I was driving back from Dunkin Donuts with my oldest son this a.m. when out of nowhere, the other half of my gauge suddenly lit-up! Total weirdness as we did not hit a bump or anything. The temp gauge is still dark, but the majority of the tach and everything to the right of it is fully illuminated. Maybe the bulbs are not seated properly. I want to upgrade to LEDs so I'm not gonna mess with it until I order the new lights.
There are some minor dings on the front-quarter panel. I dented them in when I was drilling out that stupid VSS. Total rookie mistake and I feel so dumb. It's not too bad and I have managed to pull the majority of the dent with a small suction-cup puller. Ignore the dent, but look at my semi-functional SUNROOF!
I've been agonizing about how to best restore the center garnish lettering. I was gonna tape it off and spray it white, but I don't want to score the plastic when I cut the tape off. After some testing on junk plastics, I decided to just grab a metallic ink marker and go at it free-hand. I do not know how long it will last, but I did it in under 10 mins and it came out surprisingly well. Up close doesn't look as clean, but it's acceptable for now considering I spent $1.77 on the marker and did no permanent damage to the garnish!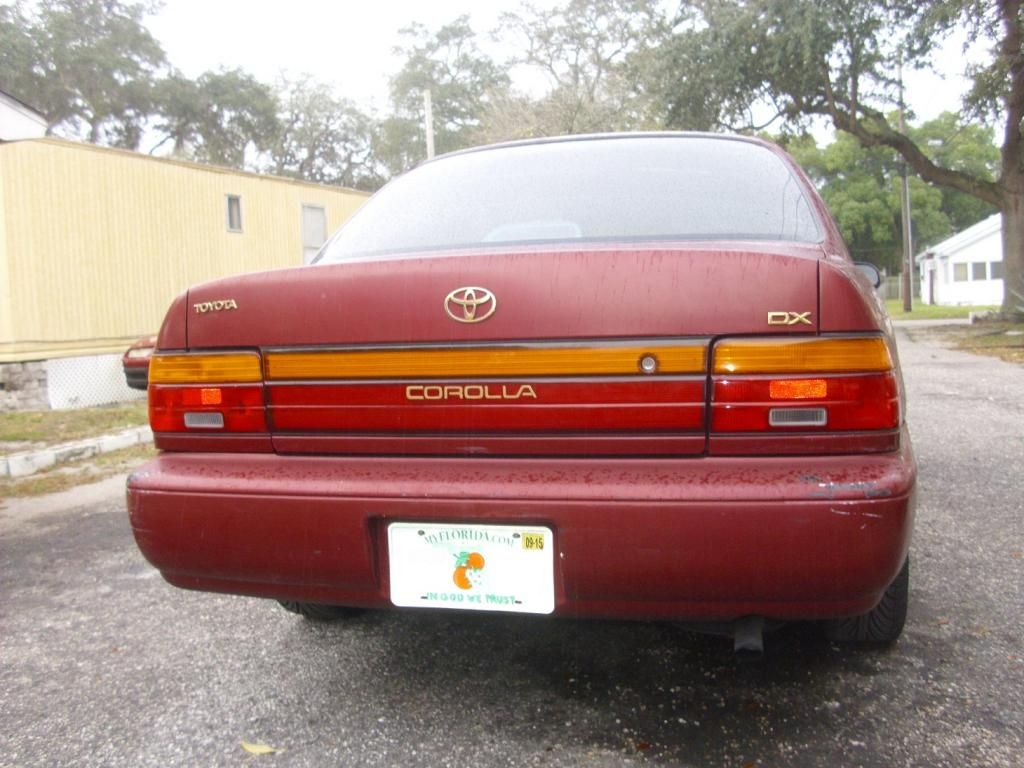 There is still a list of things I need to take care of, but I really hope that eventually she'll be as nice as some of the other member's Corollas. I'll keep this thread updated as I roll along.
Thanks for looking! Hopefully it will stop raining and I can snap some sunny pics. Sunshine state nothing!
<edit for Sunroof update>
So after asking around about my sunroof, reviewing schematics and watching general sunroof vids, I went after
Sonya
's sunroof today. The tilt function was operational but the slide function was not. I tilted the sunroof open, grabbed my small gasket puller/picks and went about cleaning the sunroof tracks. I found a small, broken, rubber gasket. There was a lot of tree debris in there too. Leaves and a stick that was like 4 inches long! I also pulled out an aluminum can pop-top! LOL. Once I got the tracks as clean as I could, I closed the tilt function and pressed the "Slide" button. THE SUNROOF SLID OPEN! Yay! I love this car. 20 freaking years and everything is still operational. Amazing.
Driver side view: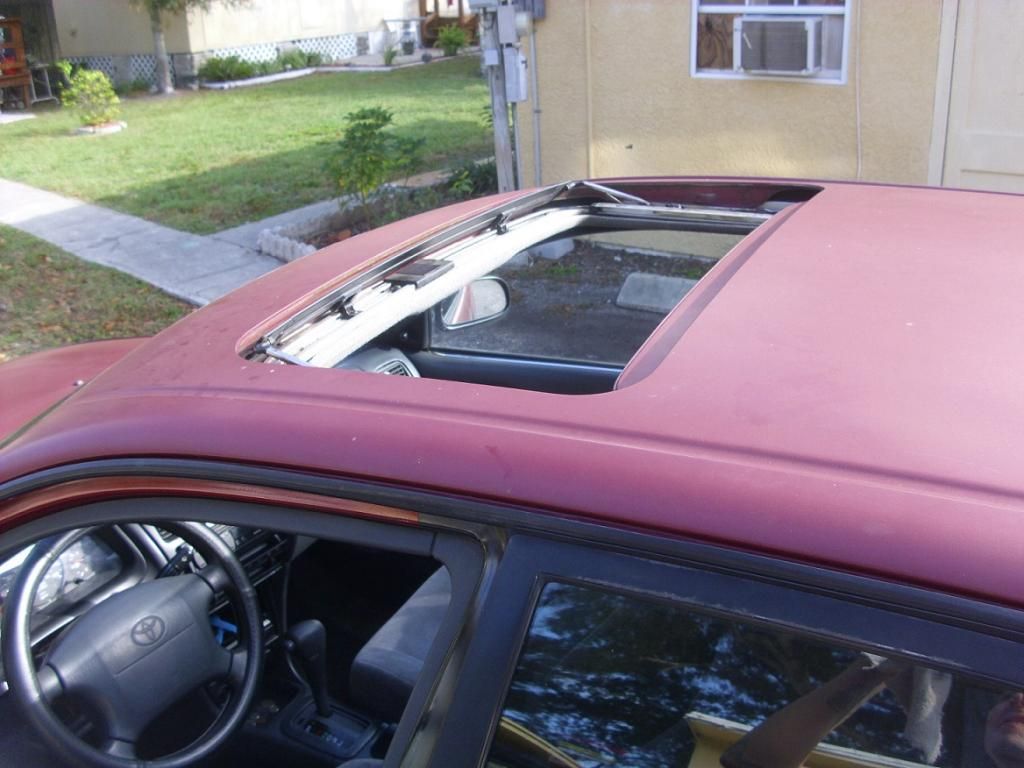 Passenger side view: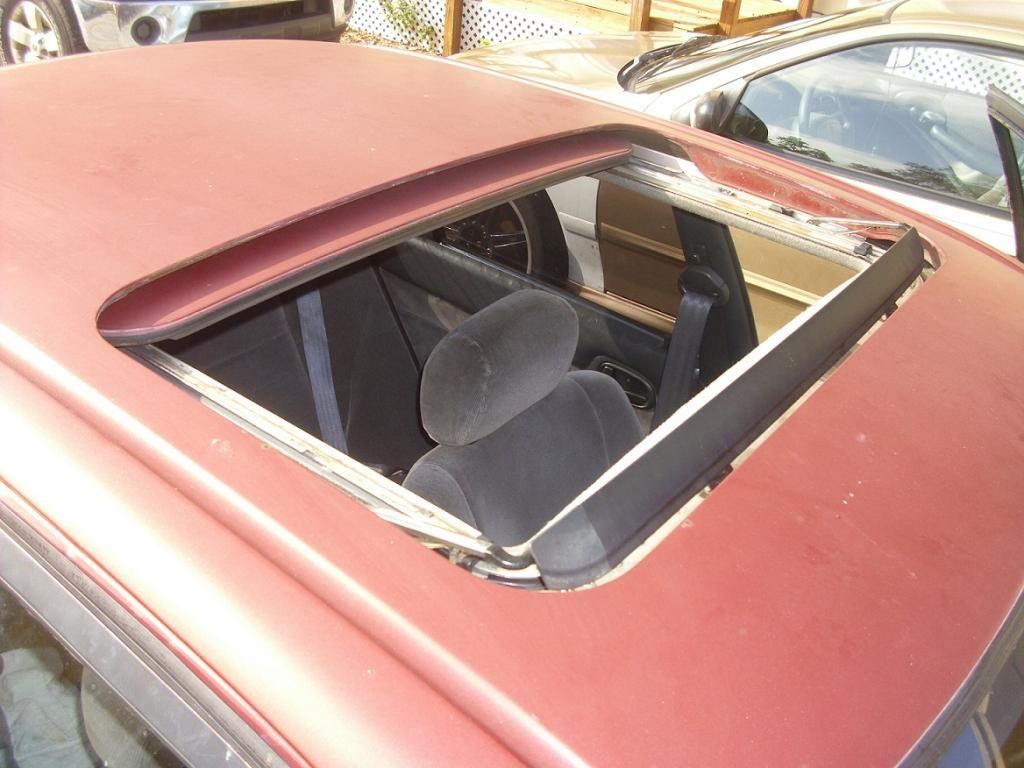 Look at these tracks! This is after I sprayed some cleaner/degreaser in there:
Ick!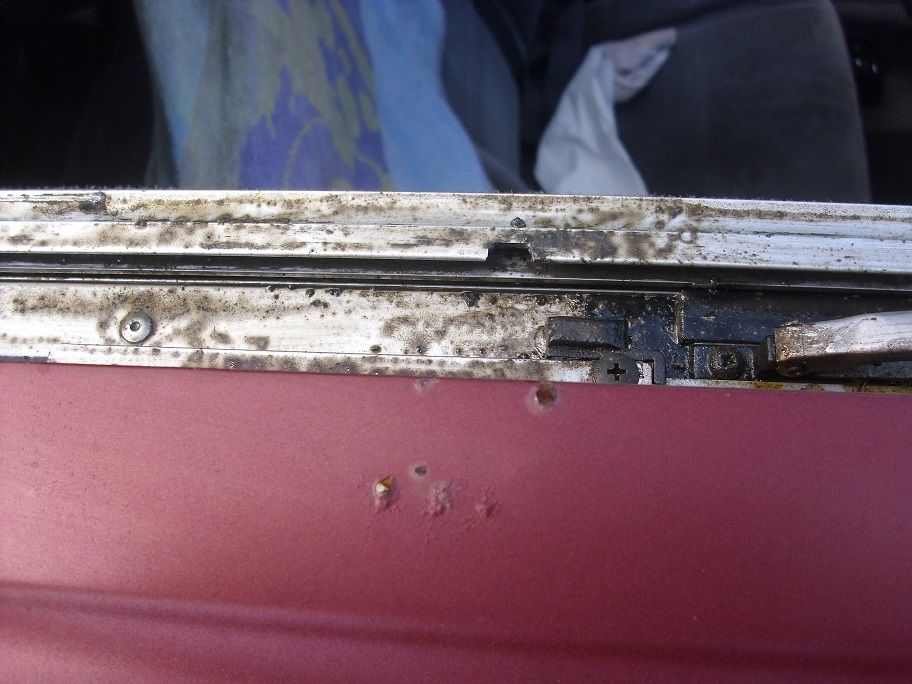 So I cleaned the tracks out but I need to lubricate the system. I think I am gonna go with some Liquid Wrench Dry Lube. The motor is still struggling after I cleaned the tracks up so obviously more maintenance is still needed, but ITS OPENING! WOOOOO!
<edit for tachometer update>
As I mentioned, the lights on half my gauge cluster were not functional. When I salvaged the cluster from the junkyard, I did go through the bulbs to verify they were good, but apparently I neglected to adjust the bulb-housing contact points. I swore I wasn't gonna mess with the cluster until I had an upgrade to install, but I ended up tearing the cluster out yet again and tweaked the contacts. I've been sitting on some bulb-units that have the modular swap light bulbs in/out feature that I found on my last junk yard trip. I had no clue what they were, but I took them because they were a different color from the normal brown ones. I learned what they were from a D.I.Y. thread here, of course. Anyway, here's a low quality pic of my instrument cluster all lit up!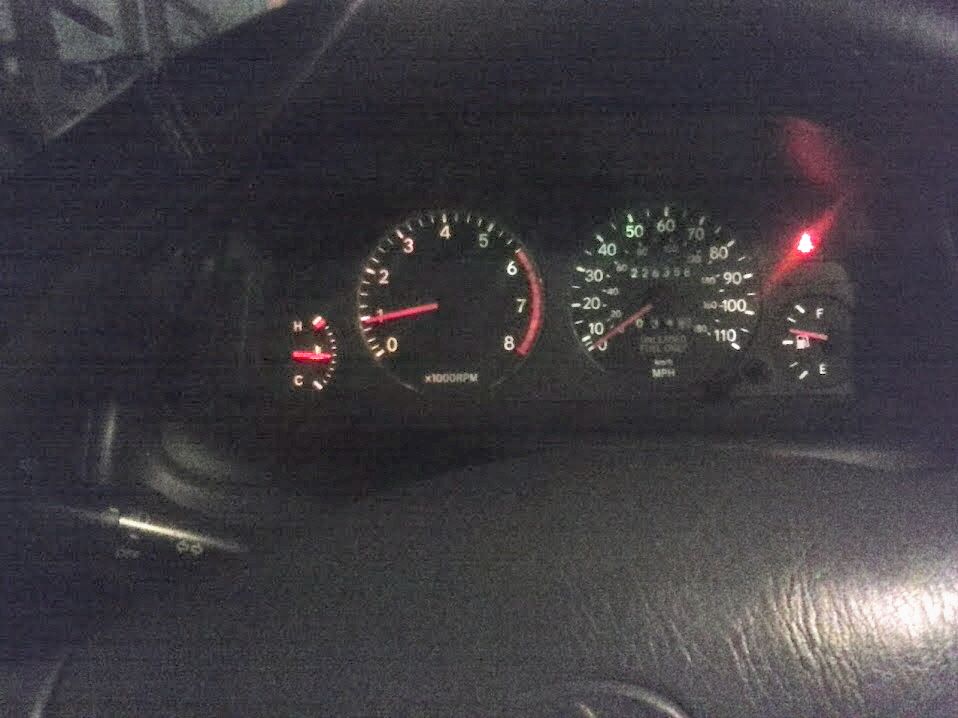 My local LKQ is having the yearly 50% off sale on January 1st. I'm giddy with anticipation. I hope, Lord how I hope there will not be much competition for Gen 7 Corollas. I have a freakin page-long list of things I'm looking for.
<edit for LKQ post-sale goodies!>
So I was the very 1st person in line for the LKQ sale today. I showed up 30 mins before they opened. There were 3 other people in the parking lot too. Turned out one of them worked there. Anyway, I was 1st man on the lot. And today was INCREDIBLE!
I got power mirrors and the switch. My DX is power windows and locks already so the mirror install should be a snap. It's gonna look silly until I paint, but I am so gonna install these before then. I also got Gen 8 sun-visors. Mine were original equipment and they are showing every minute of their age!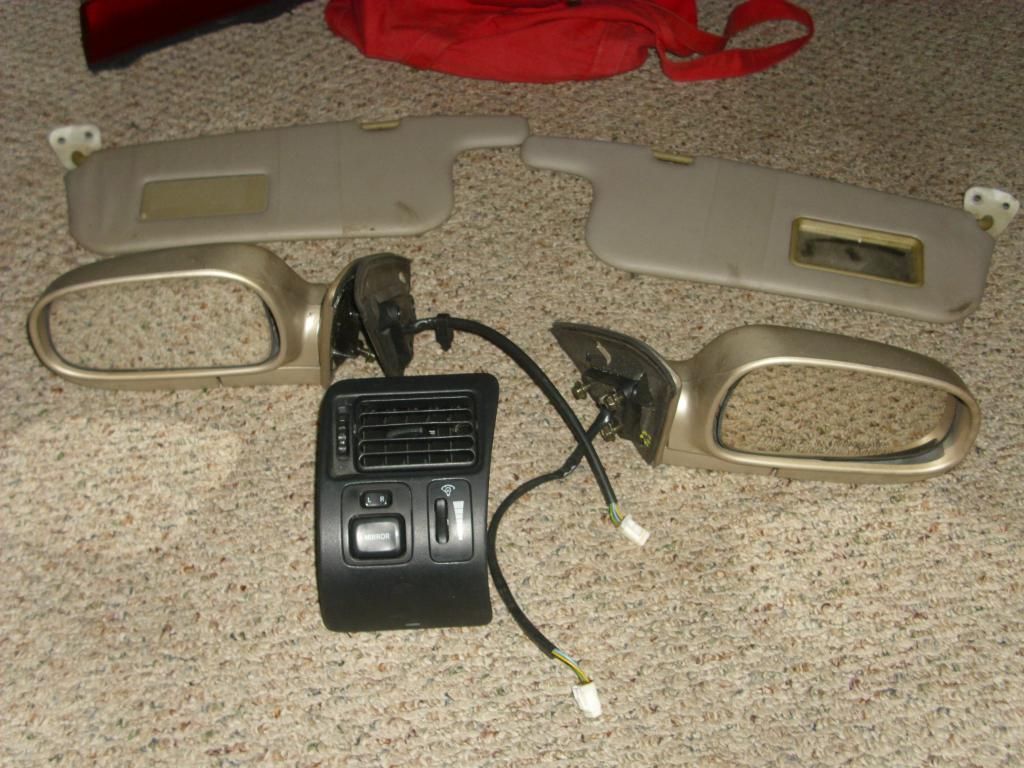 When I was on the lot a few weeks ago, I came across a DX that had wood grain accent on the dash instruments. When I saw it, I had no idea that it was OEM. The main bezel was not in the best shape either so I didn't grab it. I've regretted that since. I went looking for that DX today but it was gone. Turns out it was rotated to another spot. I totally found it after a few trips around the yard! The console was still there. I totally snagged it!
And a close-up of that logo. lol. Really there is some light damage to the vent piece and the protective plastic is mostly gone from it, but I figure it's something odd and worth installing.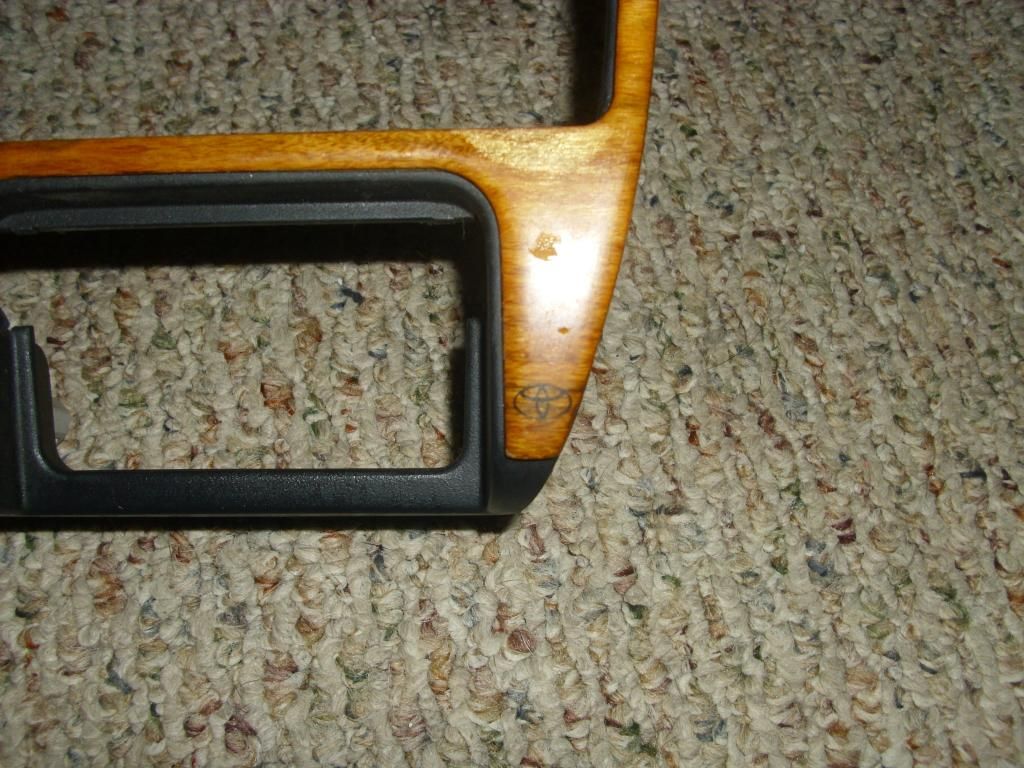 There was a 96 DX on the lot that was so luxurious. It had leather seats, but they were not in the best shape. I picked it over for all the little plastics, wires, bits and baubles that I was missing. It was also the only Corolla on the lot with the face-lift garnish. The right tail light was broken, but I figure it's easier to get tail-lights than it is to get the trunk garnish. I like what I'm running now, but I couldn't leave this.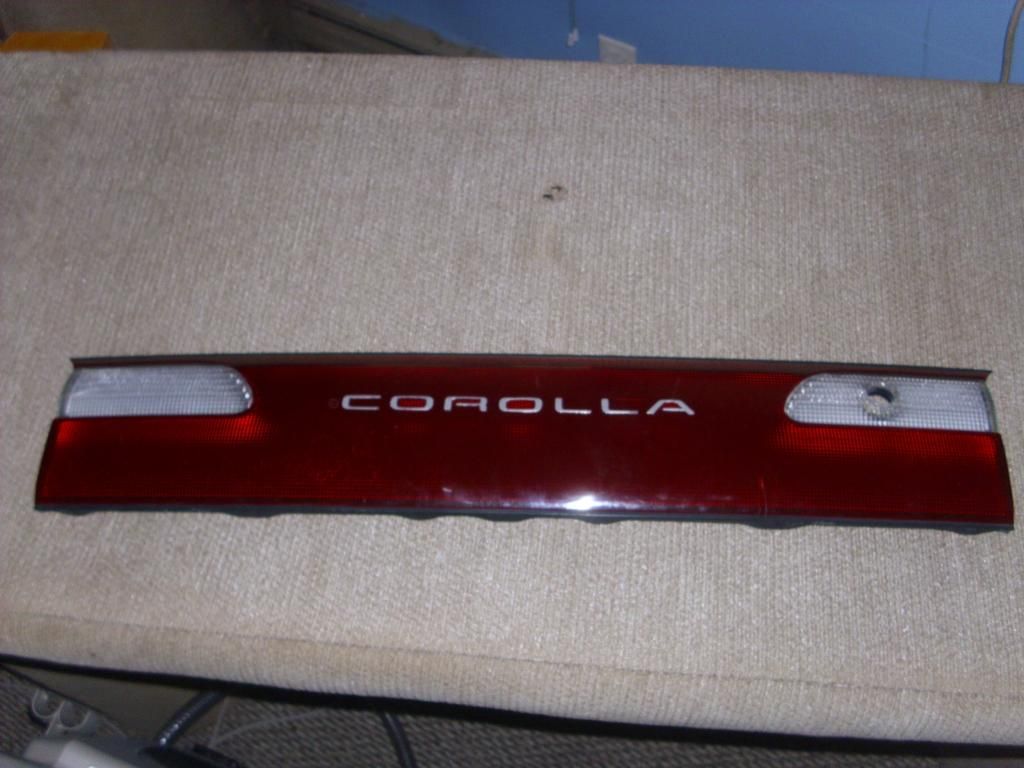 I recently got my sunroof operational so I was on the hunt for a useable wind-guard. I found this one atop a Lexus and also pulled the sunroof control switch from the car while I was at it. The switch I had installed works the tilt function fine, but the slide function not so well. The new control panel work the slide function like a champ but no tilt function. At least I know it's the switch failing. I am gonna take apart the old controls and try to repair the slide function switch. Oh yeah, pic of the sunroof visor. Looks lame, I will re-shoot once its installed.
I also got a working driver seat-belt! The one that was in there wouldn't retract. It was so annoying. I installed that 1st once I got home!
Past that, I got so much of the stuff I was missing. I got the trunk boards that cover the spare and the rear wheel wells. I got the missing trunk carpet piece, the little one that goes between the tail lights. I pulled the tail light wiring off a 96 since I am experiencing the melted bulb problem on my driver-side tail. I snagged some replacement door handles. I got some splash guards too. I got both the front doors new rubber in hopes of eliminating the pooled water I'm seeing on my door guards. I also grabbed some roof handles off a 96 but they don't bolt into my 94. Boo. I also managed to get 2 front splash guards that don't fit, not sure how, maybe got em of a prizm or something.
All in all, it was an amazing haul at an unbelievable price