Hey folks.
I'm having some issues with a Gen1 1985 Camry. Since now I'm using my grandparents car more often, I ended up cleaning and doing some checks to the car. I so happen to find a blown (bridge cut inside) blue 15A fuse laying around in the car. I decided it must have come from the fuse panel inside so I checked and I found that the ECU-IG was missing a fuse, apparently the one that I found was suppose to be in there. Having a strange feeling that there was an issue with that, I bought a pack of another set of 15A blue fuses and when I installed a new one in the ECU-IG, it blew right when I turn the key to 'on' (did not start the car though).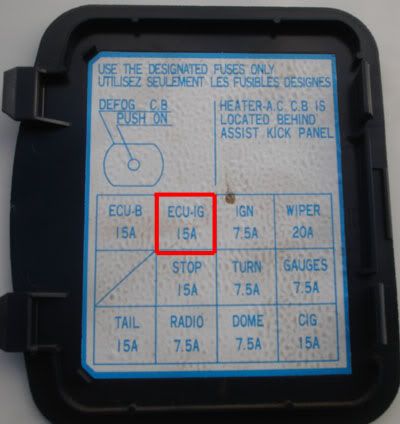 The car starts and runs without that ECU-IG fuse, everything to do with car lights seem to be working well (except dome light, opening door doesn't turn on light, have to set it to 'on' to turn on the dome)
Not sure where else I should look, Anybody has an idea on what could be causing the problem? Does having a missing ECU-IG cause issues with the transmission or gas milage?