I wouldn't call this a build thread, but a "Thank you all for inspiring me to improve my car, rather than simply repair it or burn it." type of thread.
Basically I had bought a 1997 CE a few years back without really doing my research on just what I was buying. My Dad had previously had a Gold 1994 LE, and I stupidly assumed all base models were still either manual or 4spd auto. Needless to say when I was getting horrendous gas mileage, 21 highway for example, did I actually start to look at what I had really purchased. I thought I did a fairly good job looking the car over, which I sort of did. When I bought it I already knew it needed motor mounts, and two rear struts, cabin dome light cover, trunk liner, and basically very minor things. The dealer was also full of crap on the maintenance that had been "performed" but I wouldn't figure that out until later. After having the motor mounts replaced my gas mileage instantly shot up to 24 highway. I even changed out the spark plugs, wires, cap and rotor. I was pretty bummed out as this was still pretty low mpg wise.
Next I really payed attention to my belts and hoses, at the time I had nowhere to really work on the car or the time so I had a shop local to me replace the following. All fluids were changed, new belts, new water pump, cam seal, valve cover seal. Still no change in mpg. Winter was worse, 22 highway. Then I remembered Toyotanation, which I had joined after having to replace a few parts on my Dad's Corolla. I began to actually research what each model was equipped with, and what mpg they averaged. To my dismay I learned I had a 3spd auto, and it gets 30mpg highway if it was meticulously maintained, but would realistically see 28mpg highway. I contemplated cutting my loses and ditching it, or just put up with it until I finish college. I opted to put up with it as I lacked the money to replace it with a DX or LE, and figured I already had a decent amount of maintenance done and my car was running good. So i replaced all for strut assemblies.
After deciding to put up with zero acceleration (sometimes pulling out onto access roads is a gamble, when in a slightly faster car it wouldn't be an issue. It takes my car 20 seconds to go from a rolling 20mph to 60mph with 3 adults total in the car, no joke.) I looked to various people's build threads with envy, while silently cursing my mistake. Inspiration then hit, why bitch about when I bought when I can make it more to my liking? I began reading and following more builds, dreaming of adding the little elements that others had, but I didn't Not rims, not lowering springs. . . but a trunk light!! Yes, a trunk light and a clock!! Simple things like that to make me like and love my car more.
I wanted to address my mpg issue before I started to add small things, so I did a lot of research and messaged a few people about why I had horrible mpg in the winter. They hinted my thermostat could be lazy, citing my very long warm up times (10minutes). I went to replace my thermostat only to discover there wasn't one. . It had been gutted, wtf!? I installed my new thermostat and winter mpg instantly rose. It was a miracle! Now that spring is here I've reached the coveted 28mpg with 3/4 highway driving. Usually I get 26-28, all 3/4 highway and I would love for it to reach 28-30, but it beats the original 21mpg I had!
Now I've been adding the little things, one at a time. I cleaned out the intake manifold, throttle body was clean, changed out fuel filter, and changed the transmission filter. The cabin dome light cover, trunk liner, trunk light, a clock. Today I bought a set of outer door trim and a set of mud flaps. I know typically mud flags add drag and lower mpg, but I will remove them if that is the case. I also bought a crotch vent duct for better air flow once summer comes.
Below are some pics, my car isn't lovely and this picture was taken during the winter and was covered in a thin layer of ice.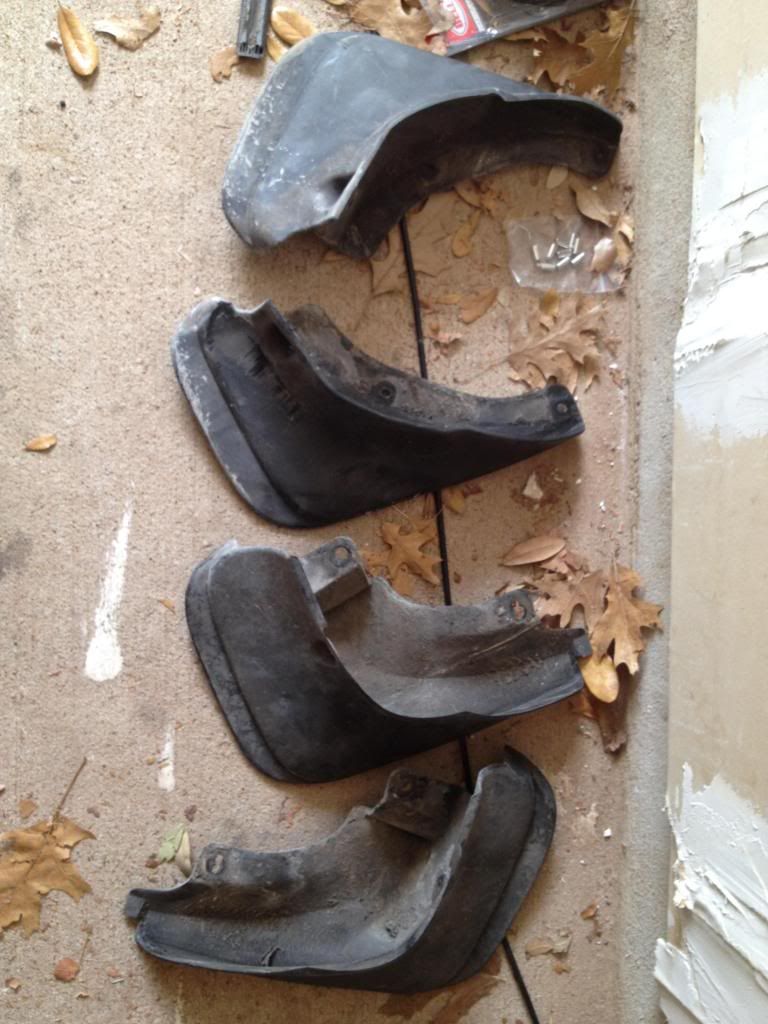 I'll add more as I improve upon it, so thank y'all for the inspiration and help!