Discussion Starter
·
#1
·
I thought that the clicking in the steering was more common on newer Camrys. But lately my 2001 Camry (76K miles) click when I steer. It clicks just once when I change direction. I found the source of the problem but no one sell just this joint. I can feel a light pop though the steering wheel too. It only clicks when there no load on the steering, mostly when the wheel is straight ahead.
The yellow arrow shows the bolt I tighten. The red arrow shows the joint that's causing the problem. I have hammer it, lube it, and grease it but it still click. I can feel the joint shift when it pops.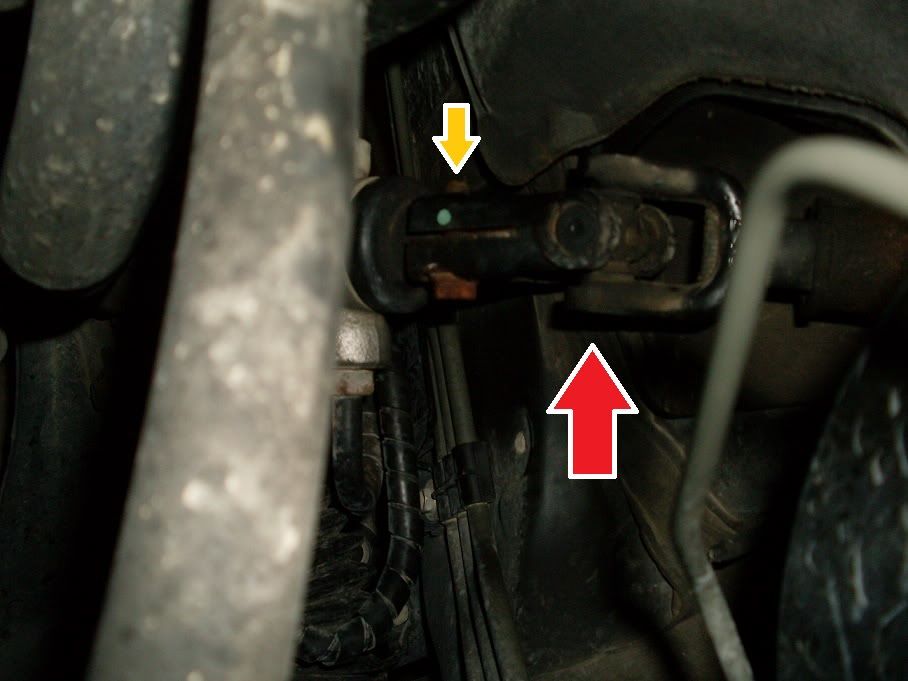 I searched all over the net for days and found that the only way to fix it is to replace it. I don't might replacing the joint but the dealer only sells the entire steering intermediate shaft assemblies for $355. Others had luck with Jug-a-Lube or stuff like that. Have anyone have a similar problem? Any other cheap fix? (less than a $100)
Also, I never use weight on the outside of my wheels, a little shake on the highway never bothered me. But can this vibration cause this joint to wear fast? Because my Grandmother's 2002 Camry still steers smoothly even with 157K miles on it.
Note: All wheel bearings, ball joints, strut mount, steering rack bushing, tie rods, ect. is good.