Here is a write up on changing your own Engine Coolant, with a few pictures. It is aimed at someone with very basic wrenching skills (but perhaps not a complete novice), so you veterans, please proof read for accuracy.
As always... some safety points first when working under a vehicle:
ALWAYS make sure vehicle is either level, or if on ramps, will not roll towards you if something fails with brakes or wheel chocks
engage E-brake
chock at least 2 wheels to prevent rolling
rubber gloves are nice
Regarding the question: "Do you need to do this on a lift?" - no, I did this on the driveway (so if any antifreeze spills, could easily wash them off) but using the hose method described below, you can do it without spilling at all.
POISON WARNING: antifreeze contains Ethylene Glycol - only a few tablespoonfuls (30-50 mL) if ingested will kill you. Even less for pets & children. And of course as fate would have it, it is a sweet tasting substance. So if you spill any, your dog *will* lick it up. blot up any spills & then wash away any residue with copious amounts of water. Do NOT, I repeat NOT store old antifreeze in empty 2 litre pop bottles!! I work at a hospital - have seen several cases of poisonings. Grampa knew what was in the bottles- grandkids thought it was pink pop. Using my way, you can (with a funnel) pour the old antifreeze back into the OEM bottles & take to recyclers.
here is the supply list:
Tools
- 10mm socket to loosen Drain plugs on each side
- funnel
- Ratchet
- Extensions (I needed 2 - at least 12 inches or more is better)
- Universal joint for socket (driver's side)
- about 5 to 6 feet of 3/8" O.D. vinyl hose. Not thick, but clear, so can see when you have opened pet-cocks enough
- duct tape :lol: I've always wanted to include that in a write up - now I have!

Misc
- Ramps (optional)
- Mop bucket with graduations labelled
- small plastic container to catch drips when filling/draining
- Paper towels or rags
- Rubber gloves
- Wheel chocks
Consumables:
You will need about 7.4 litres of Toyota Super Long life coolant = 2 jugs. Part # C0009-00120-wa
Here is the coolant we use: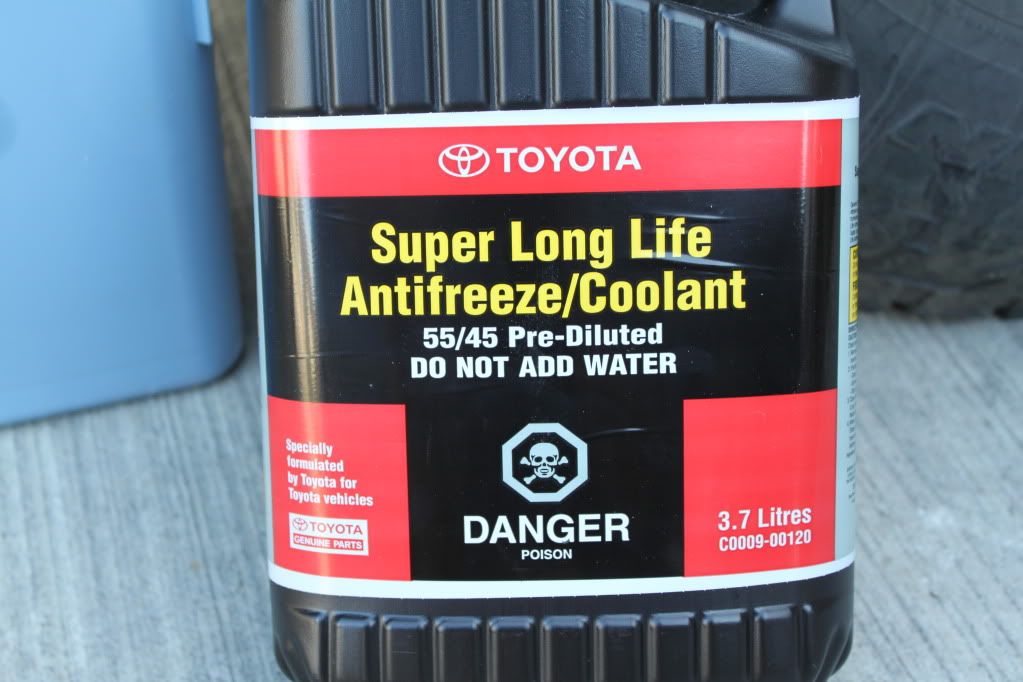 Tape some 3/8" O.D. line to a 14 litre bucket and position under truck: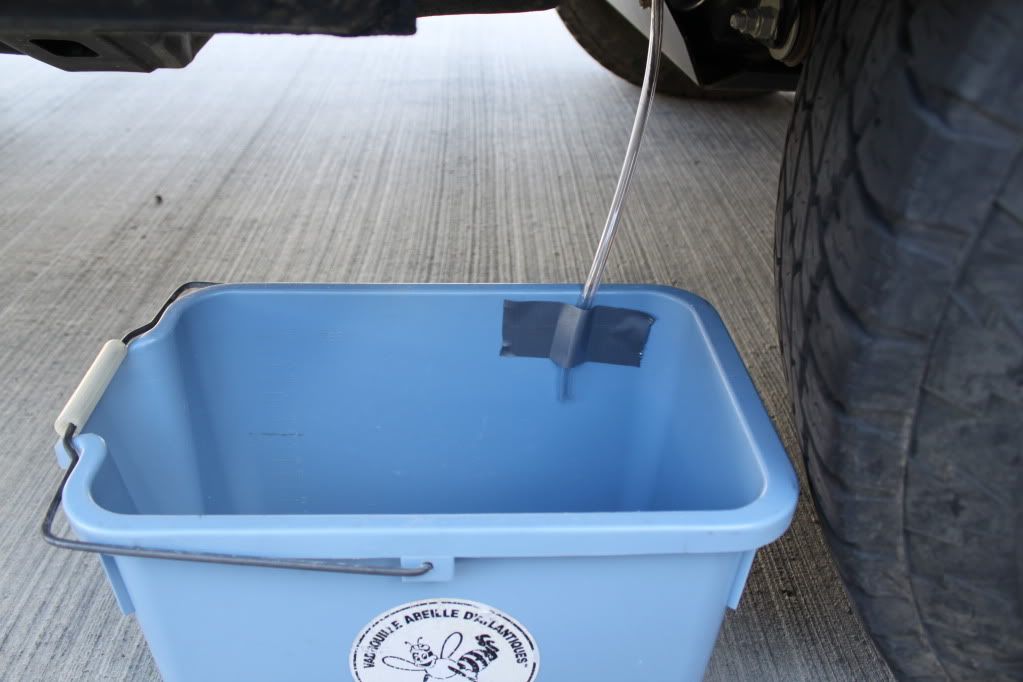 Pop off the top button on the rubber flap so you can access & see the water jacket drains (done from wheel well: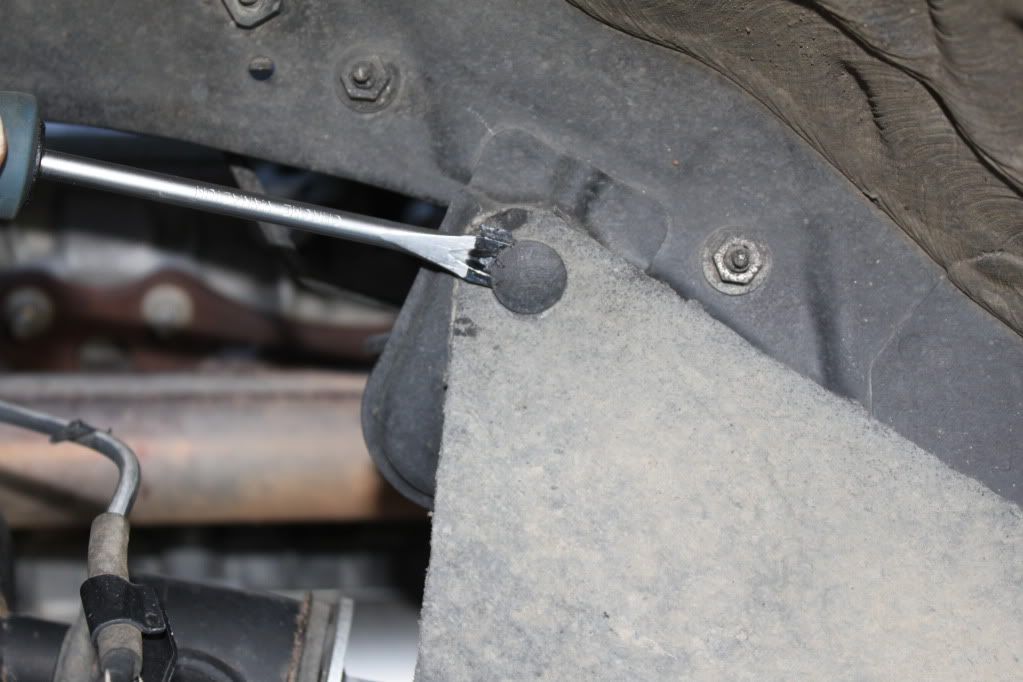 You may want to pick up some more of these little suckers,, as they are kind of a one-time thingy:
Here is the water jacket drain we need to attach line to (access from wheel well) - passenger view:
(Note - if anyone is having trouble finding the drains, let me know. I can post up some more shots, of where they are on both sides.)
Using ratchet + extensions (like I said longer is better), loosen bolt bolt above drain spigot:
Here it is close up: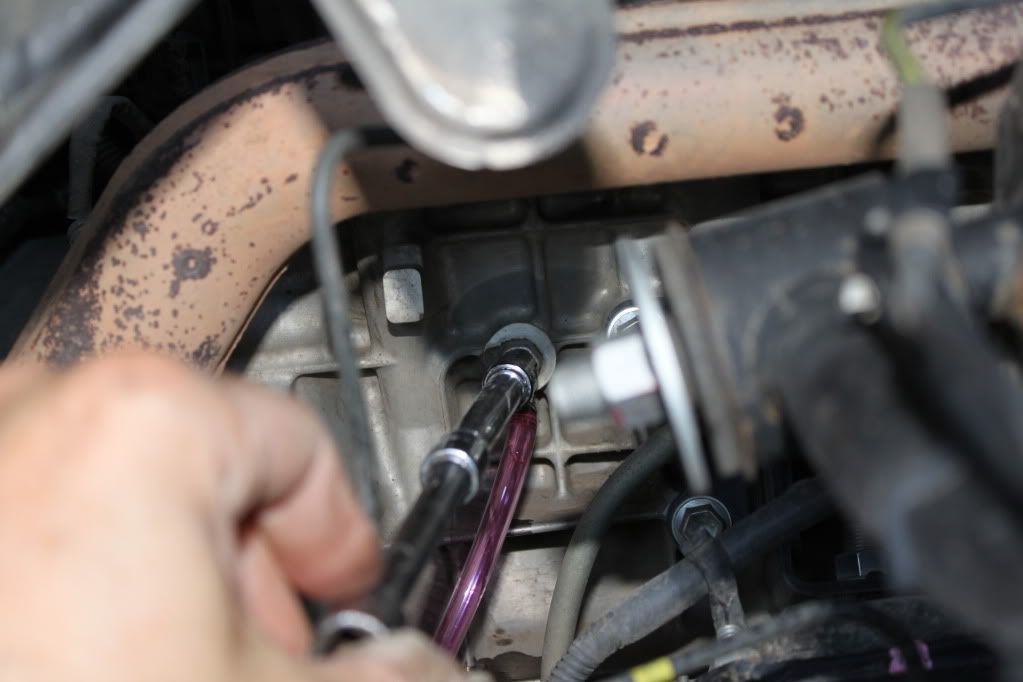 Using 10 mm socket + ratchet, open drain & begin letting engine block drain:
Drain both side of the water jacket. The driver's side sucks. You WILL need a universal socket to flex enough to reach
Then drain the rad. The drain for the rad is (of course) on the bottom.... of the rad. I didn't think I needed to post a pic. The pet-cock can be loosened by hand. And the 3/8" hose fits onto that as well!
When done, I had about 7 litres: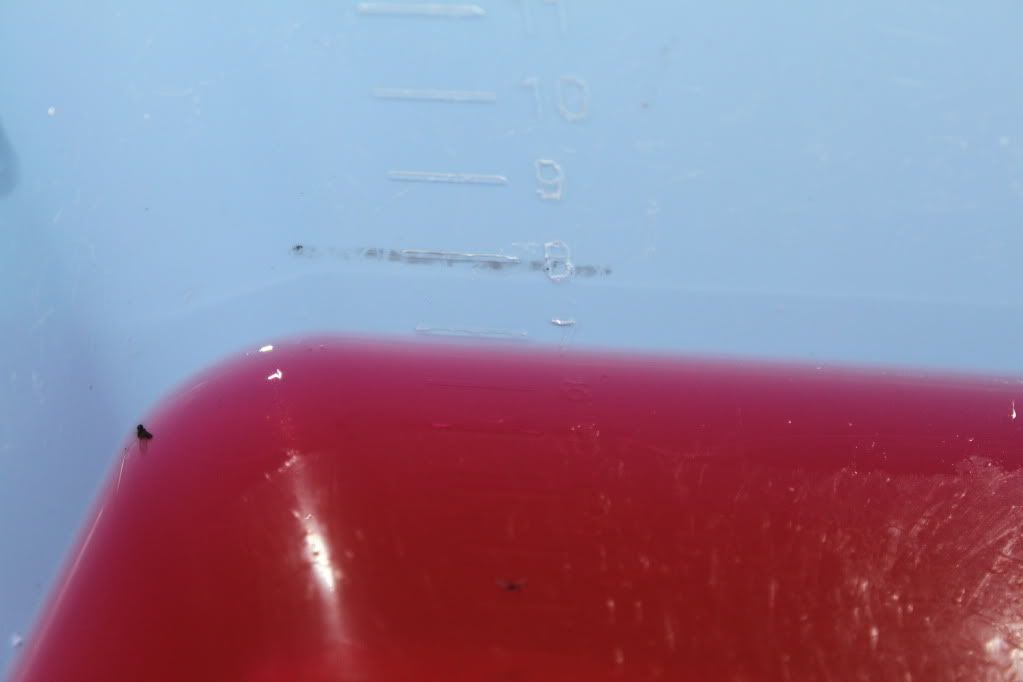 Here is old (on left) VS new (on right) coolant:
Don't forget to drain the overflow tank:
Refill untill rad is full: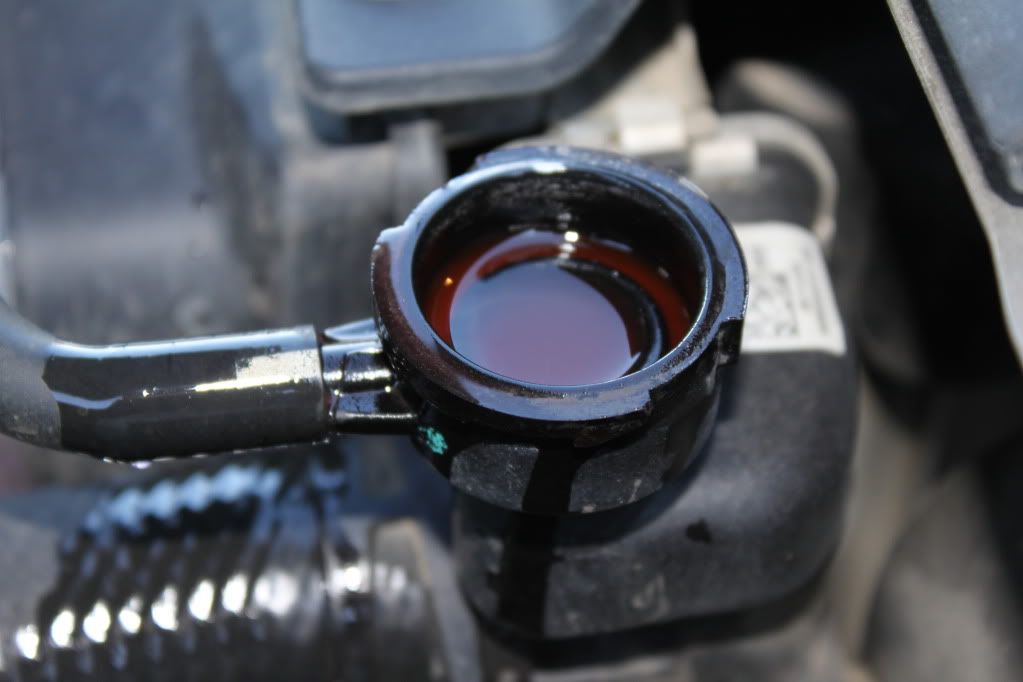 And top up overflow tank: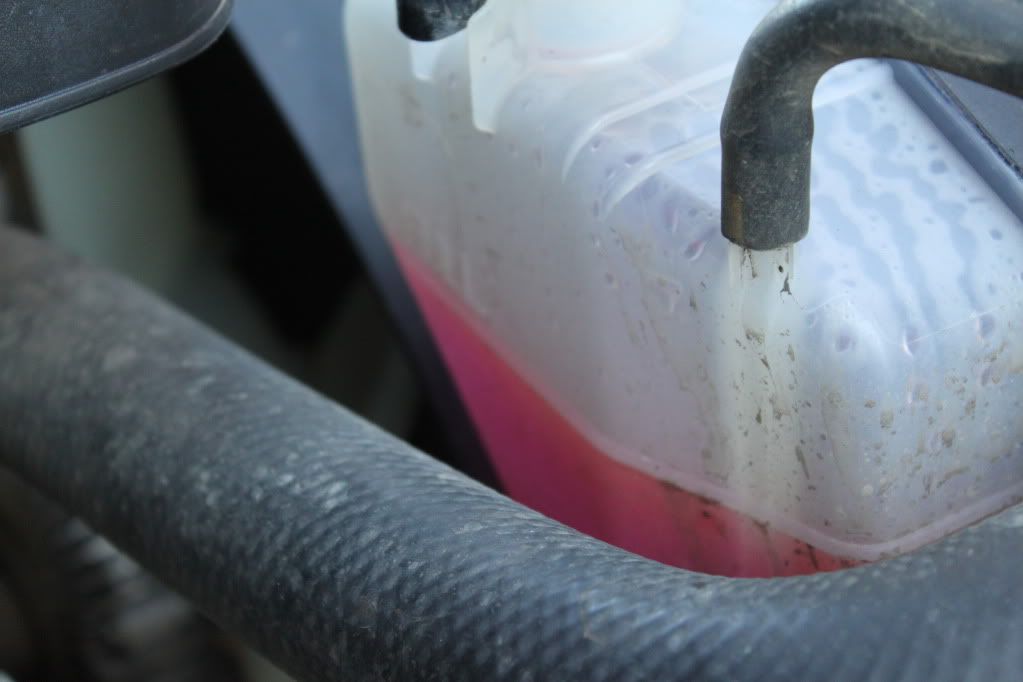 take it up to 2000 - 2,500 RPM; get engine warmed up, turn heater to warm & fan to any setting but off. Run till fully warmed up. turn off. "burp" hoses by squeezing them. when engine cold, and no danger of coolant flash to steam, open & inspect. re-top off & repeat until no change.
Recycle your coolant
Canadians: Canadian Tire accepts old coolant
Geoff