Discussion Starter
·
#1
·
I saw a
post
saying there's a fuse labeled "DCM" in the internal fuse box near the driver's seat that one can take out (on a 2022 Corolla hybrid). I've also found a
post
saying the fuse is labeled "DCM/Mayday" in the main fuse box under the hood (on a 2020 Corolla). In either case, I see it mentioned that it's a 7.5A fuse.
However, I don't see any fuses matching these descriptions in either location. Am I missing something or did they move it, re-label it, or combine the circuit with another fuse? Here's a picture of the lid of my fuse box under the hood: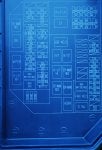 According to one of the threads I linked above, in the 2020 Corolla, the DCM itself is located behind the head navigation unit in the center console. Can anyone confirm this is where it's still located in the 2023 model? I saw a
video
on dissembling the console on a recent Corolla (although the car seems older than the 2023 model based on the head unit's appearance) and I didn't see the DCM there. The video, however doesn't show that part of the console very well, so maybe I'm just not seeing it.
I'd like to avoid having to disassemble the console if I can just remove a fuse. I realize there's an internal battery in the DCM, but I'm content to just let it die on its own if I can remove it from the main battery.
Any help is appreciated. If anyone has access to the repair manual, that also could help a lot. Thanks.