DIY 2005-2006 Corolla XRS and 2003-2006 Matrix XRS & Vibe GT Spark Plug Replacement
DIY Spark Plug Replacement
This is a simple DIY and it doesn't need to be done often!
Disclaimer:
Toyota Nation nor I are responsible to any accident, injury or damage to you or your vehicle. This is not a repair manual it is a guide. Use at your discretion.
Toyota said:

144 MONTHS/192,000KM (120,000MI): REPLACE SPARK PLUGS

Replace iridium spark plugs every 192,000km (120,000mi)

Spark plug type:

1ZZ-FE engine: DENSO SK16R11 (Denso Iridium Long Life Stock #3324) or NGK IFR5T11 (NGK Laser Iridium Stock #4996)
2ZZ-GE engine: DENSO SK20R11 (Denso Iridium Long Life Stock #3297) or NGK IFR6T11 (NGK Laser Iridium Stock #4589)

Spark plug gap, mm (in.):
1.1 (0.043)

Note that using spark plugs other than the two listed for either your 1ZZ-FE or 2ZZ-GE may decrease the performance and fuel efficiency of the engine as well as a reduce the mileage between spark plug change intervals. It is highly unadvisable to change from the OE Iridium Spark plugs to a Regular or even Platinum spark plug. It is also unadvisable to use spark plugs from another manufacture. Denso and NGK are designed to work optimally with your Corollas' ignition system.
Purchase Notes:
If you are replacing the plugs with either the OEM style Denso or NGK Long-Life Iridium plugs then that is the interval.
Like Toyota, I don't recommend running a platinum plug or standard plug on either #ZZ engine. Nor would I run something like AC Delco or Bosch plugs on a Japanese make. Same goes for sensors such as the 02. Like Batteries: Don't mix plug types and manufactures (, Like run 3 Denso Iridium and 1 Bosch Platinum or something stupid)
*Note I have a 2ZZ-GE so part #s don't reflect the 1ZZ-FE.
I decided to skip on the OEM Denso and go with NGK. The Auto Parts store didn't carry the Laser Iridium NGK IFR6T11. Curiously, it's not listed when I searched for the plug on the NGK website either. The only Iridium plug for the 2ZZ-GE listed is the NGK Iridium IX (BKR6EIX-11, Stock #3764). I have seen Iridium IX used by various members before on both 1ZZ and 2ZZ without any problems. These are regarded as performance plugs, sacrificing longevity for performance. Recommended interval is half the long life or 60,000mi (96,000km). I don't have a problem with this because mileage is not a concern, changing plugs is easy and running an Injen RD2082 on the factory ECU so that means that I'm running a bit lean over stock though I am compensating this by running 94 Octane. For the 1ZZ I would still recommend the stated Long Life Iridium plugs.
http://www.ngksparkplugs.com/pdf/DYK_LaserIridium_vs_Iridium IX.pdf
Tools:
10mm wrench
3/8's Ratchet drive with long extension.
10mm socket, 5/8 Spark plug socket
Small flat-head screw-driver (recommended but not shown)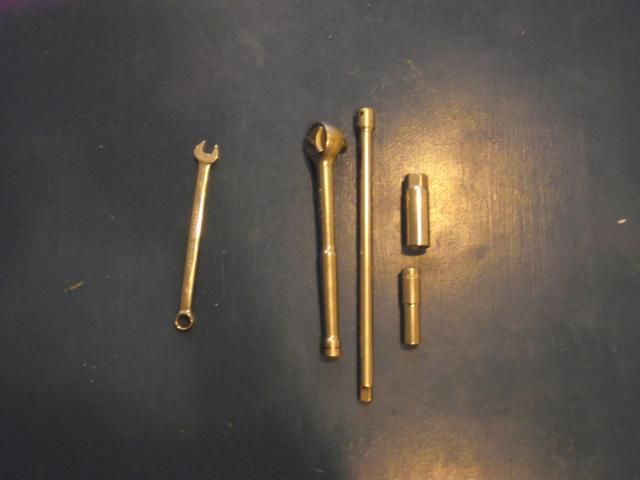 Note: Spark Plug Sockets have a rubber insert
For this magical reason
Parts:
Recommended: OEM Replacement
1ZZ-FE: DENSO SK16R11 (Denso Iridium Long Life Stock #3324) or NGK IFR5T-11 (NGK Laser Iridium Stock #4996)
2ZZ-GE: DENSO SK20R11 (Denso Iridium Long Life Stock #3297) or NGK IFR6T-11 (NGK Laser Iridium Stock #4589)
Optional: Performance
1ZZ-FE: DENSO IK16 (Denso Iridium Power Stock #5303) or NGK BKR5EIX-11 (NGK Iridium IX Stock #5464)
2ZZ-GE: DENSO IK20 (Denso Iridium Power Stock #5304) or NGK BKR6EIX-11 (NGK Iridium IX Stock #3764)
Quantity is 4 spark plugs.
These are NGK Iridium IX BKR6EIX-11 Stock No. 3764. I got them for $44 CAD tax included (list would have been like $70). Long life plugs are a little bit more expensive.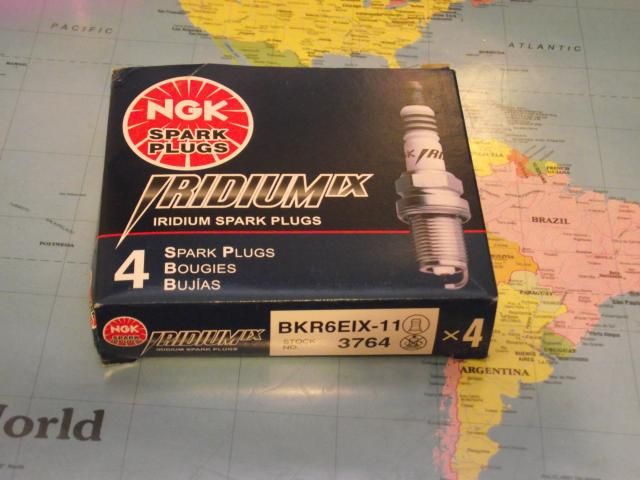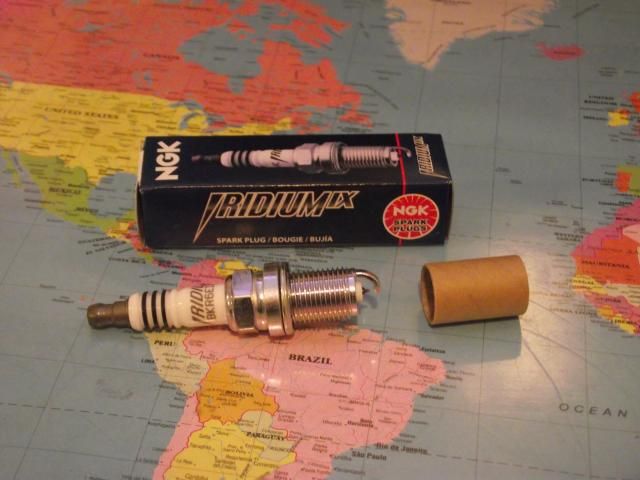 Procedure:
Car should be cold when replacing spark plugs. I would recommend that it has sat more than 2h since driven. Do not start engine. Pop and lift hood.
Disconnect battery lead negative terminal with 10mm wrench.
Yes it's raining a little, I'm dedicated.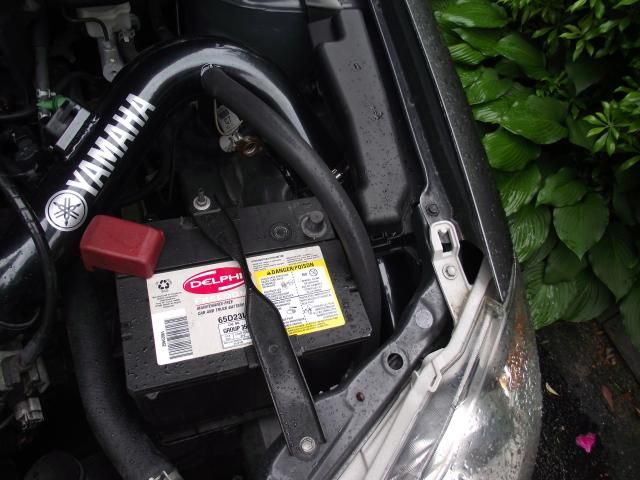 Take off engine cover with 10mm socket there is 2 nuts and 2 bolts (a stud is broken on mine, it was like that when I purchased it).
On the 1ZZ, I think you guys have plastic clips or something stupid.
Old photo when it was sunny!
I recommend doing one spark plug at a time. Disconnect connector to Coil on Plug (using the small flat head to wedge the other end of the tab up while you press the tab is a safe and easy way to do the disconnect). Undo 10mm holding coil on plug to valve cover. For the 1ZZ-FE you have to remove the wiring harness for the coils from the valve cover with 2 10mm bolts to remove the COP (you can do this for the 2ZZ-GE but I found enough space to install/remove COP). Put COP and bolt somewhere safe. Make sure area on valve cover is clean and that you won't drop anything into the hole where the spark plug is during removal and installation. Remove the spark plug with the ratchet, 5/8 plug socket and extension.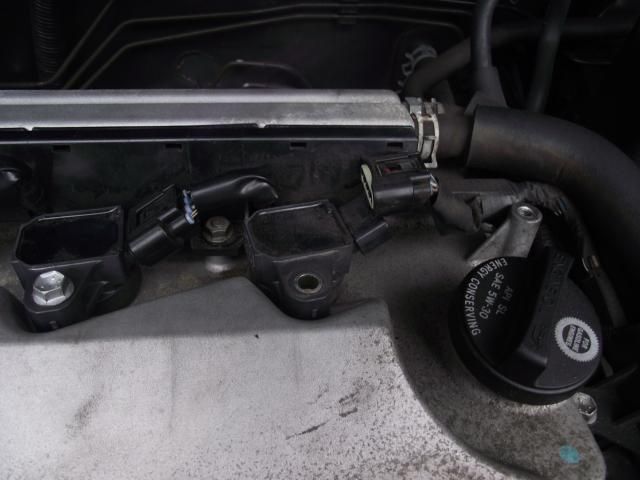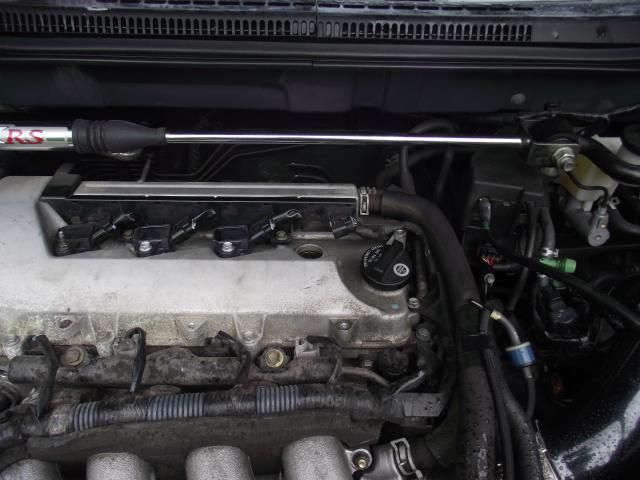 Check spark plug for damage and condition:
http://www.ngk.com.au/spark-plugs/technical-information/spark-plug-analysis
Note: If you find oil on the COP and spark plug insulator you should change your valve cover gasket (THIS IS NOT THE HEAD GASKET).
Almost all modern spark plugs come pre-gapped and don't need adjustment for new install.
Don't drop the plug into the hole, use the plug socket with extension.
Start threading the plug in by hand on the end of the extension (no ratchet) so you don't cross thread the plug. You cross thread it and you're in a world of $#!+. It should turn in by hand until it fully seats.
Spark Plug Torque:
1ZZ-FE: 19ft.lb (25N.m)
2ZZ-GE: 13ft.lb (18N.m)
(Not a lot) It's literally 1/8 of a revolution after you seat it by hand.
Replace COP with 10mm bolt and reconnect the connector.
Repeat for 3 other plugs.
Reconnect Battery.
Start engine and listen for abnormalities in engine start cranking or operation.
If okay: replace engine cover and drop hood, car is ready to be driven.
______________________

I gave it a little drive and it seemed to accelerate better on the 2-3rpm pull in higher gears. Engine felt stable at idle.