So I decided to replace my rear drum brakes and rotors, not easy unless you've done it before on the same car. I had to figure it out as I did it, good thing I took pictures. Here is how to do it and save yourself a big headache and a lot of money. Parts were very cheap to replace, I got the brake shoes ($30), rotors ($30) and new hardware kit ($8) for under $70 usd total (Got my parts from RockAuto). It shouldn't take you more than 1-2 hours for both sides.
Tools and supplies needed (click for images):
1. Car Jack and stands (2 ton minimum)
2. Needle Nose pliers
3. Hook tool
4. Flathead screwdriver (small and big)
5. Anti Seize
6. Brake parts cleaner
7. Sandpaper (60, 80 or 100 grit)
8. Rear Drum Brake Rotors x2
9. Brake Shoes
10. Drum Brake Hardware Kit (For the C-Washers)
11. Wheel Chocks
12. Clear Safety Glasses
**Here is a color coded diagram I made of the parts and where they go (Pictures below are color coded to this diagram):
1. Put on your safety glasses. Make sure the parking brake is OFF, put wheel chocks behind the front tires and jack up the car, put it on a stand and then remove the right back tire.
2. Remove right drum brake rotor: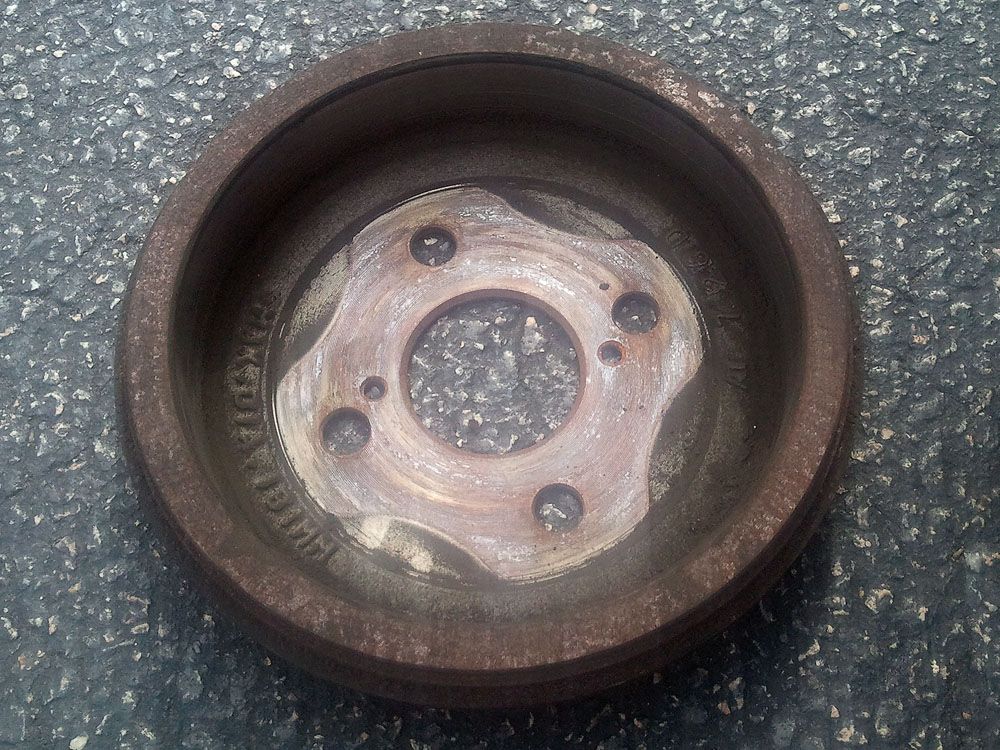 3. Spray brakes with brake parts cleaner (make sure you don't inhale any brake dust)
4. Remove the small return spring using the hook tool:
5. Remove the big return spring using the hook tool:


6. Remove the anchor spring using hook tool:

7. Remove the 2 shoe hold down springs, cups and pins by grabing them with the pliers and pushing in as you twist in either direction:

8. Remove both brake shoes (strut bar might still be attached to brakes)

9. Remove parking brake cable from parking brake lever (use pliers to slide spring back):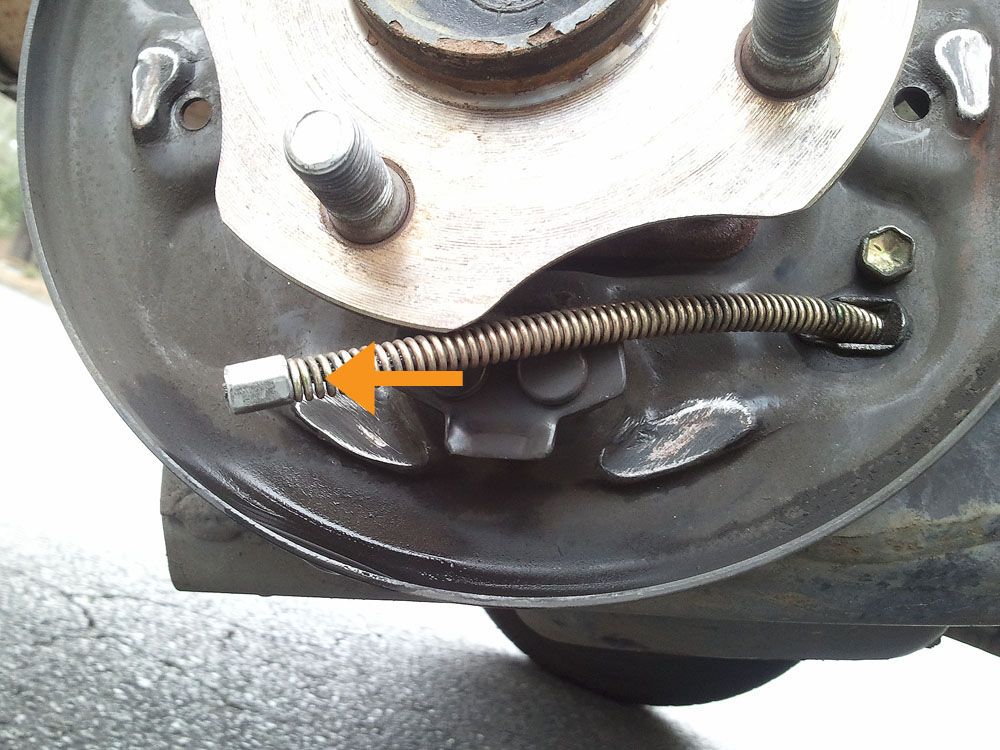 10. Remove the strut bar:


11. Remove the C-Washers (use flathead screwdrivers and needle nose pliers):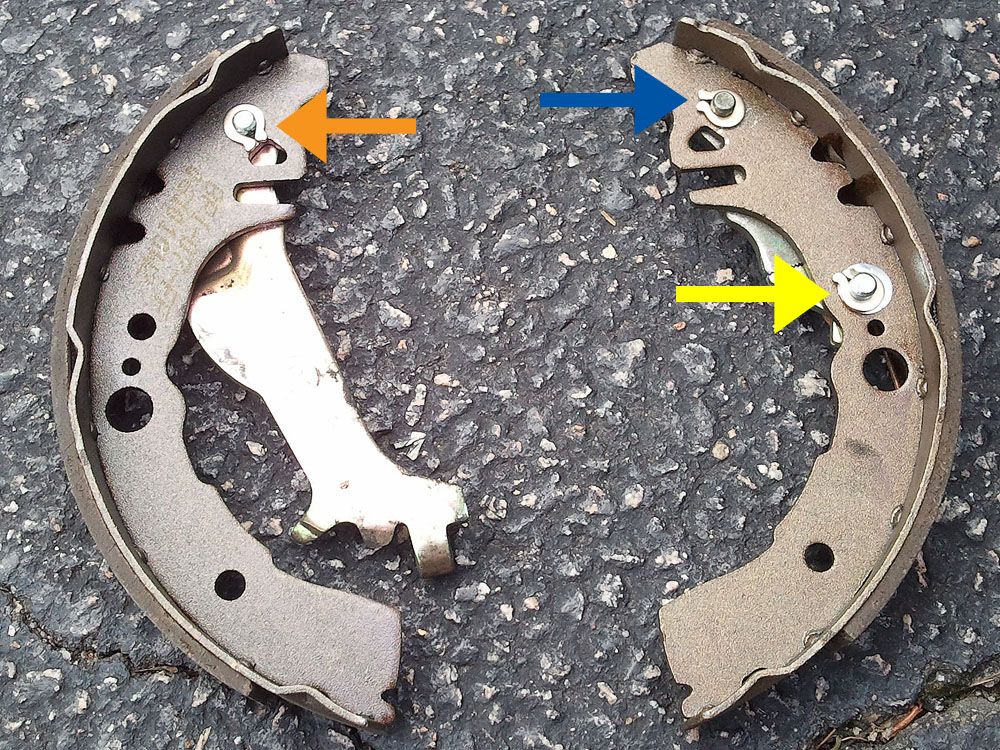 12. Remove automatic adjusting spring lever/latch and parking brake lever:


13. Re-attach automatic adjusting spring lever/latch and parking brake lever to the new brake shoes (refer to pictures 11 and 12, you will need new C-Washers)

14. Sand contact points and then apply anti seize: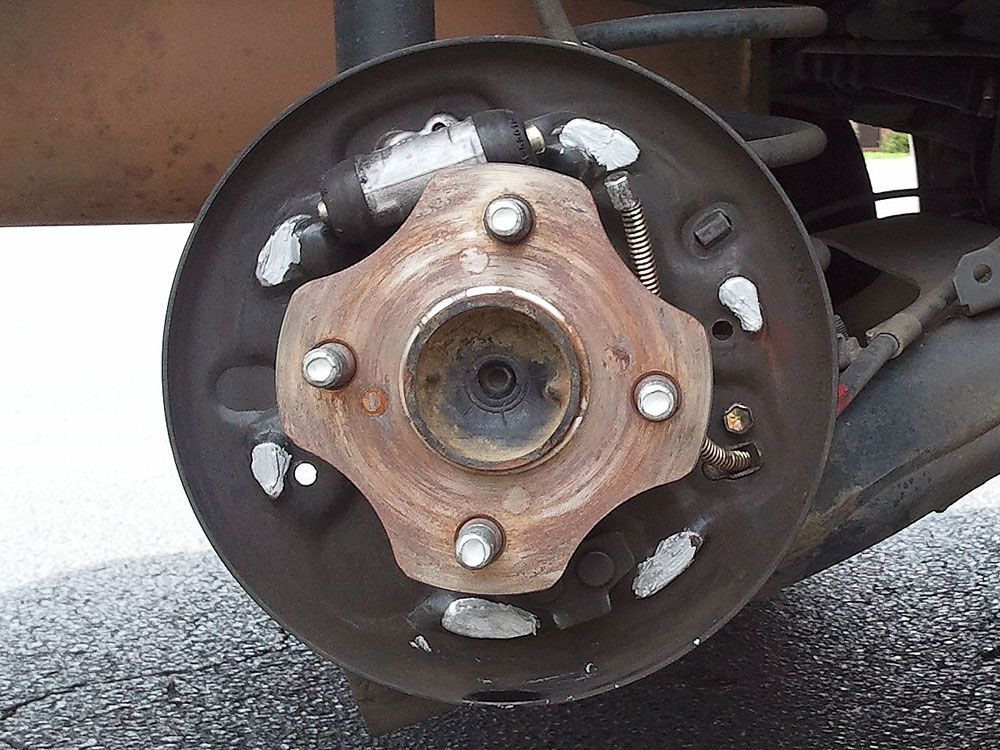 15. Attach parking brake cable to parking brake lever and then install left side shoe

16. Attach strut bar to right side shoe (see picture 10) and install

17. Connect strut bar to left side shoe

18. Install the 2 shoe hold down springs, cups and pins by grabing them with the pliers and pushing in as you twist in either direction (see picture 7)

19. Install anchor spring using the hook tool (see picture 6)

20. Install big return spring using the hook tool(see picture 5)

21. Install small return spring using the hook tool(see picture 4)

22. Push in automatic adjusting latch using flathead screwdriver: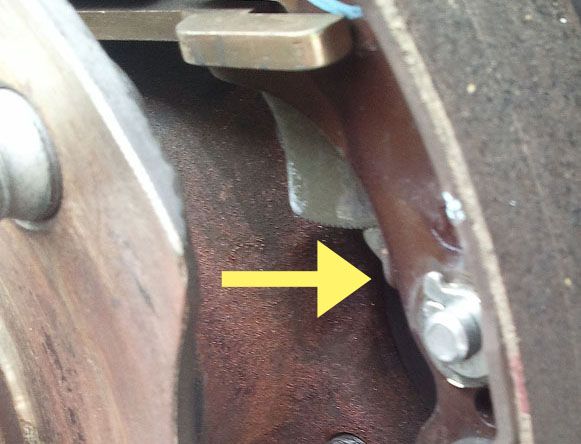 23. Spray inside of right drum brake rotor with break cleaner and dry it off. Install new right drum brake rotor:


24. Install tire, jack the car up slightly, remove jack stand, jack the car down and remove wheel chocks.

25. Engage and disengage parking brake lever (this auto adjust the rear brakes), then pump the brakes a few times until brake pedal is tight

26. Repeat steps 1-25 for the left side (remember everything is mirrored on the left side)