Discussion Starter
·
#1
·
Objective: FIX OIL CONSUMPTION PROBLEM
COMPLETED: '98 Prizm, '99 Prizm, '00 Prizm, '01 Corolla (Alec1), 2001 Celica GT (01 Celica Gt)
Coming this fall: 2000 Prizm & 2001 Prizm
Reasons not to wait:
1: This is a 1 time fix. Once fixed (per this writeup) the problem will not come back.
2: Oil is not cheap.
3: If you run it low on oil you risk ruining the engine.
4: If you let it go long enough you WILL:
a. Burn an exhaust valve (due to carbon build up)
b: Ruin the catalitic converter (due to carbon build up)
c: Ruin 1 or both O2 sensors (due to carbon build up)
These things (a, b & c) will start happening at the qt. every 100-150 miles consumption rate when you keep driving it for 16,000 miles if you get what i'm saying.
Part 1: Parts & special tools needed.
You will need a good clean work place and you should allow yourself plenty of time.
Take your time and do it right once.
It's much faster that way.
Parts:
Piston ring set: DNJ Engine Components #PR946 $40.79
Head Gasket Set: Fel-Pro #HS26158PT $103.89 for '98 & '99 OR #HS26158PT1 for '00+ (get a good Fel-Pro gasket set not a cheapie!!!!)
Head Bolt Set: Fel-Pro #ES710661 $55.79 (head bolts are "torque to yield" and must be replaced)
Above parts purchased from Rockauto.com for $207.78 shipped (with 5% discount code)
If there is any chance the engine was run low on oil then I would recomend ordering new bearings just in case.
Bearing set: DNJ (standard size) #RB946 $24.79 (rockauto.com)
Tube of high temp RTV $5~
5qt
conventional
5w30 oil & filter $18~
Coolant $12~
Several (4 or 5) cans of brake parts cleaner $2.50 each
A roll of "shop towels" $3
Tools: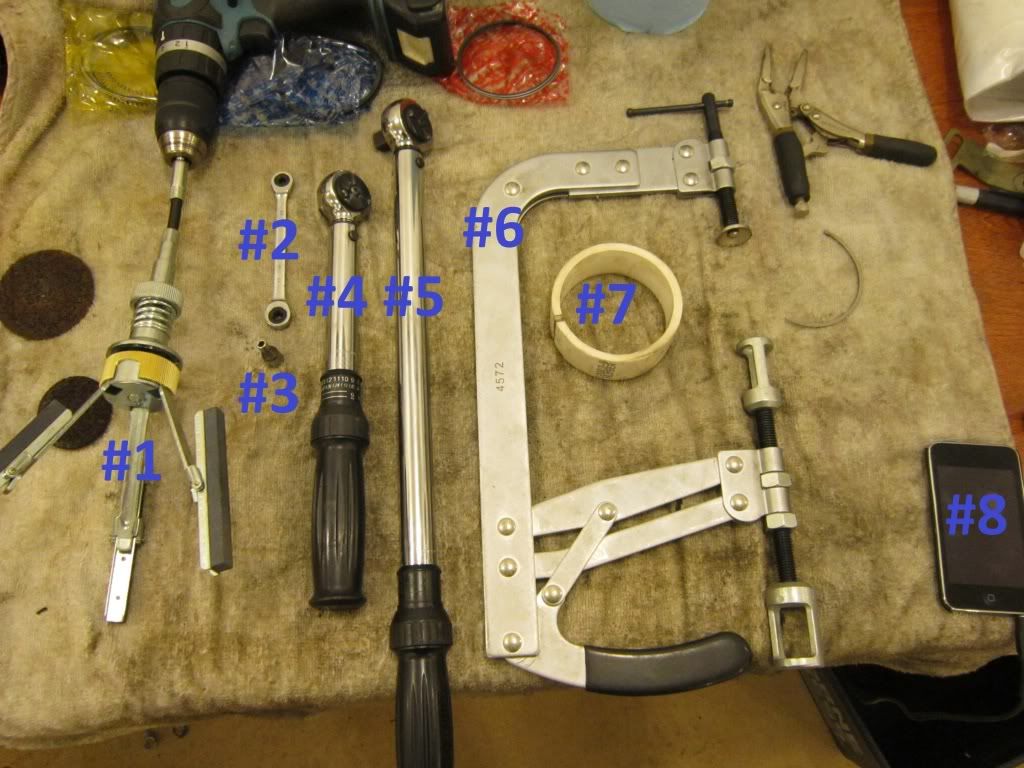 #1 Cylinder hone. I can't remember when or where I got this one. It was a cheap one.
#2 Gearwrench ratcheting external torx wrench (E6 & E8), this it technically not the right size but they don't make one like this that is the right size and you are just removing a stud so it is not an issue. You can do it without this but it's easier with.
http://www.amazon.com/Gear-Wrench-9220-Torx-Ratcheting/dp/B000HBC79E
#3 E5 ¼ drive socket, you can do it without this but it's easier with.
http://www.amazon.com/Lisle-Tools-Creepers-26770-Socket/dp/B0002JMJD0
#4 Craftsman 3/8 drive torque wrench (25-250inlb.)
#5 Craftsman 1/2 drive torque wrench (20-150ftlb.)
#6 OTC 4572 valve spring compressor: [ame]http://www.amazon.com/OTC-4572-Large-Spring-Compressor/dp/B000F5ECUY[/ame]
#7 Small piece of 3" PVC pipe cut down one side
#8 Gotta have tunes.
#9 (not pictures)
10MM bi-hexagon bit
. I have used an M12 triple square bit and not had an issue, you could also probably get away with a 10MM hex bit, only the 10MM bi-hex is the correct one though. A standard (short) length bit will not work for this (see pics below), it must be several inches long to reach through the head and get to the bolt. (link and info thanks to
bustedstuff104
)
#10 (not pictured) feeler gauge.
#11 A decent selection of standard tools will be needed which I have not individually listed.
#12 A service manual. Factory, Haynes or Chilton.
Part 2: Removing the head.
I won't be covering every single step. I'm going to try and highlight some of the key things that are maybe less obvious. I'm trying to avoid writing a book.
1: From above, remove the upstream O2 sensor from the exhaust (skip this step on Celicas). It does not need to be unplugged. This is removed to gain access to the exhaust manifold bolt. From below the car, remove exhaust manifold bolts (2) and mounting bolt (1) between engine and manifold. You are done under the car for the rest of part 2.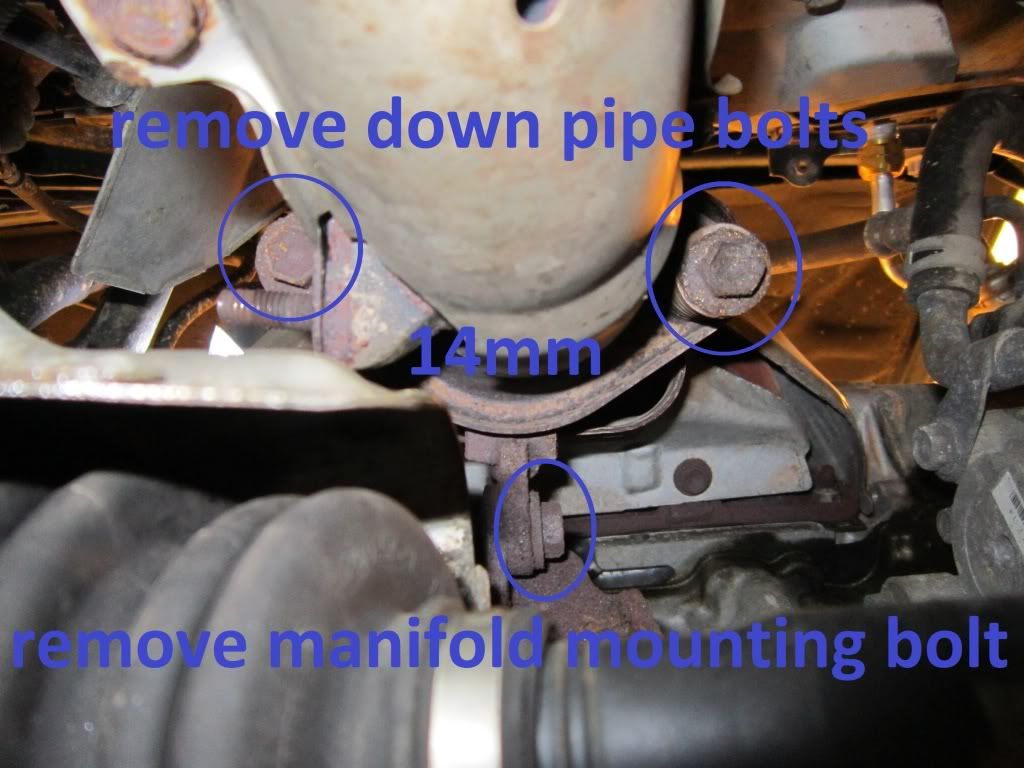 2: Disconnect and pull the cruise control and plug wires over the driver side of engine bay. Disconnect the PCV valve and breather tube from the valve cover.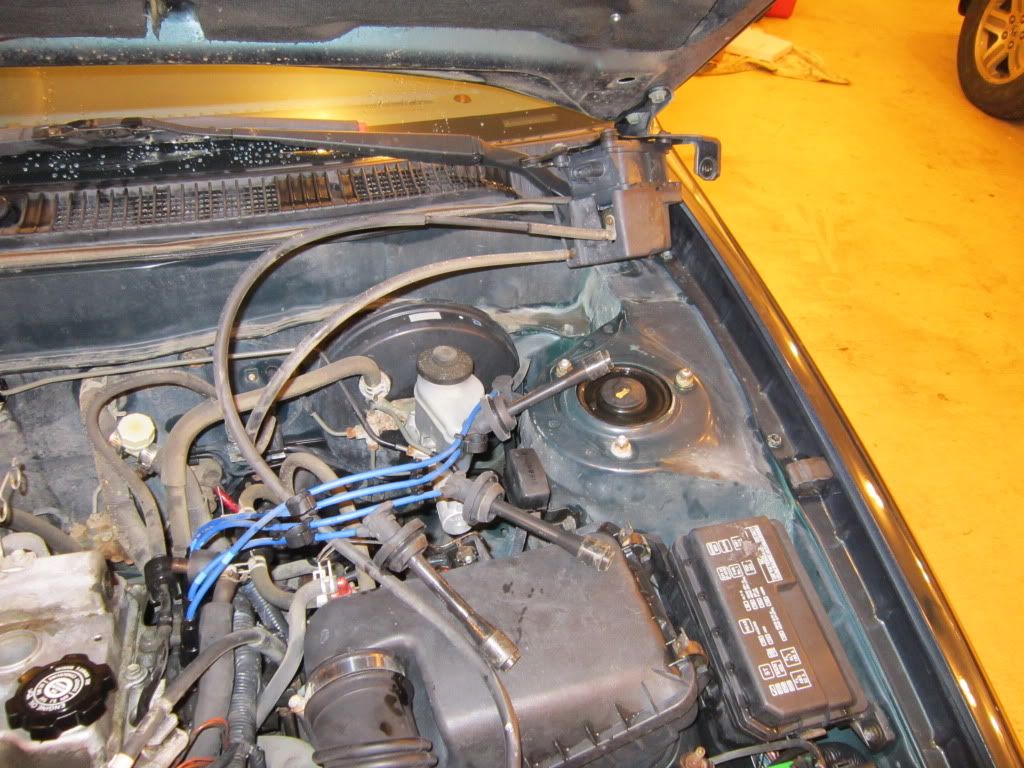 3: Remove the valve cover. Unbolt the fuel rail and intake manifold from the head, and the one additional bolt show in pic below. Swing fuel rail over to the driver side of engine bay. Intake can be pulled out enough to be removed from the studs.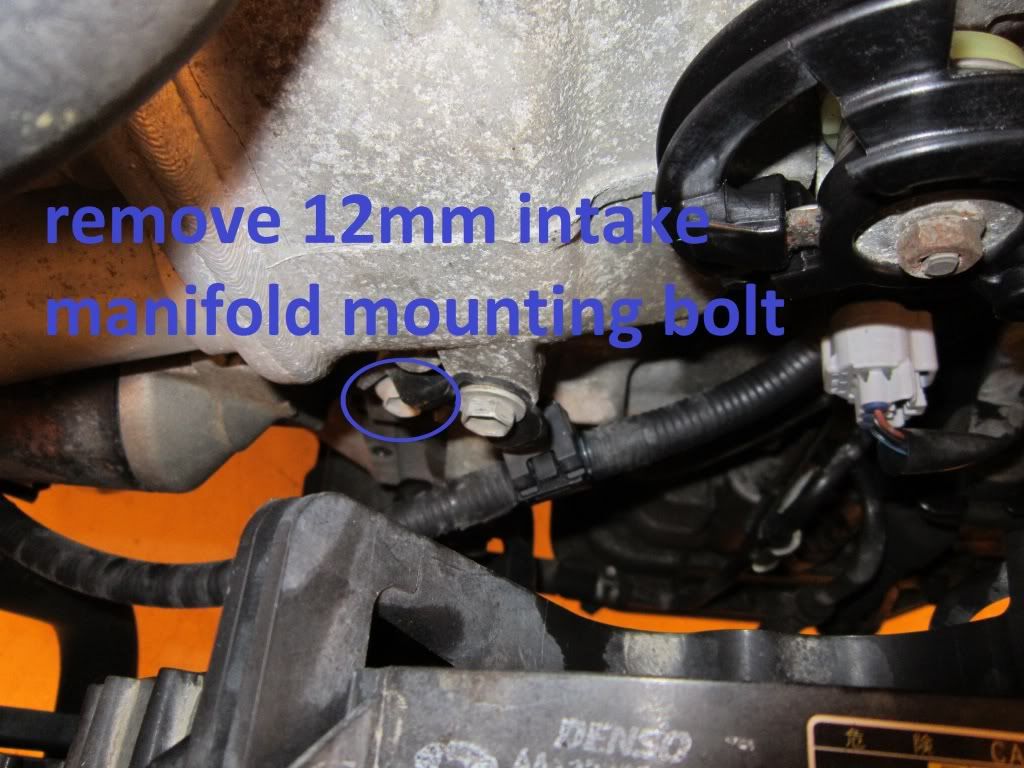 4: Remove the cam sprockets (14mm). There is no need to worry about timing or cam & engine position at this point. Have a clean open space to lay everything out on EXACTLY as it can off the engine. It is important to put each piece in the exact same location it came from.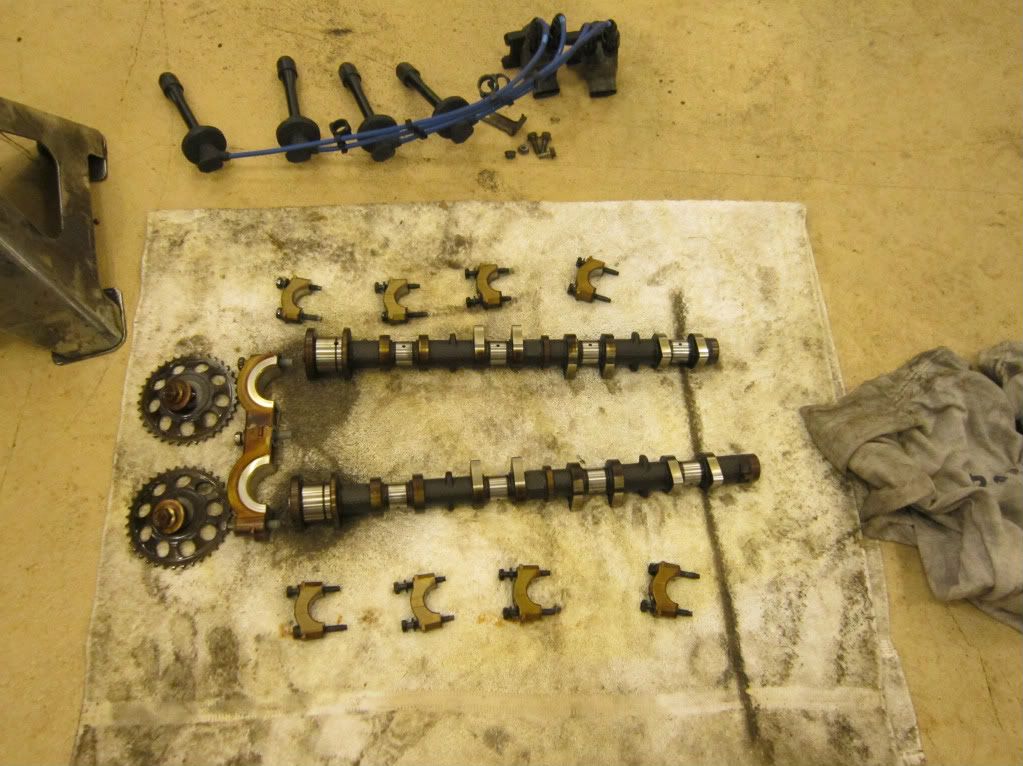 5: Remove timing cover bolts and studs. There are 2 studs pictured below. I think the left stud (on the belt tensioner) is actually E7 but I didn't have E7 and E8 worked just fine. The stud towards the front of the car is E5. There are 4 more 10mm bolts 3 on the outside and one on the inside.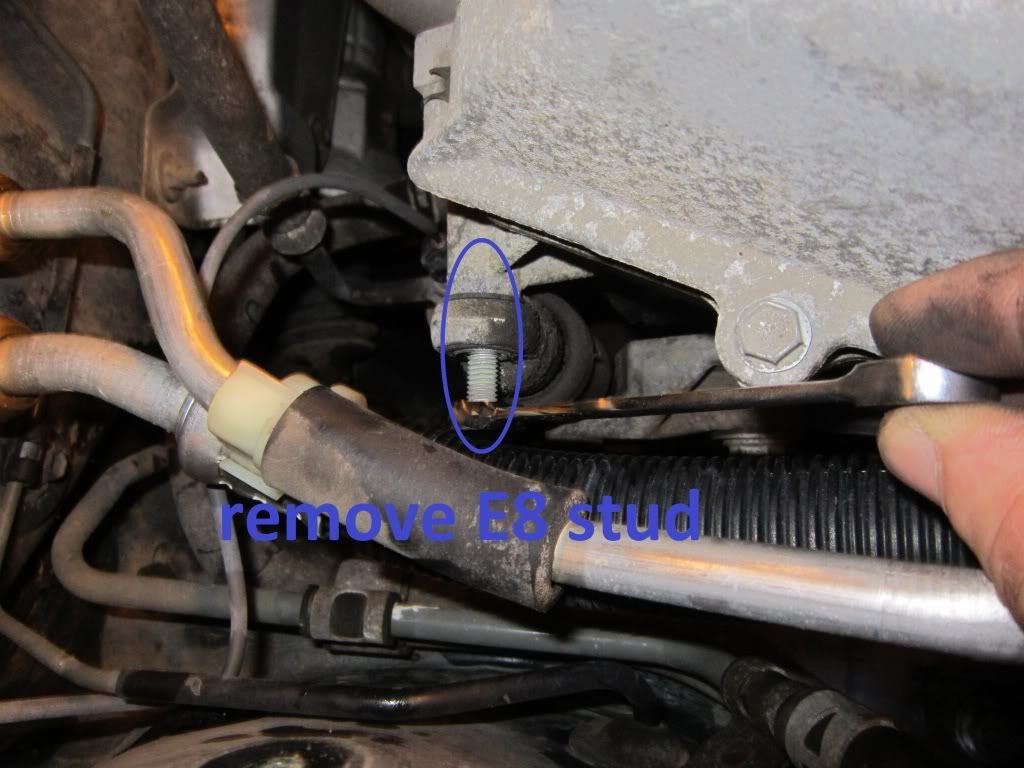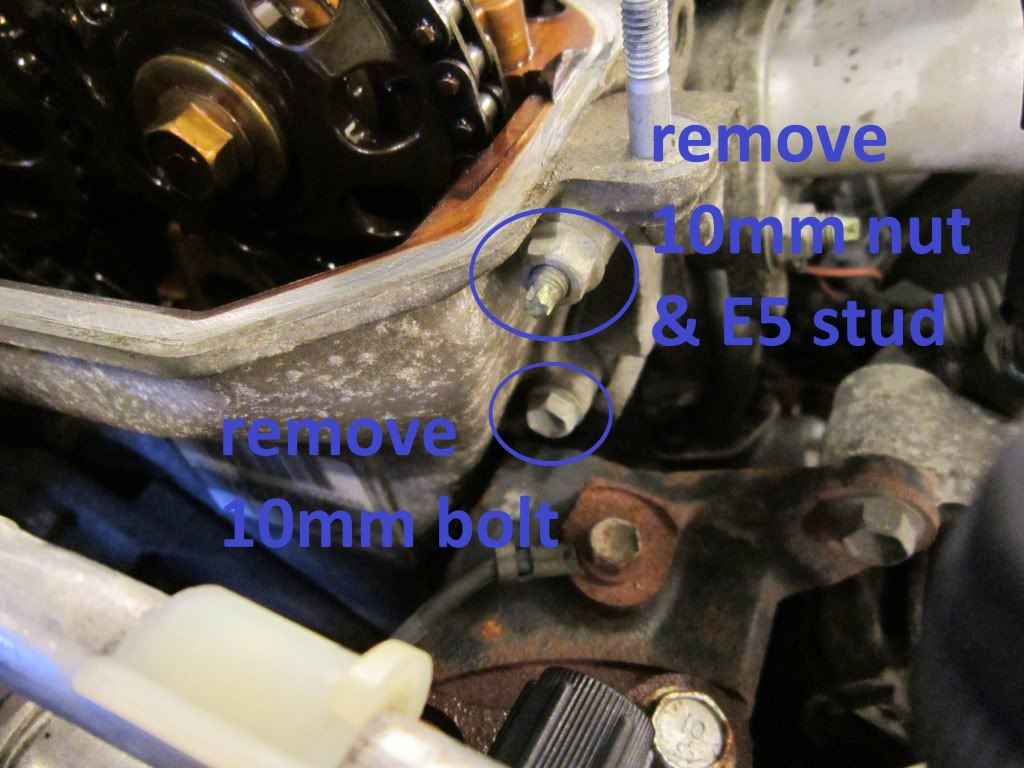 I can't lie, I had lots of help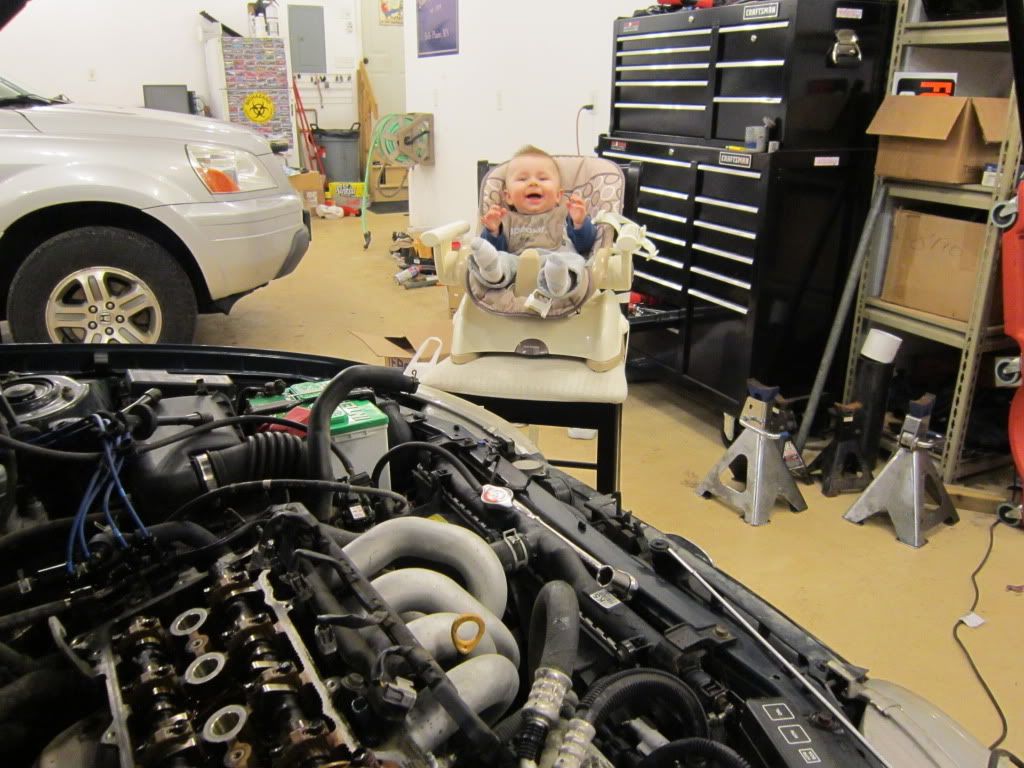 6: Remove everything from rear (driver side) of the head. Here is a good after the fact pic: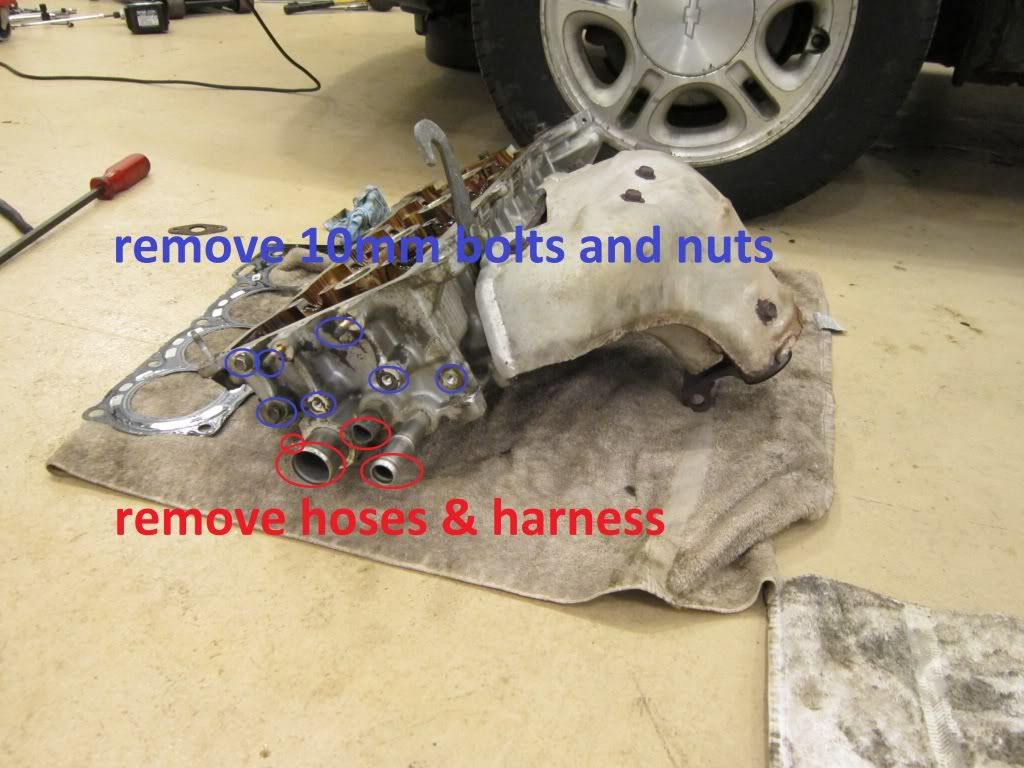 7: Pull the cams (10mm & 12mm). Again, set them out exactly as they were placed on the head. They are marked but it's very simple to just lay them all out in order.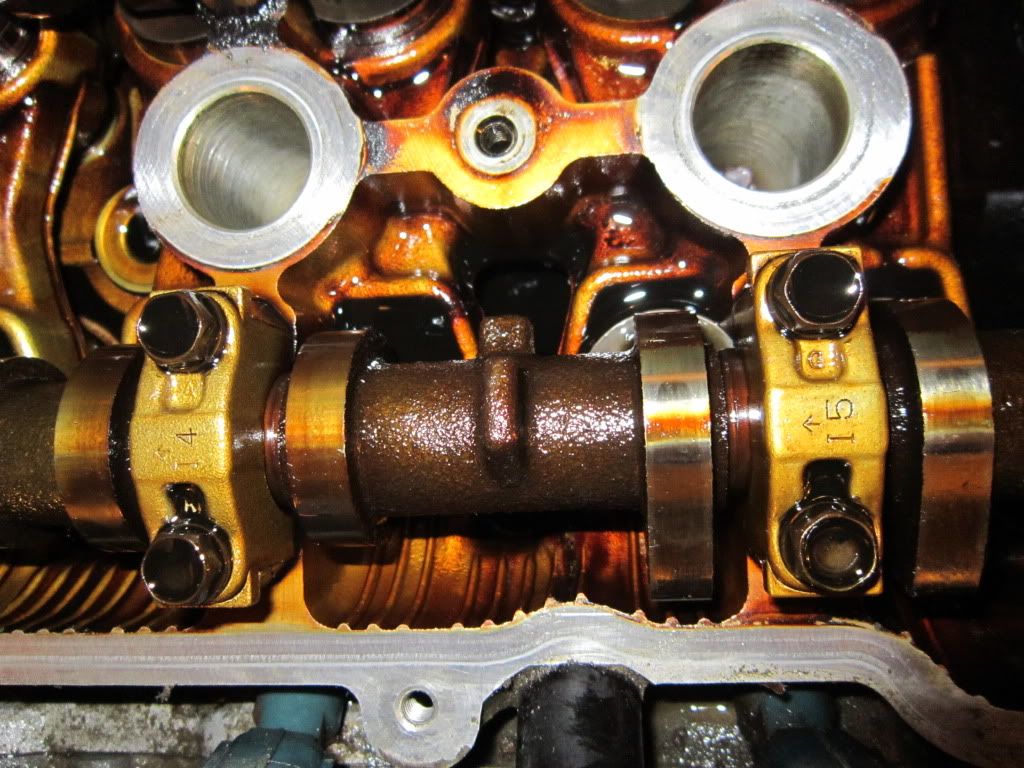 8: Remove head bolts (M12 triple square). Do not use an impact to removed any bolt that is bolted in to aluminum.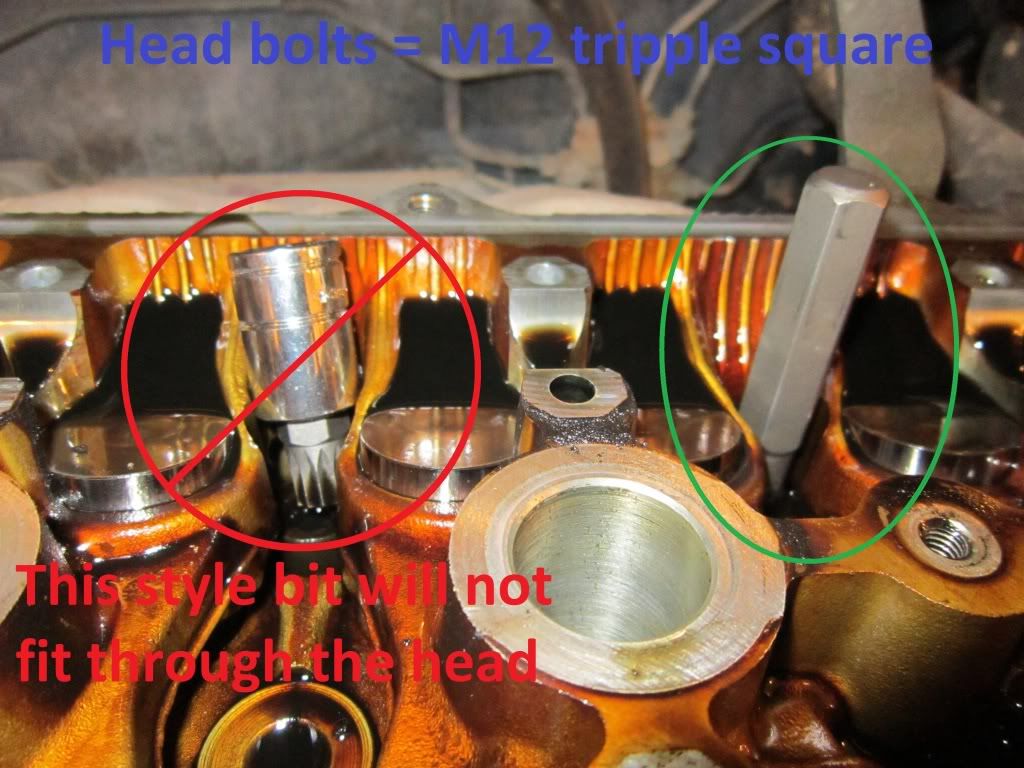 9: Pull head and exhaust manifold!
Part 3: Removing pistons, honing re-ringing and reinstalling pistons.
1: Remove the oil pan. I have yet to remove the brace that runs under the pan for this. It would make it easier but it looks like a pain to take out.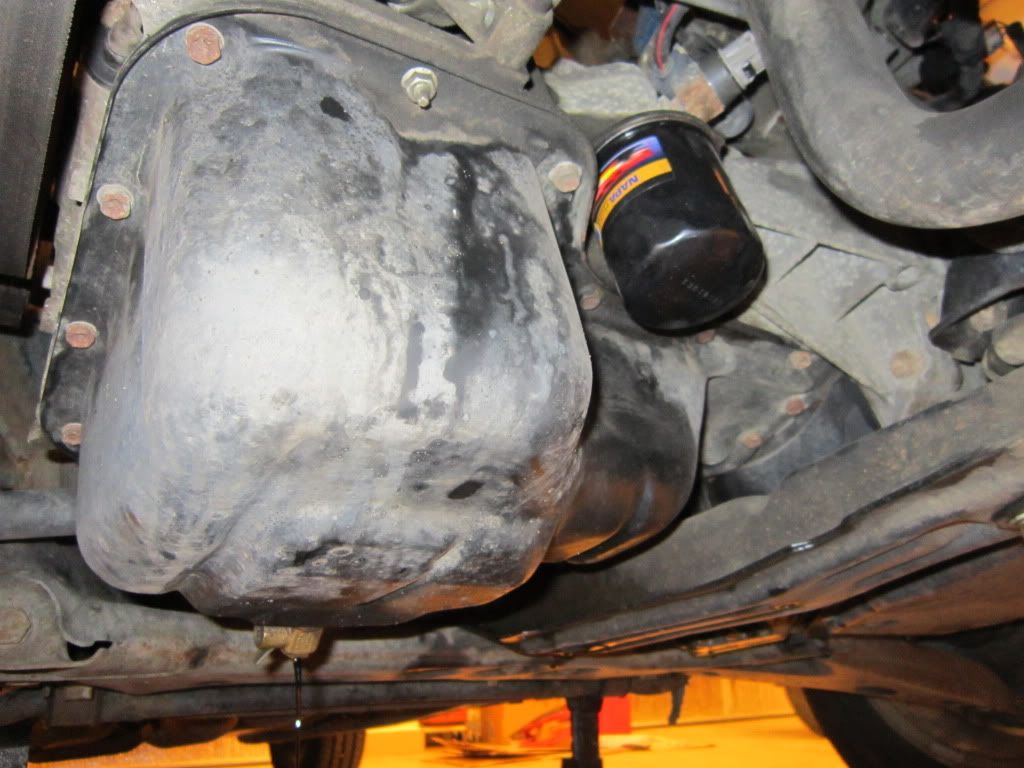 The pan is sealed on with RTV. There is a nice spot to pry against towards the back of the engine by the flex plate. And you will need to pry!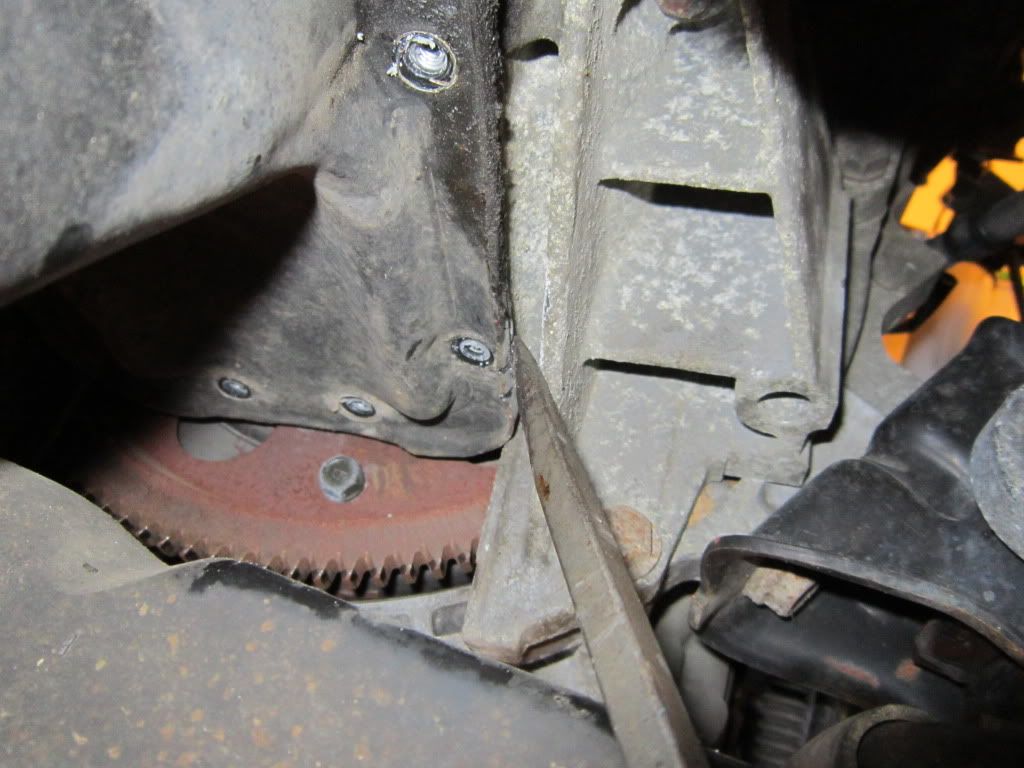 Here is a Celica shot. There is a little more room between the K member and engine in the Celica:
2: At this point you will need to rotate the engine in to position. It can either be with pistons 1 and 4 all the way down or with 2 and 3 all the way down.
You will need to lift the timing chain up until it's tight so that it doesn't bind as you rotate the engine. With the head off there should be almost no resistance to turning the engine over. If there is, don't force it, double check the timing chain.
3: Remove connecting rod caps (12pt 10mm). I only remove 1 piston at a time so that nothing gets mixed up. Pull cap, then using a ¼ drive socket extension inserted in to one of the bolt holes, push rod and piston straight up and out of cylinder. Be careful! You don't want to damage the crank / rod bearing surfaces or the cylinder walls. The ¼ drive socket extension really does work very well.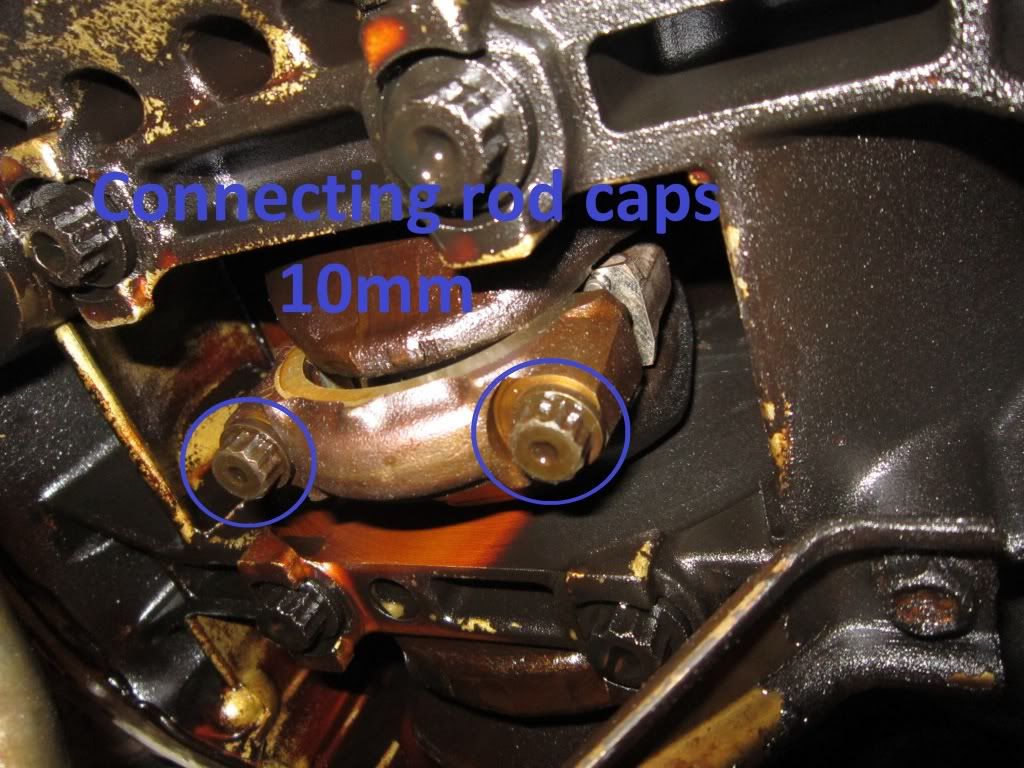 Here is what a well cared for Toyota rod bearing looks like @ 265K miles. No reason the check for tolerance on these:
Here is what the cylinder looks like. You can still see the cross hatches: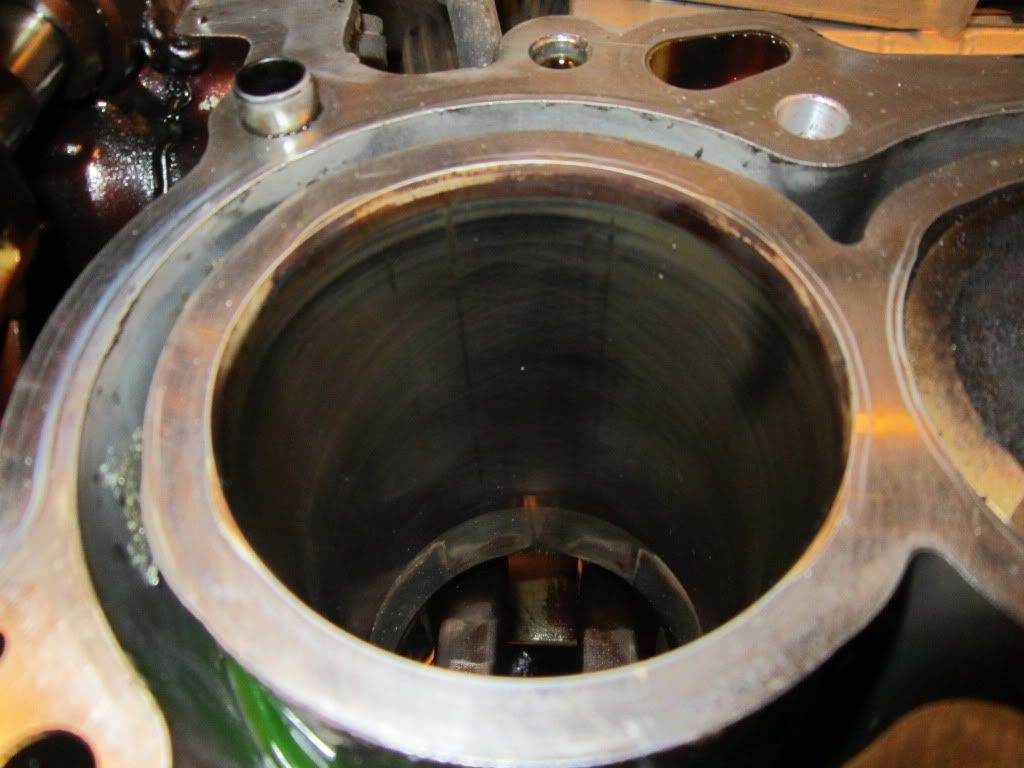 4: Hone the cylinder. You will want to put a rag in the bottom to catch ANYTHING that may fall down on to the crank bearing surface. Generously spray some WD-40 in the cylinder and on the hone. Push and pull the hone up and down as you go to achieve nice cross hatches. Remember: this is to de-glaze the cylinder wall, not bore it out. 20-30 seconds per cylinder should be enough. The honing is necessary for the new rings to seat properly.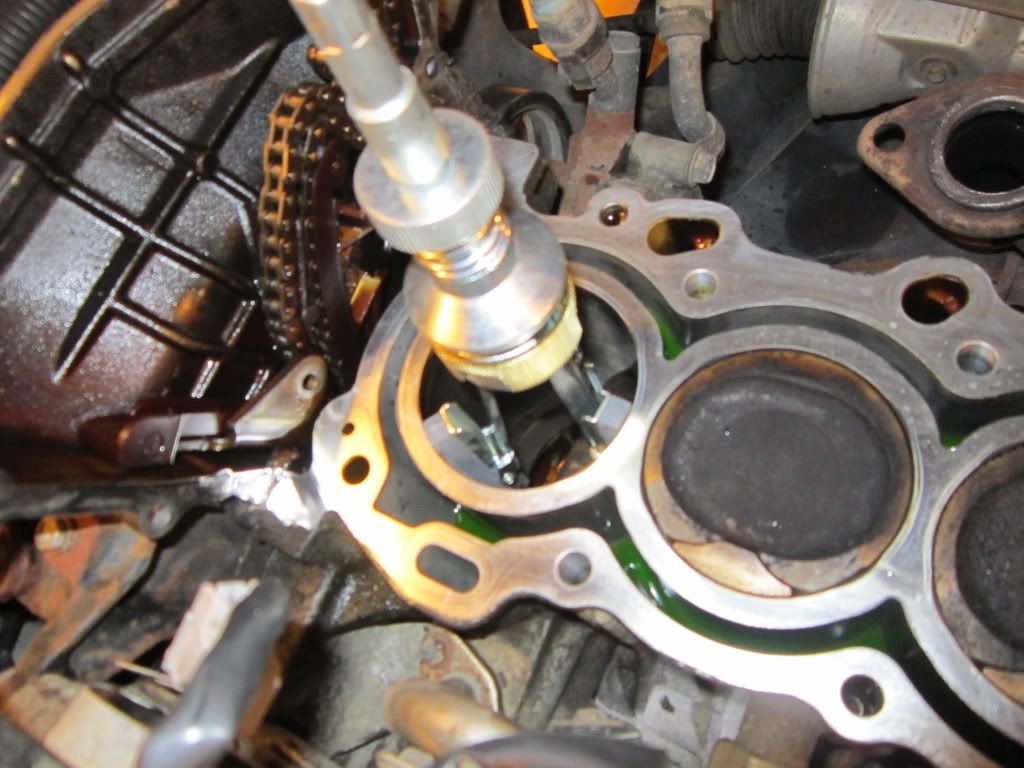 What it should look like: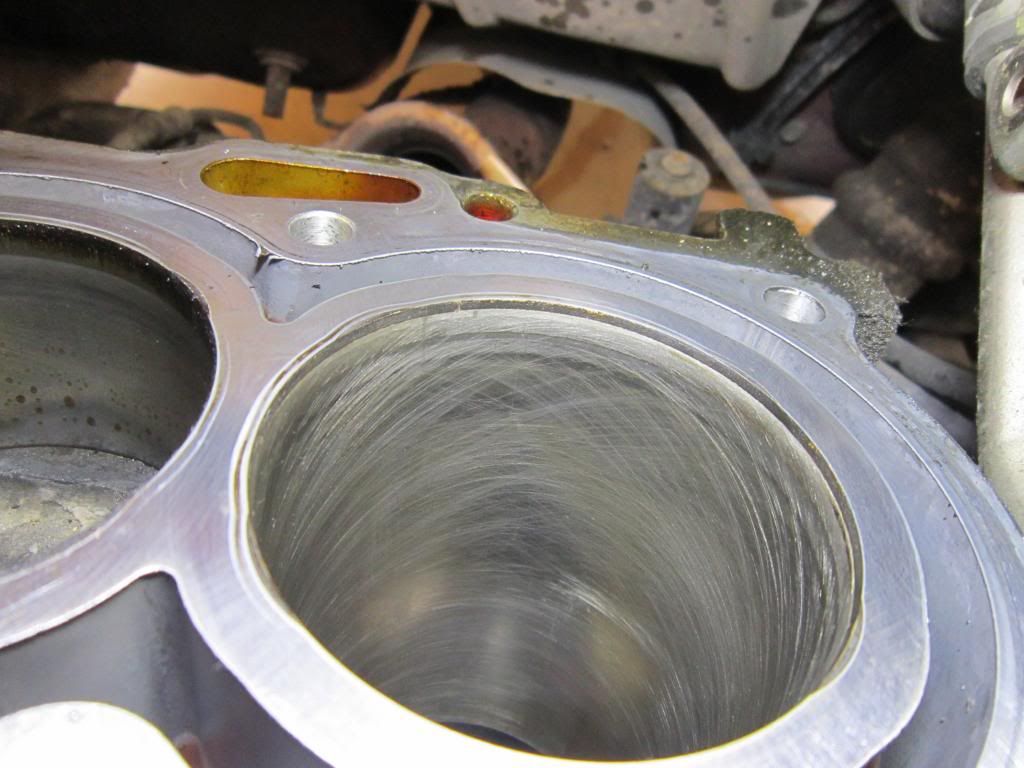 5: Piston update, cleanup and re-ring. After removing the rings here is what you will find. The oil drain holes are all completely clogged. The is not as bad as my other Prizm because the rings themselves are not completely seized in the groves. In this case I was burning about a qt. every 400-600 miles. My other Prizm, qt. every 100 miles.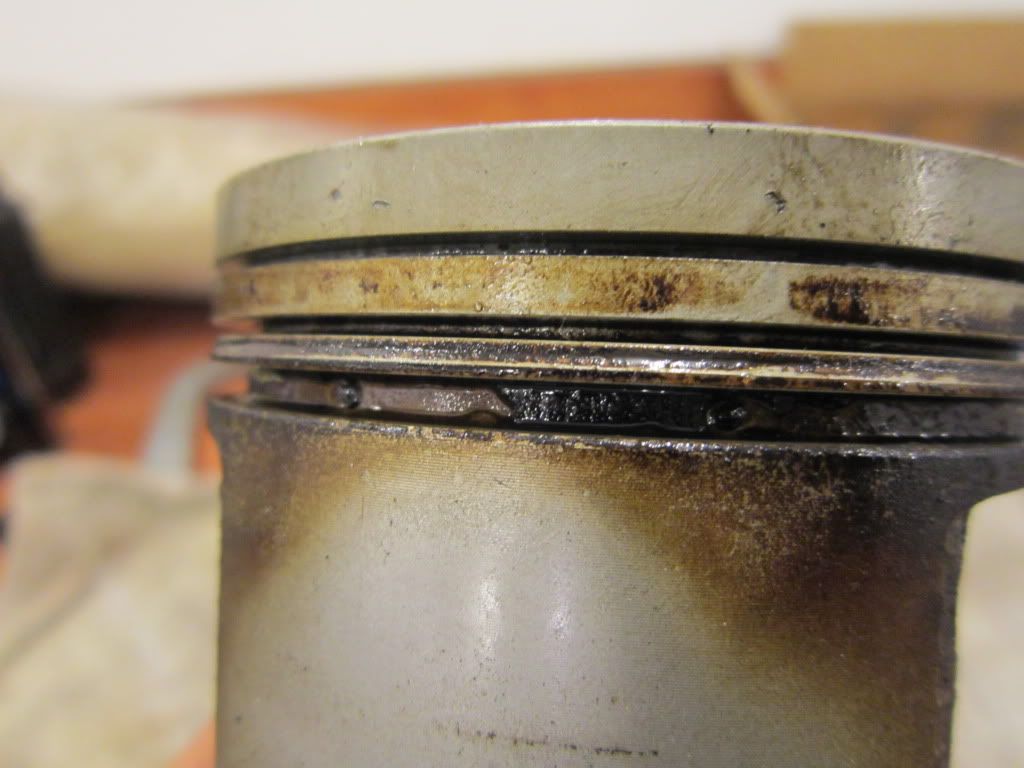 I drilled clean the 4 original holes and added 2 more on each piston. I don't know exactly what the drill bit size was. It was just the biggest one I had around that was smaller than the oil ring grove. It was slightly larger than factory.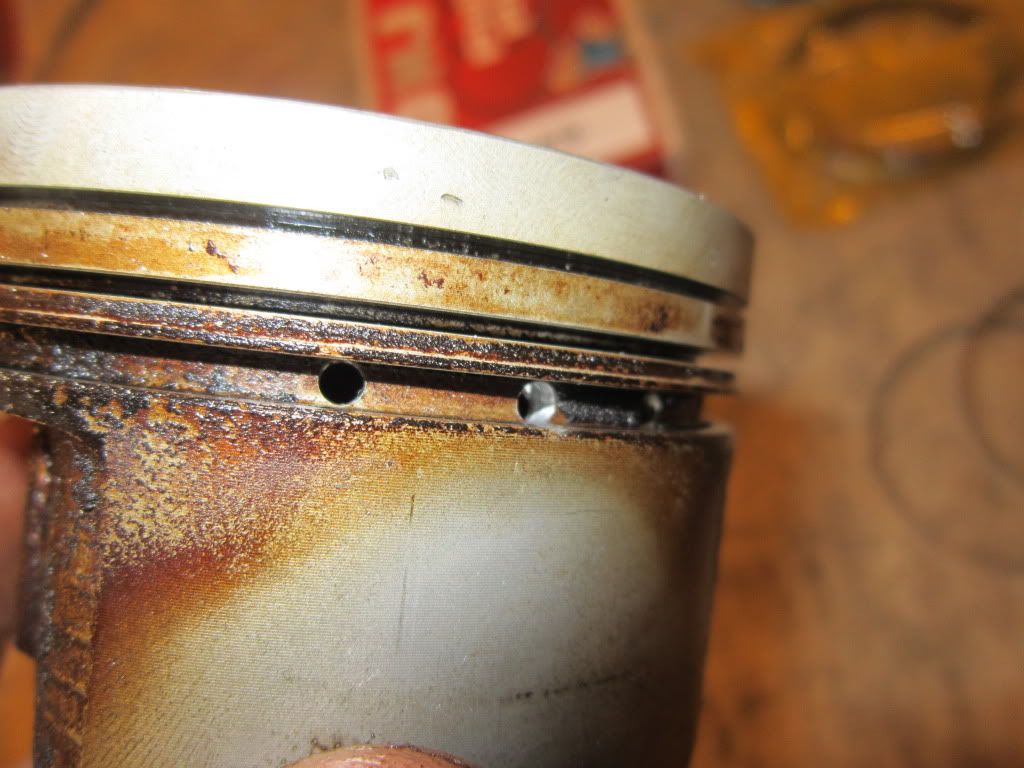 Take one of the original compression rings and cut it in half. Use it to scrap clean all the ring groves on the piston.
I used an angle die grinder with a very nonaggressive stripping disc to clean off the piston surface. Then CLEAN, CLEAN, CLEAN everything!!! Compressed air and brake parts cleaner are your best friends! You do not want any metal shavings from the drilling going back in to the engine!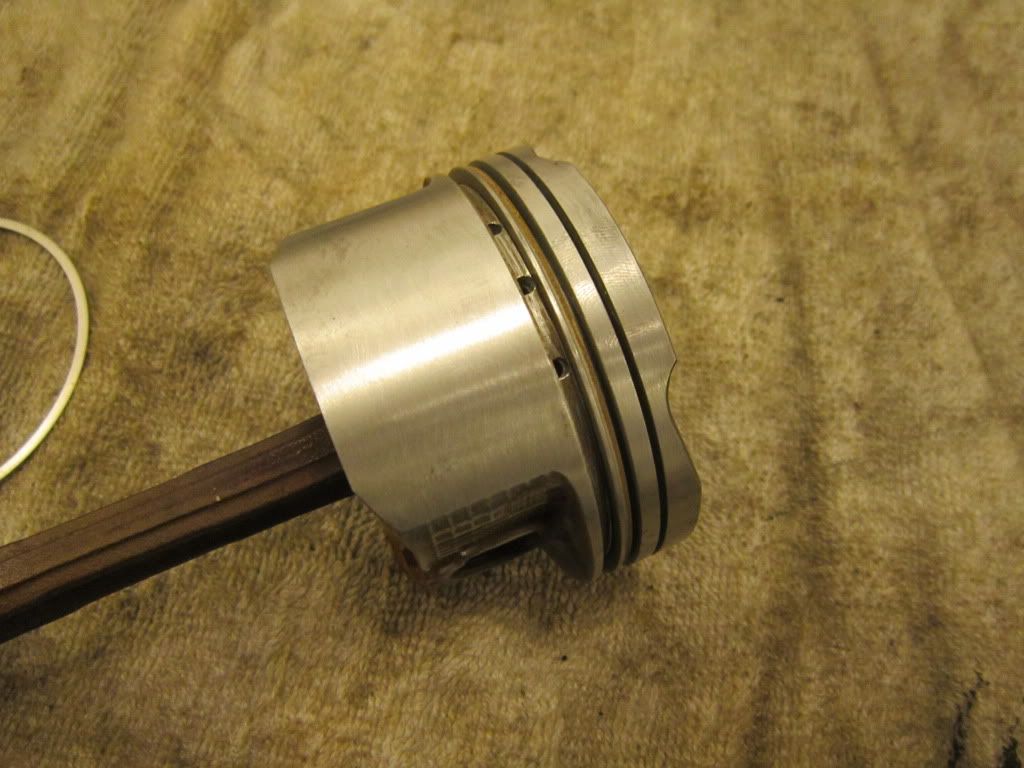 Install new rings. The new rings come in marked bags. Do not remove them from the bags until you are installing them on the piston. If there is writing/markings on the rings install them with the writing facing the top of the piston, more on this can be seen on page 21 of this writeup, thanks
doctorbee
!). #1 compression ring goes on the top grove, then #2 compression, then #3 oil ring assemblies. Rotate the rings so that the gaps alternate and so that the gaps are located on the wrist pin sides of the pistons.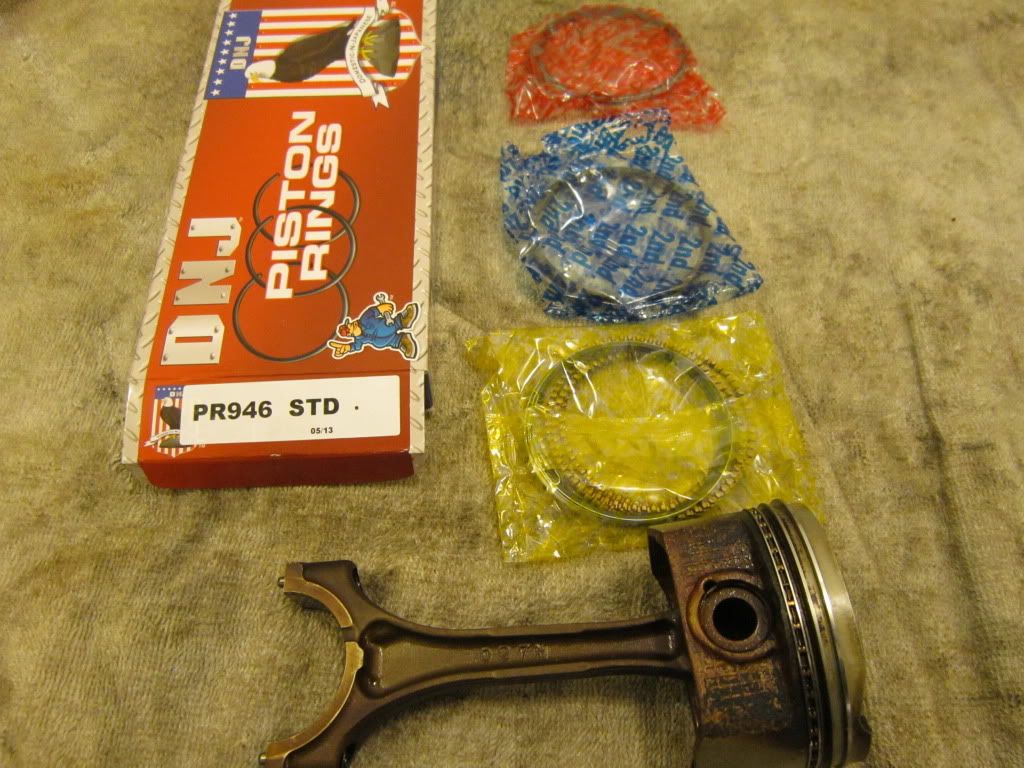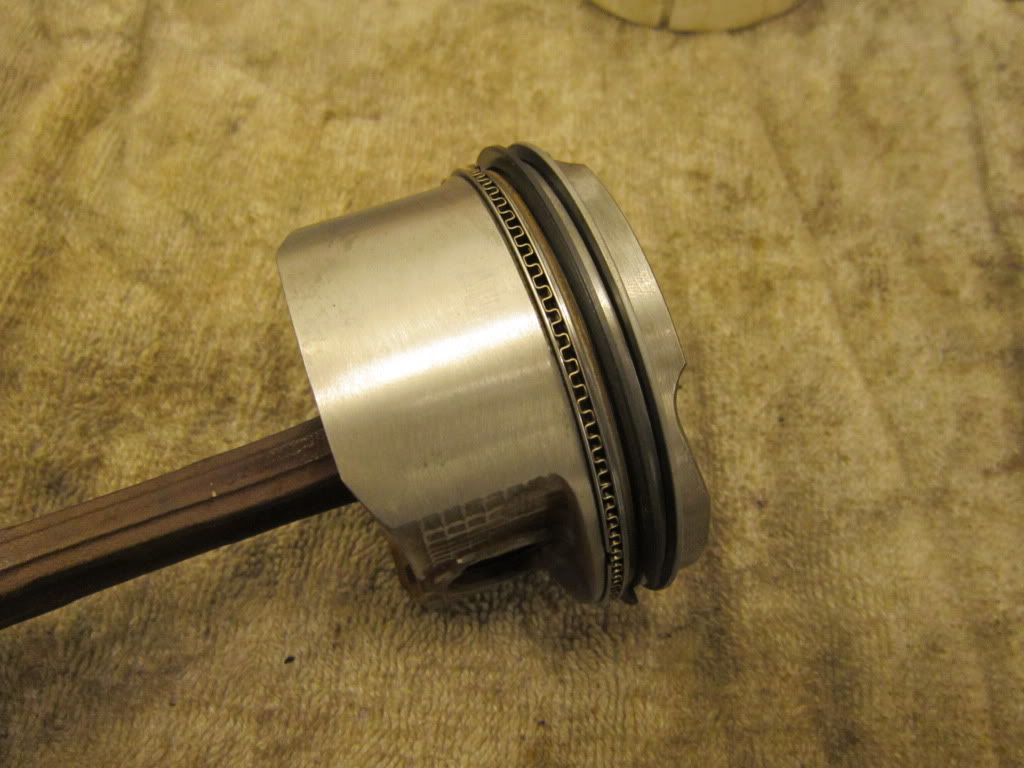 6: Wipe clean the cylinder walls, oil the rings and piston assembly generously and reinstall the piston using the PVC pipe as a ring compressor. Use the bottom of a hammer handle to LIGHTLY tap the piston in to place. If it is not going verify the rings are compressed all the way.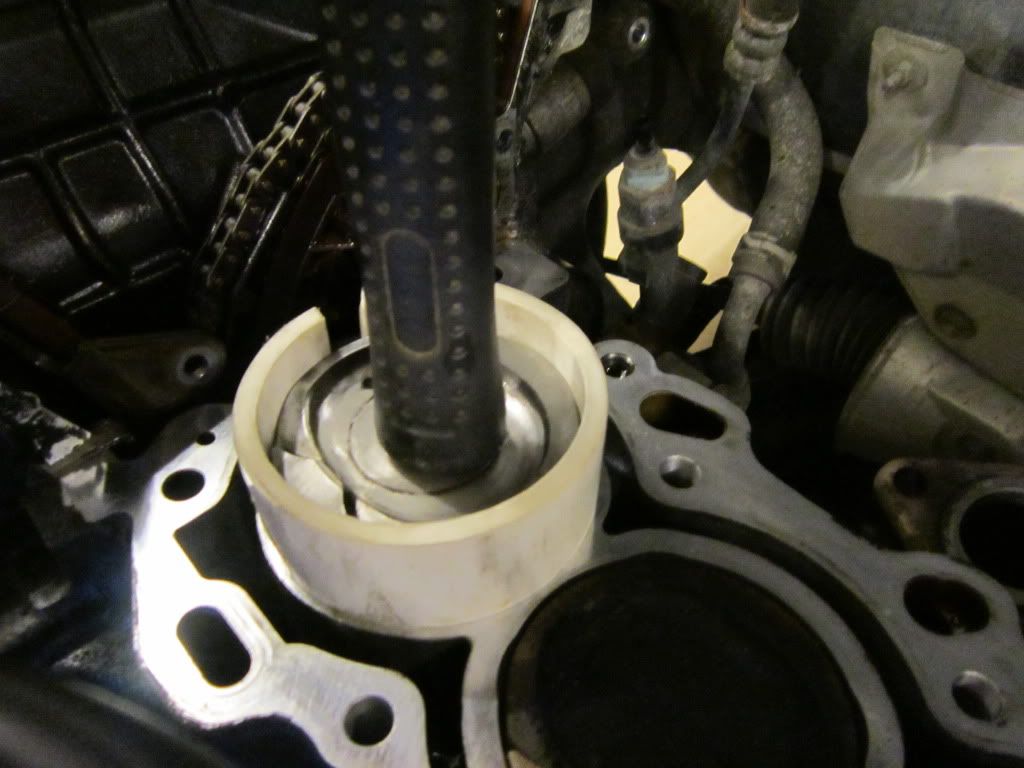 CAREFULLY push piston all the way down while aligning connecting rod with crankshaft. *You don't want to damage the crank / rod bearing surfaces or the cylinder walls*. You may need the help of a friend since you can't really be above and below the engine at the same time. I have had a pretty easy time rotating the crank to the perfect position that the rods naturally will go down to. Oil and reinstall rod caps. Torque bolts to 15ftlb (180inlb on my wrench), then turn an additional 90*.
Repeat step 2-5 for all pistons and cylinders. The #4 cylinder is a pain with the brace running under the engine.
7: Clean oil pan. Mine was pretty good but this is the time to clean out any sludge in the bottom of the pan. I used brake parts cleaner and rags. Scrap off gasket RTV from both the pan and the engine block, wipe clean with rag and brake parts cleaner. Apply bead of RTV to oil pan and reinstall pan.
MORE TO COME..........