Discussion Starter
•
#1
•
Disclaimer: I and/or TN cannot be responsible for any damages or problems that may occur

because of your actions. This DIY is simply a guide. I experienced no issues while doing this modification, but please be

careful and have someone qualified do this if you feel as if that is need.
ANYWAYS... on to the actual mod. My stock steering wheel was gray and NON-leather. It was also starting to
completely fall apart. I bought a new leather steering wheel on ebay... unfortunately it was beige instead of gray. So I
decided to go for the SE trim line look and paint it black.
Before we move on, I want to address an issue with the GEN3 camry steering wheels. Please check your VIN# before doing this
mod. If you have a J vin car and want to use your original airbag, youre going to need a J vin steering wheel. If you have
a 4T vin and want to use your original airbag, you're going to need a 4T vin steering wheel. IF you're unsure about what is
in your car, check the access panel on the steering wheel's left side. J vin's will have 2 T30 torx screws instead of one.
Basically:
4T wheel + J airbag = NO GO
J wheel + 4T airbag = NO GO
J wheel + J airbag = YES
4T airbag + 4T wheel = YES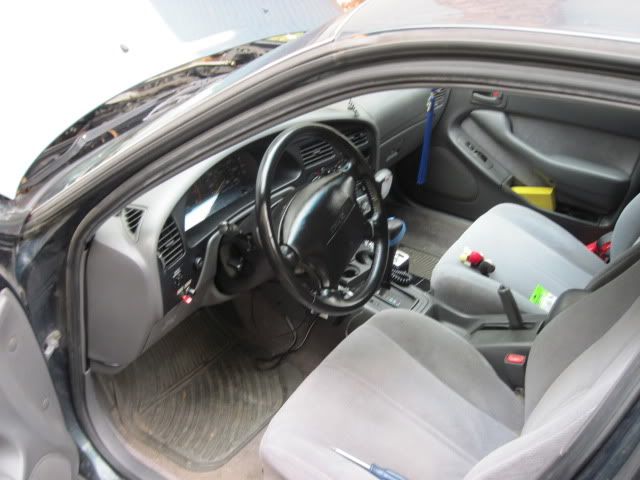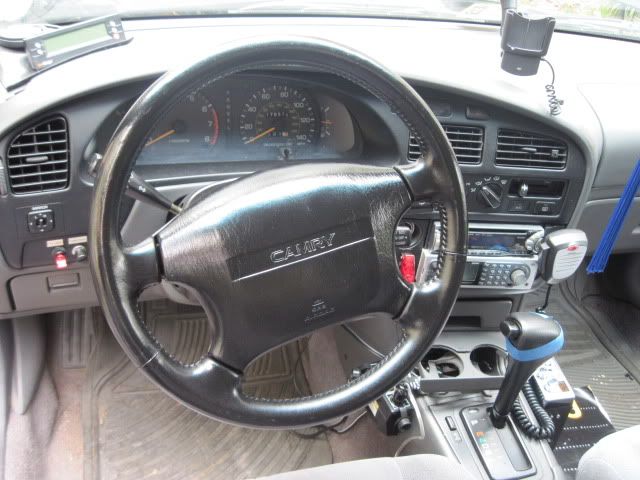 That's the look we're going to shoot for. To start, let's paint the new wheel.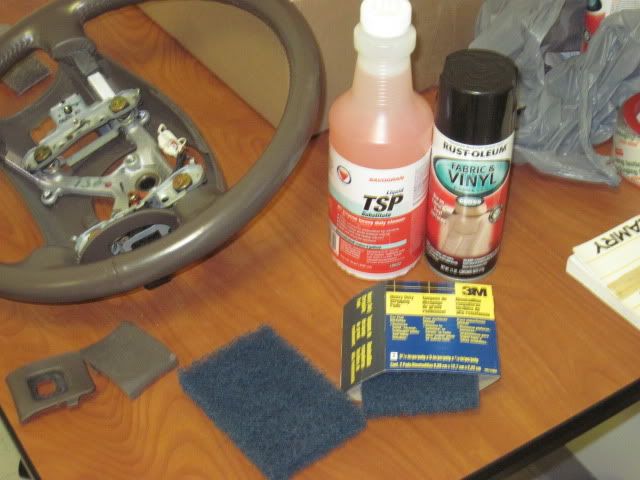 This is pretty much what we're going to need at this point:
Trisodium Phosphate (TSP)
[can be found at the hardware store in the paint section. Available as a liquid or powder]
Scuffing pad
[Nothing too harsh. DO NOT USE SAND PAPER... but I suppose
WET
2000 grit might work.]
Fabric & Vinyl Paint
[Color of your choice... I used gloss black.]
Plastic Paint (not shown)
[I also chose gloss black. Krylon Fusion works well.]
***Please not that Plastic Paint and Fabric/Vinyl Paint are NOT the same!
You'll also need a few other odds and ends... newspaper.... painter's tape... etc.
Go ahead and dilute the TSP per directions on the bottle or package. I used about a cap full per 1/4 SOLO cup full for
water. We want it strong, but NOT STRAIGHT TSP. Use a cloth or paper towel and scrub down every surface that's going to be
painted. Wait for everything to dry, then clean it again.
After that, we need to scuff up the leather surfaces.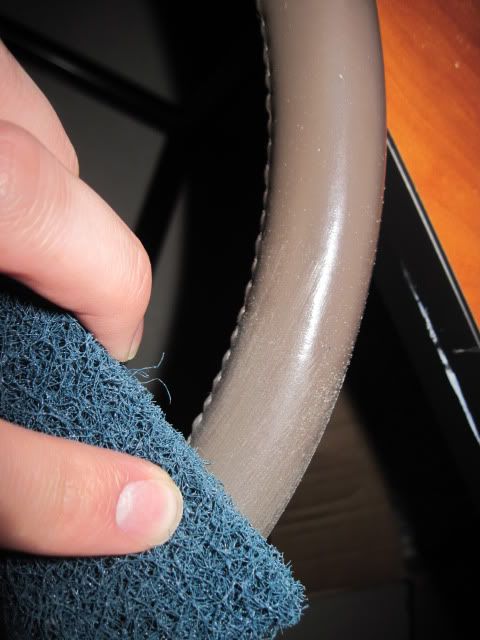 There you can see the difference between the part that has been scuffed and the part that hasn't. We want a dull luster to
the leather. After all of the leather is scuffed up, clean everything again with the TSP solution.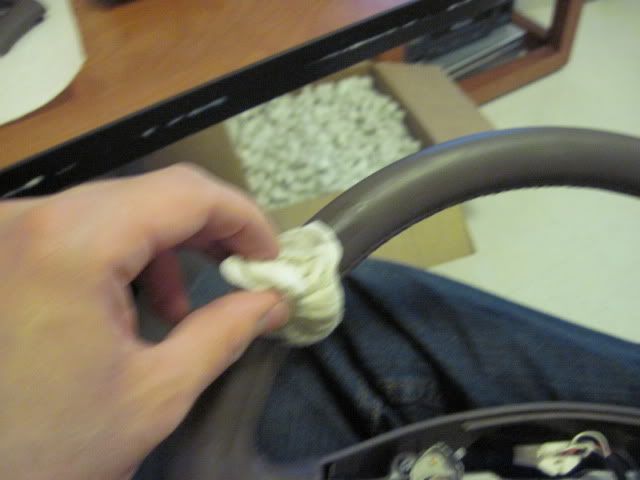 Now we can prep for painting.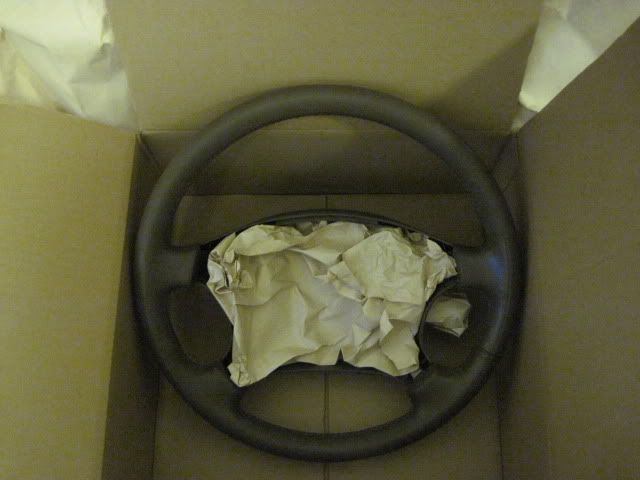 We'll take care of the leather surfaces first. Remember... we're only going to use the fabric/vinyl paint on the leather.
(The plastic paint will be used on hard leather surfaces.) Shake the can up per the directions on it. We're going for many
light coats of the paint. Please go very light on each coat. Also note that it's not necessarily going to come out smooth
to the touch. We'll take care of that on the final coat.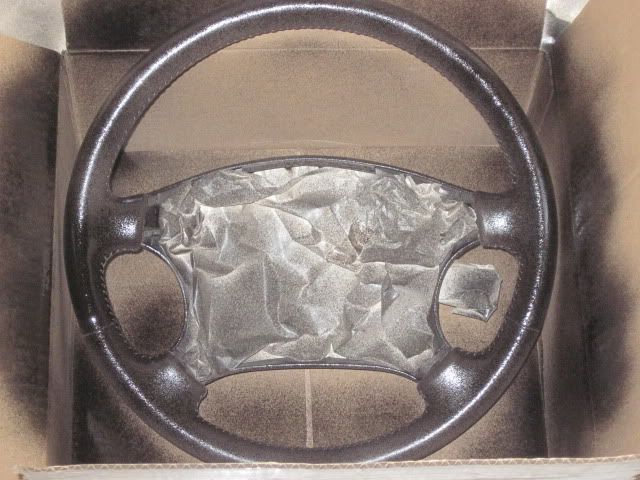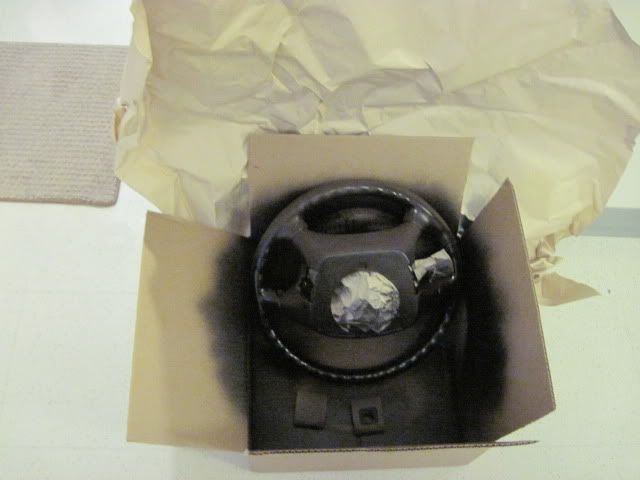 After you get the leather coated evenly, move onto the hard plastic parts. Tape and newspaper off the leather part, then
spray the hard plastic with the Krylon fusion paint. No prep is needed other than cleaning it with TSP. Go slow, and do light coats.
After the hard plastic paint drys, we can look into the final coat on the leather. Scuff it up with the pad, but be gentle.
If the leather paint hasn't completely cured, it behaves like a latex paint... when it cures, it acts like a dye. After you
scuff it up, clean it with TSP and wait for it to dry.
Go over the leather with one coat for the front, and one coat for the back. We want it nice and even and glossy BUT we
don't want the paint to run. If you screw up, no big deal. Just go back and scuff it up, TSP clean it, and try again. This
is what we want it to look like: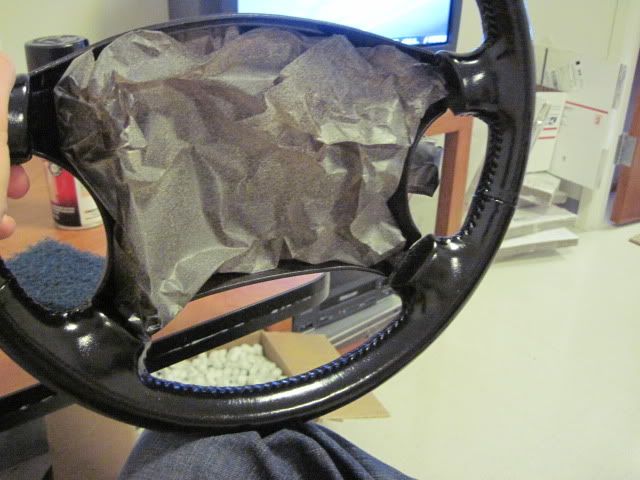 I didn't take many pictures of the airbag, but it gets the same process as the leather. This is because it isn't hard
plastic. Make sure you mask off areas you don't want painted. :thumbsup: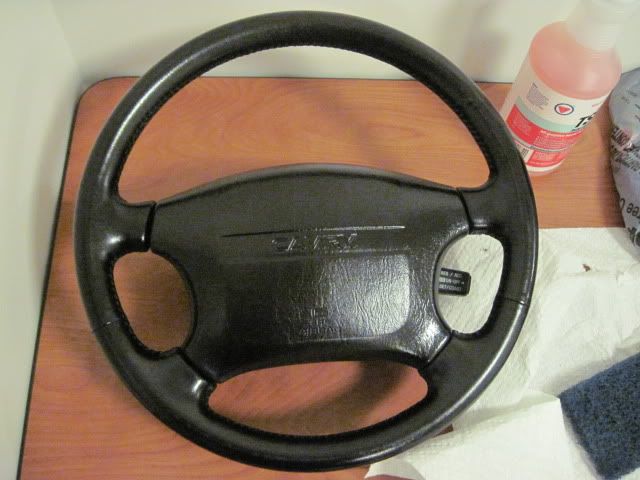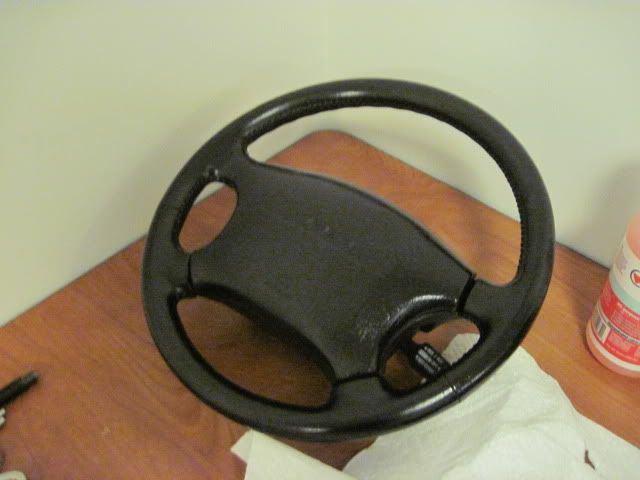 I didn't show the steps for this, but if you want to paint the steering wheel column cover, use the same process as you did on the hard plastic. If you want to paint your shifter, same deal. Plastic paint for hard plastic, vinyl/fabric paint for leather, rubbery plastic, etc.