Discussion Starter
·
#1
·
Without further ado.
What came in the mail today was a gigantic box that frustrated the UPS guy and a dinky little one tossed on my doorstep by the Fedex guy.
There was some debate about exactly what went where on the projector lights so the first thing I did was to shoot a big picture of the back of the things focusing on (for once) the connections instead of the glitz.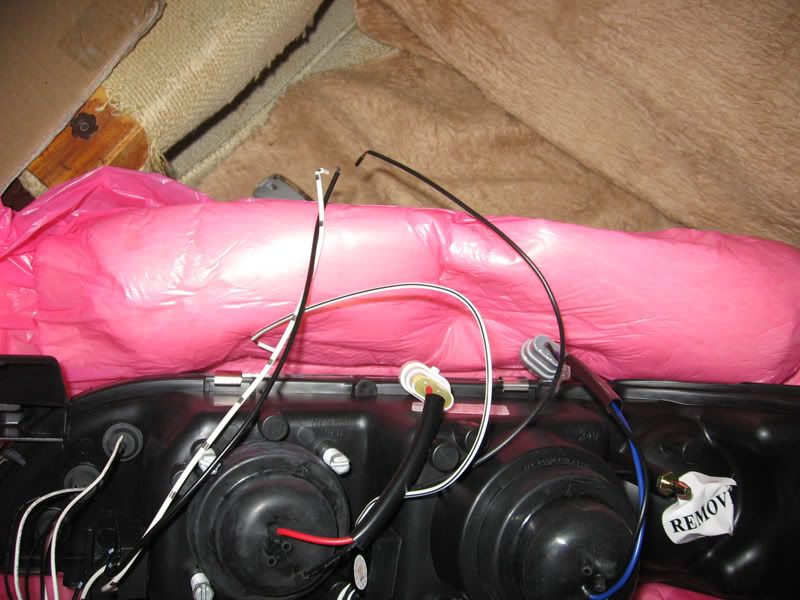 There's a 9005 plug, a 9006 plug, and two sets of bare wires. One goes to the halo ring, one goes to the spider eyes. They're too short to tie together and into the same system--for all I know one's supposed to be for DRLs. Fuck DRLs. I'll wire the car for them if I ever move to Canada and get her legalized. Until then, the spider-eyes stay disconnected.
A sticker caught my eye.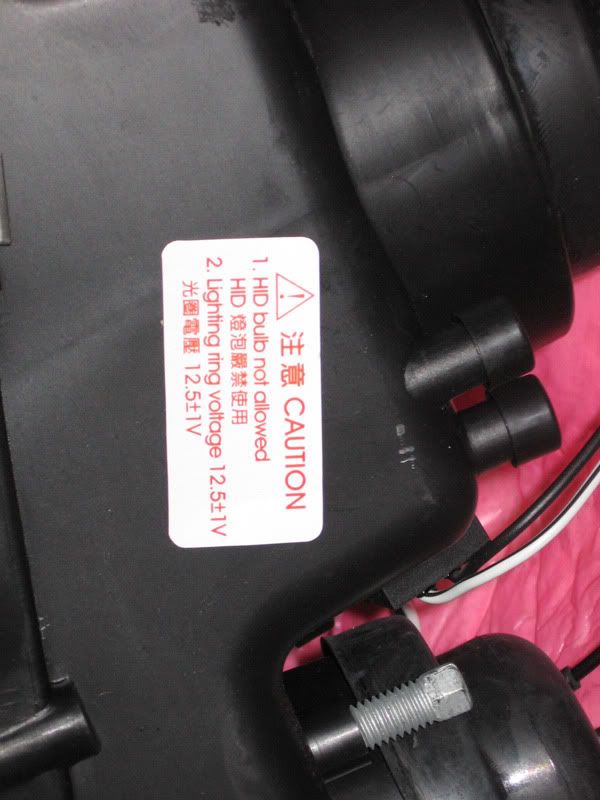 LOL. Lightning ring. I CAST LIGHTNING RING AT THE DARKNESS!
Lightning ring does sound more awesome than halo. I'd rather have a ring of lightning chasing itself over my head than a halo, because if I were eligible for a halo I wouldn't be having nearly as much fun from life. Lightning ring it is. (Pardon my stylistic differences, I've been up doing grueling physical labor for 16 hours now on 3 hours of sleep and I'm too exhausted to be Mr. Spock.)
Here are the old lights. They're nothing special...RHD-spec H4 single-bulb enclosures that Dorfinator sent my way some years back when he upgraded to something different. Thanks, Dave! I'll follow your example. Does anybody out there want a set of completely free (but you pay shipping) H4 enclosures? The bulbs still work, shit, compliment me a little and I'll even throw in the relays that go from 9005/9006 to H4. These are heavy-duty relays, wrapped like Egyptian mummies in electrical tape and have held up to about two years of the way I drive and the Pacific Northwest.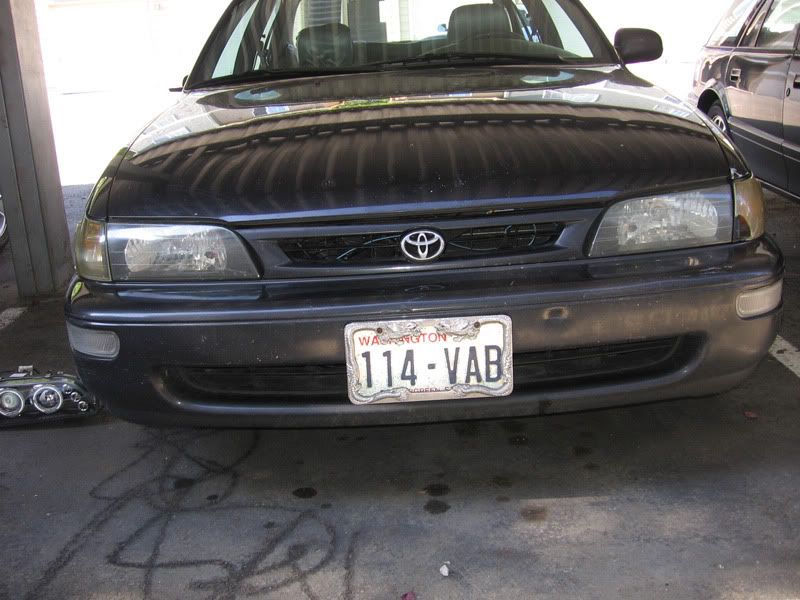 And here's the old lights with the parking lights on. The astute may notice that I took the time to cross-wire my markers to the yellow bulbs in the H4 enclosures. This saved me a lot of time later.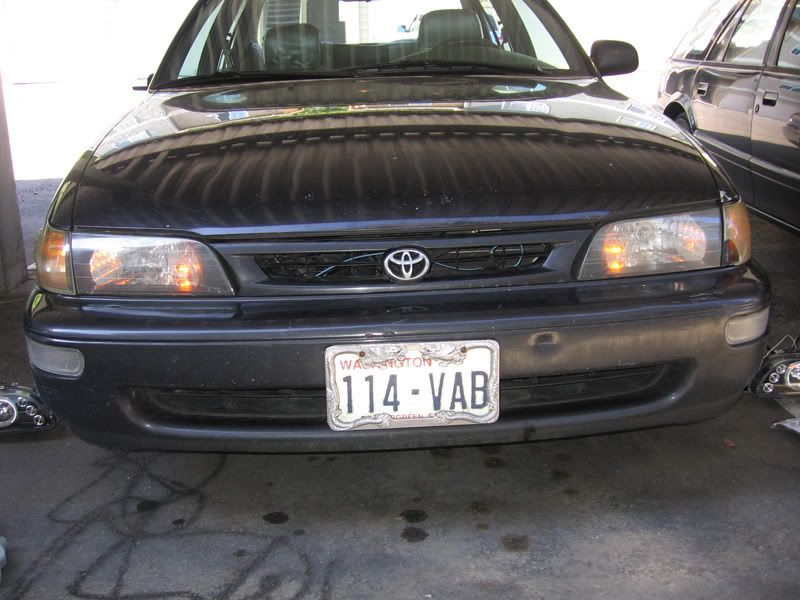 Here's the old low-beams on, as they project on the apartment wall. It was bright outside, but still they're not exactly pinpoint-precision and both aimed annoyingly low.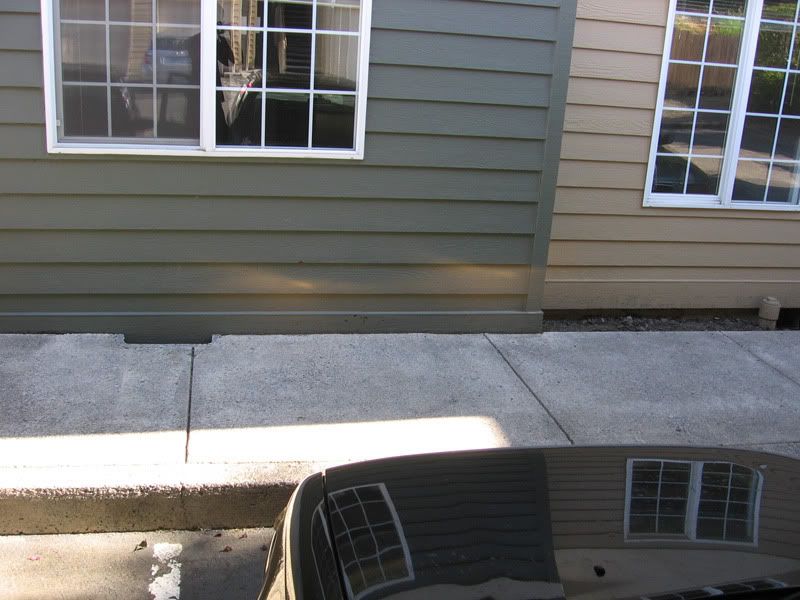 High beams. Better than the euro-spec crystal dual-bulb enclosures by a long shot, even on the low beams, but not as good as I hoped the projectors would be.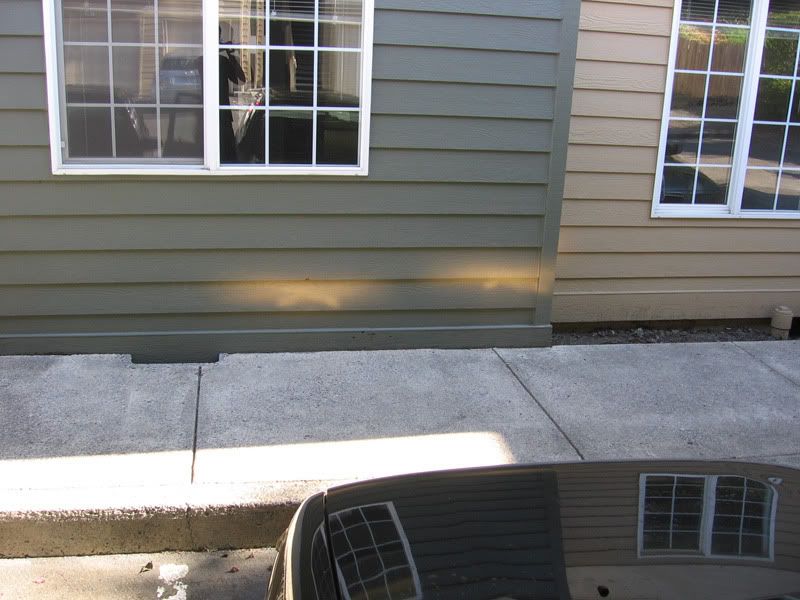 One of the things in the little baggie of attached bits that I sat and spent some time puzzling over on the curb was a set of plastic brackets. Most headlights have the attachment metal rods or screw threads that run left-to-right across the width of the car and through the holes in that plate. These headlights have their mounting spikes going front-to-back and these plastic "gaskets" screw through the metal bracket and provide the proper holes. They came with push-in tighteners that were supposed to provide an even closer fit for the headlights. The front end of my car has seen a lot of abuse and my attempts to fasten the headlights in with these little retainer bits led to one being catapulted violently halfway along the car and the other one's still somewhere down in the underbody tray where I can't even see it with a good flashlight and plenty of helpful swearing. You don't need them. Which is just as well or I'd still be out there as the sun goes down.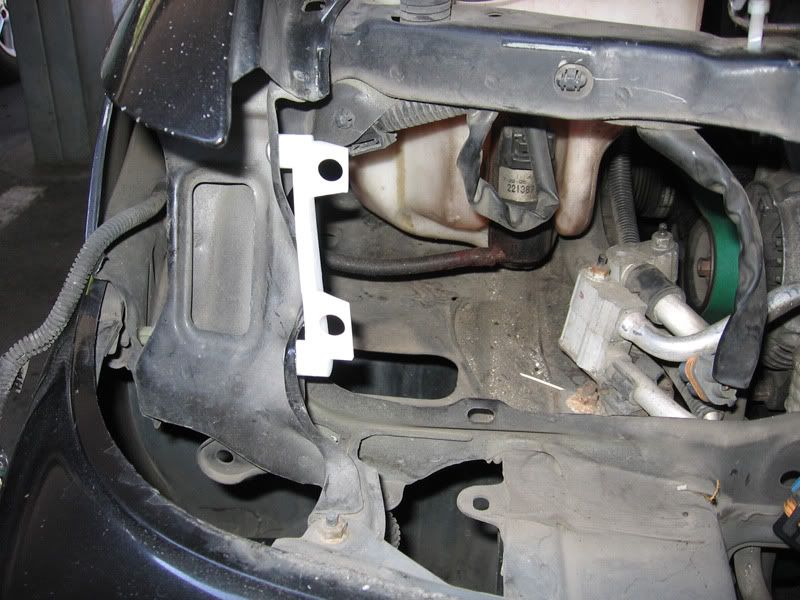 The engrish instructions tell you to pull the rubber plug out of the bottom of the lightning ring and install the provided bulb assembly, splicing wires, push it into the ring, seal it back up. I popped the cover and the seller or manufacturer had already done this. Thank you seller or manufacturer! These are LEDs in a normal bulb socket. You could replace them with different colors or a filament bulb if you really wanted. I didn't want.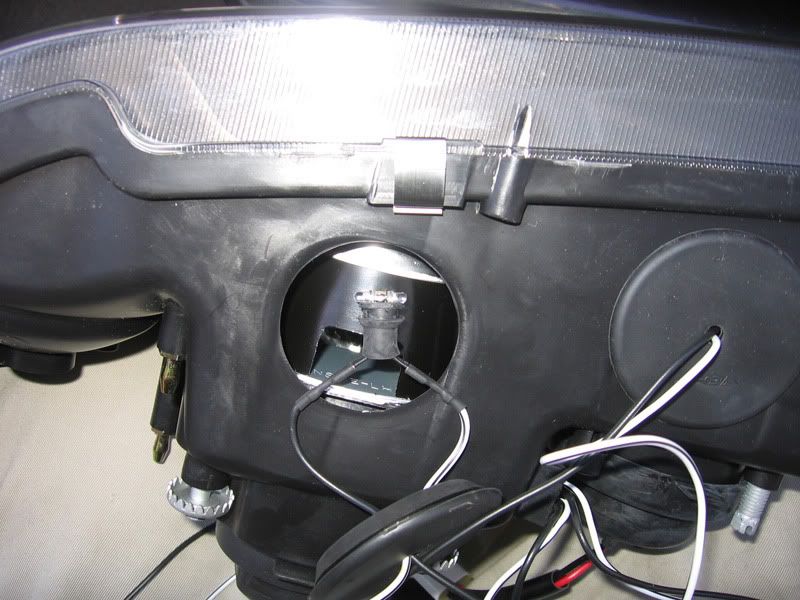 Yes, you have to take the grill off. My grill, thanks to a lot of abuse and a lot of pairs of headlights and a lot of wrenching without the help of a manual (and the help of lots of road salt making everything rusted and snap-prone) is only held on by one screw and a twist-tie these days so that was easy. With the new one-piece projector side light in and the parking lights on, one side looks just a little classier.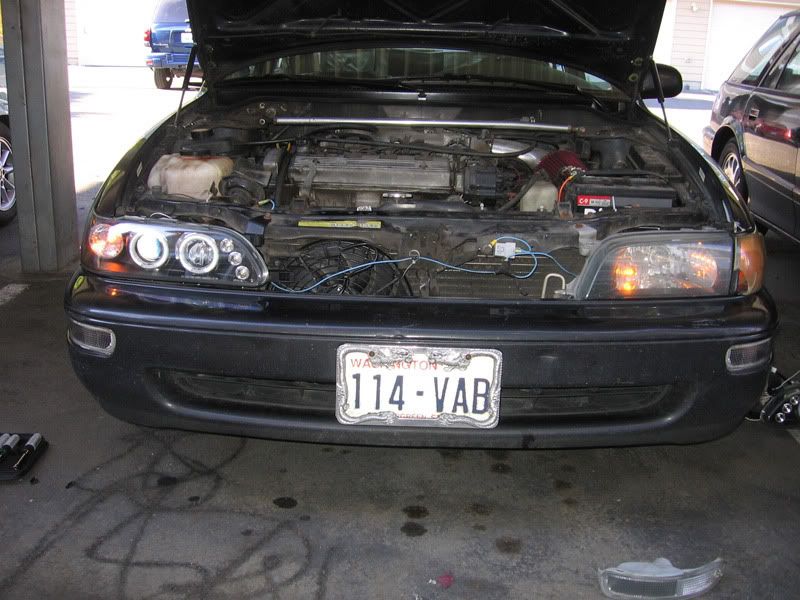 So what's the light output like on low beams, side by side? Glad you asked!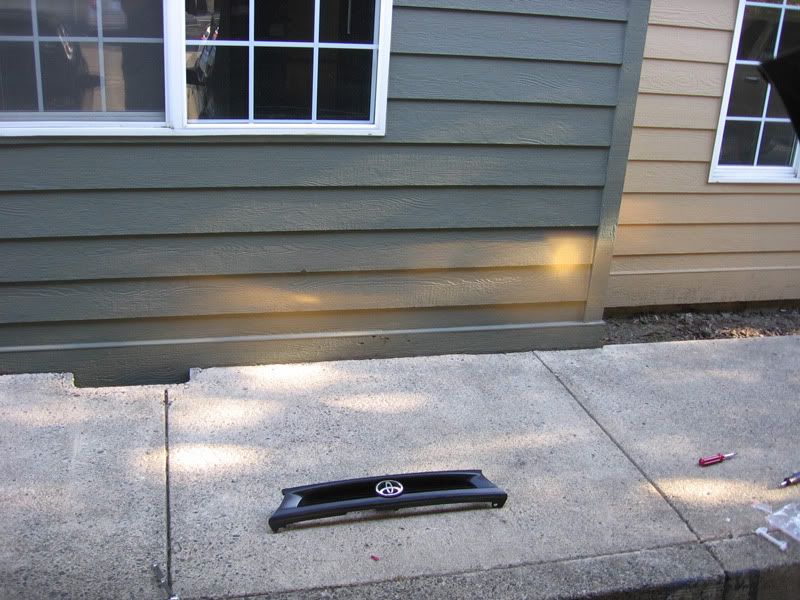 What's the light output like on high beams, side by side? Glad you asked!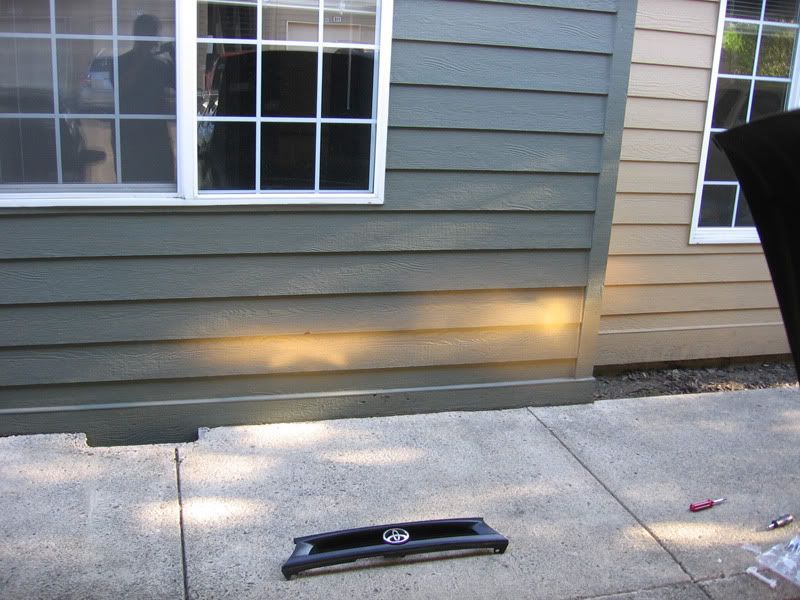 Remember I said you don't need those little plastic retention-clip bastards? Here's why.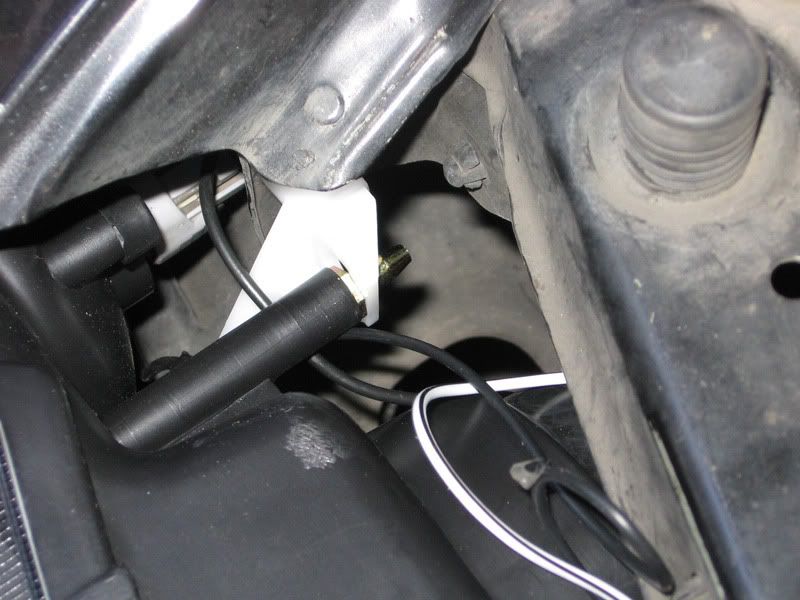 I've left out the part where you splice into the wiring from your parking light to power either the lightning ring (it's two wires, it's not hard, if you can't figure out how to strip a little insulation, twist-and-tape (or solder) you shouldn't be doing this.) or the spider eyes. I've also left out the part where you try to fit the damn parking light bulb into the very outside reflector, because it was long and frustrating and I wound up having to take off the rubber rings to get the twist-sockets into their new homes. If I start going through marker bulbs I'll update this thread to tell you to shave those rings in half or something. Otherwise, forget it.
The other side is just as straightforward. Both sides running on parking lights, looking good.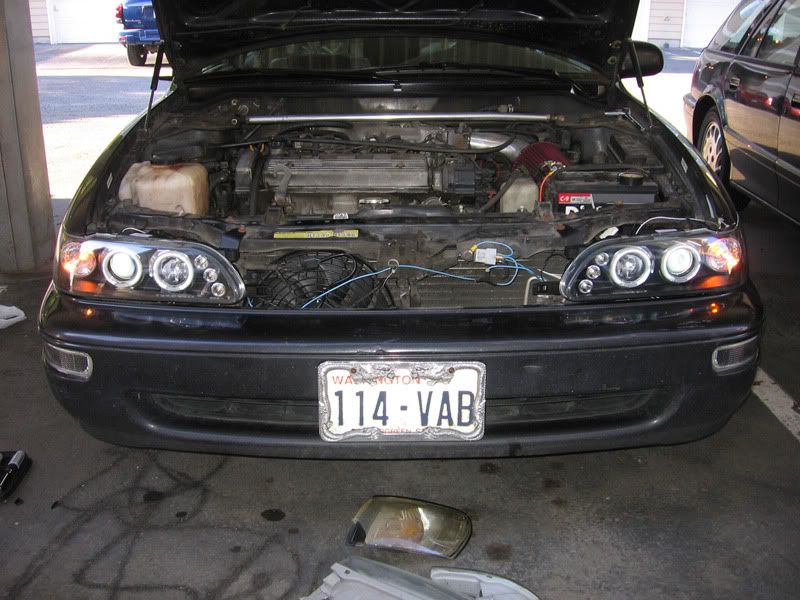 So how do the new low beams look? Glad you asked! You can see the cutoff pattern, speaking well of the optics and badly of the alignment/aiming. These headlights are actually adjustable--there's a screw below the low beams and a bunch surrounding the high beams. Unfortunately these are axial to the socket itself meaning that you'd either need a prepubescent set of hands on a socket, some way of making more space, or to take the headlights out to adjust the aim. Which is likely to throw off the aim more than adjusting will throw it back on.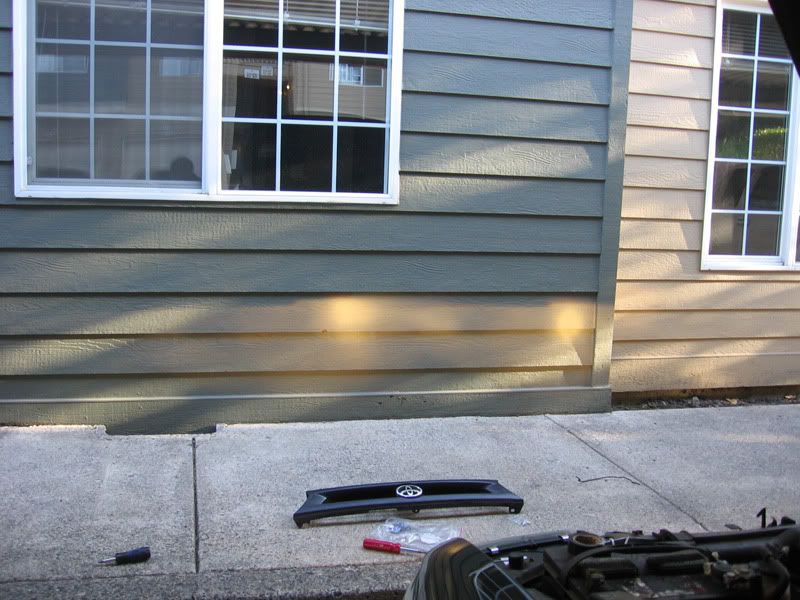 What do the new highbeams look like? Glad you asked!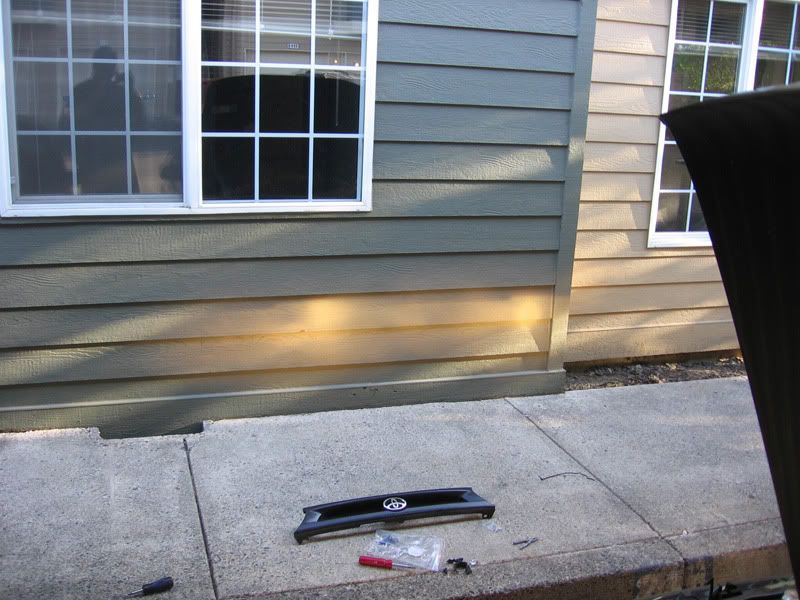 I have no data on how they perform yet, but in bright daylight they're brighter and better focused than the old ones. Tomorrow I'll be out starting my day before the sun comes up again so I'll have empirical data if I'm awake enough to notice.
In the meantime, my ancient point and shoot is a real trooper when it comes to getting documentary shots but when I want to make a point I drag out the dSLR. You've read enough, have some installation-porn...the only aspects that this is not straight from the camera is the license plate (obviously) and the image resizing. No color/contrast/brightness retouches, no cropping. I love my big camera. And I must say I think I like the new look for Jez, black bumper lights included.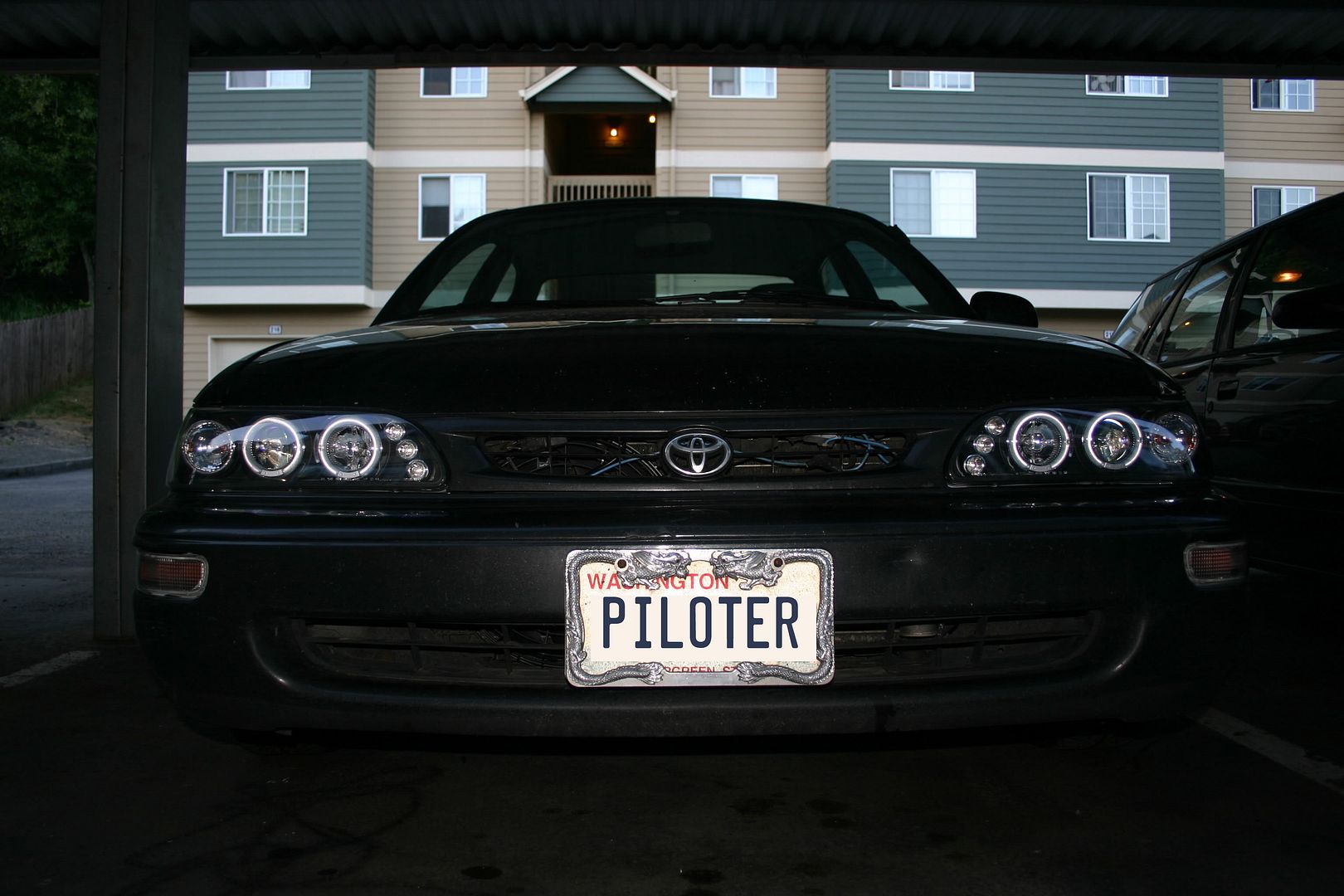 What do you think, sirs?