·
1,000,000 miles coming up
Engine pull story. Replace rear main. Useful pics. 56k warning
344,85X miles, 1997 5s-fe, original Camry LE. The car I learned how to drive in.
So I recently pulled my motor so i could swap out my rear main seal. It wasn't leaking a whole lot but I decided to do it as a last hurrah project before I took off to Thailand (I'm here now) for an internship. I had 2 weeks after I quit my job before I left to come over to Bangkok and decided to use my time for fun (aka, working on my beloved Camry). I have done a bunch of mostly minor things to it (timing belt, power steering pump, suspension overhaul, sound system, noise insulation, etc) and felt about 90% confident in doing this job. So I decided to go for it.
I was so excited the night before I started unclipping everything that I couldn't sleep. I was like my 5 year old nephew on Christmas Eve. It was awesome.
Before I started, I hunted down all the seals I wanted to replace (CV axle seals, camshaft seal, rear main, intake/exhaust manifold gaskets, valve cover gasket & spark plug tube seals, motor mounts (all 4), torque converter seal (i don't think that is its official name, but the seal that prevents from coming out the torque converter), exhaust gaskets, OEM thermostat and rubber gasket, timing belt with tensioner pulley, water pump, etc. Along the way of the rebuild, I picked up some more Mobil 1 ATF for the power steering (I'm OCD about Mobil 1 fluids being everywhere), Toyota Red coolant, fresh 5w-30 High Mileage Mobil 1 oil, new
synthetic
purolator oil filter (I'm OCD about purolator filters too), purolator transmission filter, purolator air filter, and then I was on my way.
Here is the story (bc I hope you guys are like me with this forum and enjoy reading other peoples' gen 3 & 4 stories). I was scared out of my mind of 2 things before I started: 1. the wiring harness. I didn't want to pull it through the firewall for some reason and I knew I needed to unplug everything from the engine/tranny so I could deep clean everything. 2. removing the passenger CV axle. I had read up about how it can be a bastard to remove so I was stressing about it. Stressing: it's just what I do.
Day 1 (each day I worked for about 11 hours, some days I worked for 13)
I pulled my car into my grandpa's shop and took off the hood (mind you it was -8 degrees F outside. Thankfully I was in a closed garage with lots of heat) and began deconstruction. I got everything taken off and drained just easy as pie. I have done all that before.
Problem #1
Here is the passenger CV axle traveling through one of the rear motor brackets. I could NOT get it off to save my life. I pried, beat, swore, everything-ed to get it off but the thing would not budge more than 1/4". I had soaked the bearing in pb blaster twice and had a slide hammer to get it off. Nothing. Then i realized I forgot to remove the c-clip. I was pissed. Got the clip off (easier said than done) and the bearing just slid right out of the rear motor bracket. Lesson? Lube up the bearing well in advance in order to save your time further down the road. Oh yeah, don't be a dumbass and forget to take out the retaining clip!
Day 2.
Popped off the driver CV axle (replace it with a NEW O'Reilly axle about 8 months prior due to a torn boot), finished taking off all the extra wiring and started to jack up the engine. It came out pretty slick.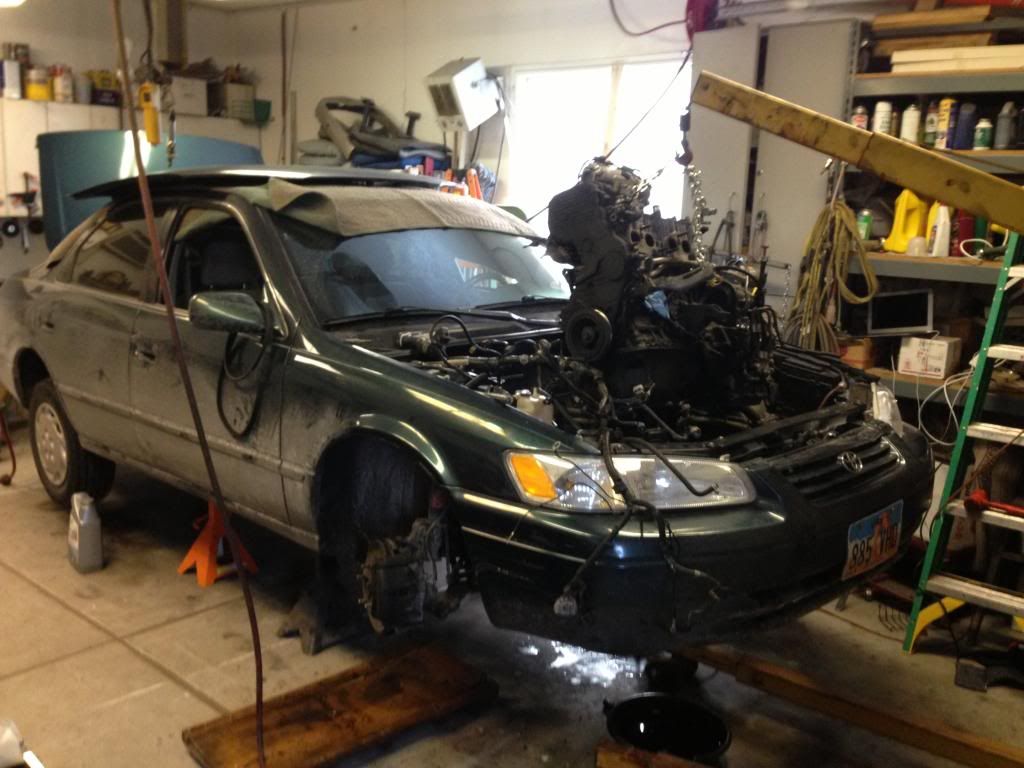 But it was FILTHY. I spent the rest of the day cleaning it with a parts cleaner (power washer wasn't an option bc it was -12 degrees outside. Here are some pics of it right after I pulled it:
The last image is particularly interesting because it shows where the block drain plug is (bolt under the freeze plug on the very left) and where VSV is located (bolted right in the middle of the block, up by the intake manifold. I replaced this a while back (I also changed its location just in case future problems should arise) and, while people described where it was with enough detail to find it, a picture really would have helped. Here it is in all its glory. (I did use a different bolt to hold it in place...just for reference)
After I cleaned it, I wire brushed every square inch of the transmission and man, did it just shine right up. I originally wanted to paint the block one color and the transmission another, but after wire brushing everything, I decided to stay with the "ghost shadowed aluminum". I cleaned the block off and got it painted too. Here is a pic of the block after paint
Yes, I too was overwhelmed with the "burnt copper" color I chose. It was gold! Needless to say, I didn't have a beer that night because I thought I ruined it.
Day 3 - -10 degrees
I started reassembly. Everything was thoroughly cleaned in the parts cleaner, dried, polished, and refitted with new seals. The intake manifold and fuel rail/fuel injectors took the most about time to clean (besides the transmission) because a couple years ago it had been leaking from the valve cover and oil had baked itself onto the manifold. It was tedious to clean but it looks great now it is all done. It was incredible how cool it all was putting it back together and seeing how much softer the new seals were compared to the old ones and how perfectly everything fits together once it is completely clean. I did have a little tricky spot trying to get the engine bolted back up to the transmission (I forgot the dust plate that goes between the engine and transmission so I had to take them apart about 1/2 way through tightening the bolts. That was frustrating). Here is a picture of the two back together: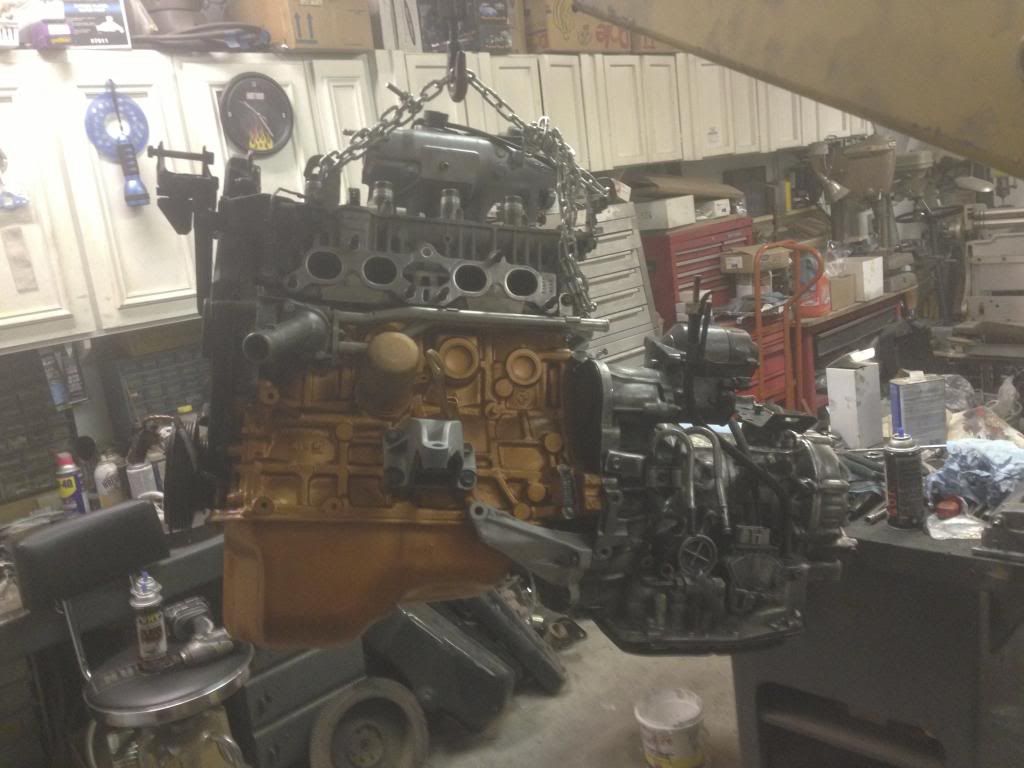 At this point I replaced the timing belt. I have done about 6 or 7 timing belts on this engine so it was especially easy with the engine out. I did discover a trick when I replaced the camshaft oil seal: I tried pressing the new seal in, gently, with a socket. But I tore the rubber on the outside of the seal. Frustrated, I didn't know what to do. My grandpa had an ingenious idea though (he has been working on motors for about 70 years, but never Toyota): he suggested to take off the camshaft cover (held on by 2 10mm bolts right next to the camshaft pulley underneath the valve cover) and then just "drop" in the seal so the bottom half slips right in. Then you just have to set the cover back onto the dowels sticking out of the head and viola! Sealed camshaft seal and no hammering. Sorry I didn't take any pictures. I really was thinking of you guys the entire time I was doing this, but my hands were BLACK throughout this entire process. I also RTV'd the oil pan back to the block. Much better than the cork/rubber gasket I had on there before. It was only a year old and it had already begun to deteriorate. My Purolator transmission filter came with a similar cork/rubber gasket but I reused the autozone gasket from when I replaced the transmission filter before (about 4 months prior to this) because that gasket is 100% rubber.
Problem 3 I encountered: A while back a guy did an alignment and had trouble getting the jamb nut off of the inner tie rod end. He heated it up with his acetylene torch so hot that it spot welded the nut onto the inner tie rod. I was pissed bc he said everything was fine. So I had to replace both the inner and outer tie rod ends on the drivers side. FYI - it is a lot easier working on the steering stuff with the engine out
I got the tie rod ends swapped out, put on a new inner tie rod end boot on the R&P (mine was torn) and that was that.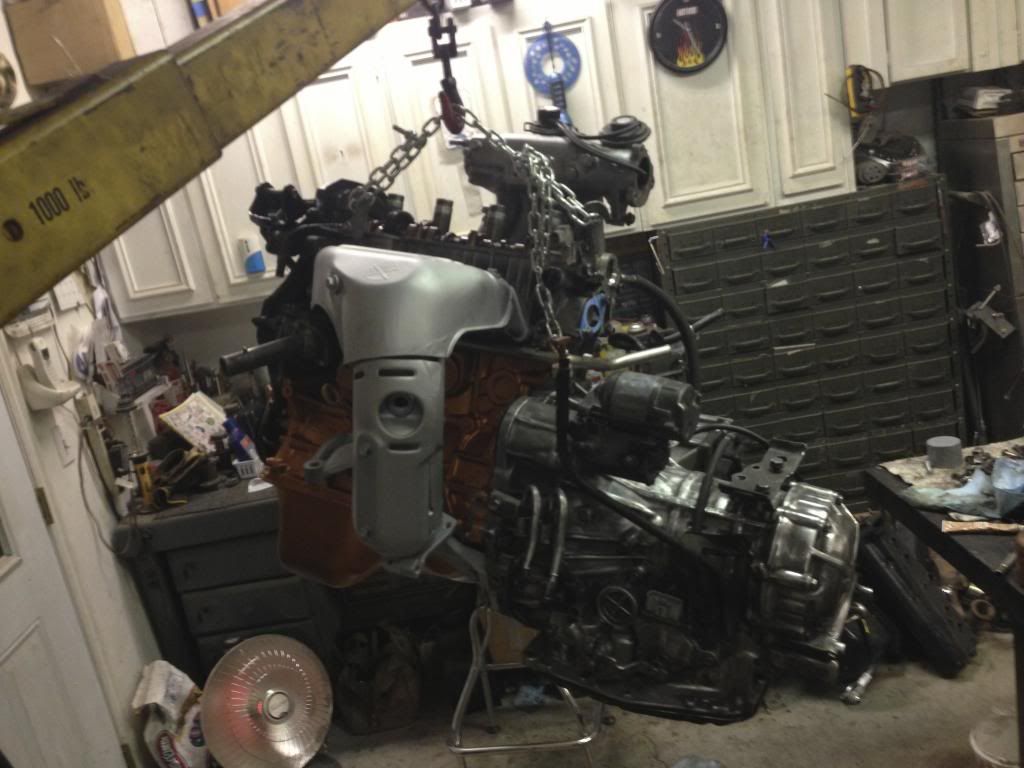 I dropped the motor back in after putting the exhaust manifold back on (I was excited) and proceeded to bolt down my brand new motor mounts. Here is what I learned about the motor mounts (I should have taken pics of these too...but again, my hands were WAY too dirty. My apologies): the transmission mount looked fine initially. But upon further inspection, I discovered that the rubber had separated from the metal along the connection points. When I first looked at it before I pulled the engine out of the car, I thought it was totally fine. But once I looked closer, I realized how severely it had failed. The exact same story with the front (closest to the radiator) motor mount. The bolt hole had actually come completely off of the mount and was free to spin when it came off. The rear mount (closest to the firewall) supposedly is a piston shock (similar to a strut) and mine didn't seem to have any play in it at all. I replaced it anyway. My dogbone motor mount was thrashed too. DOUBLE CHECK YOUR MOTOR MOUNTS. Sometimes you can't tell with them so when in doubt, just replace it. It won't be worth the extra 100$ to not replace one or 2. I actually got all mine off amazon for a steal (warehouse deals).
Here is the back of the engine all clean and shiny
The color of the block I chose really gets me going now that it isn't completely copper. The aluminum really helps balance out the shock value.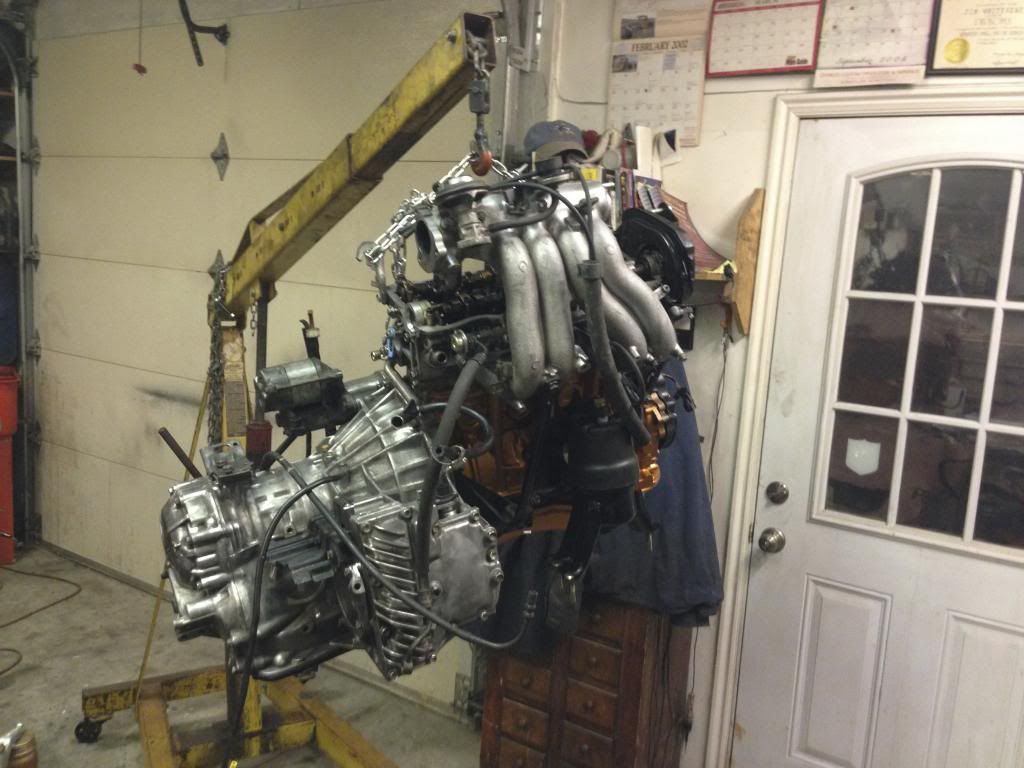 and one more, just for kicks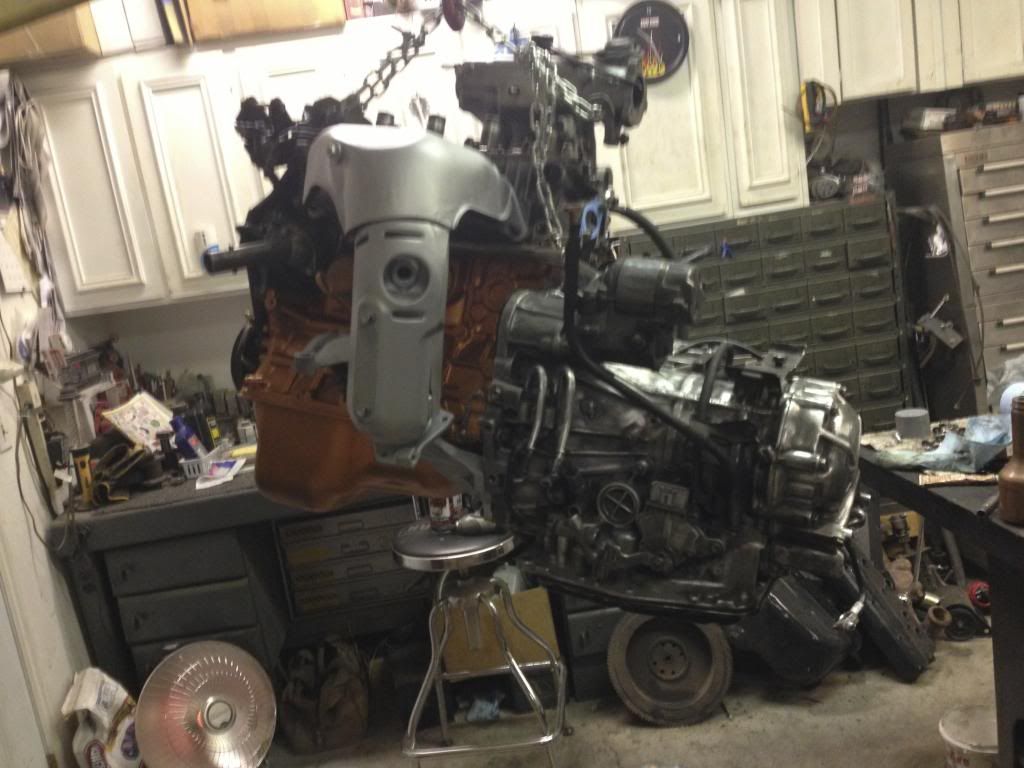 I got the engine put back in all nice and neat. I learned that it's easiest to get the rear mount nuts started into the frame (just a couple threads to keep it where it needs to be but still have some wiggle room, then the transmission mount, then the front mount. The transmission mount gave me the biggest headache because it just wouldn't fit into the holes on the frame. I had to wiggle and jiggle it into just exactly the right spot and then, viola! It set tightened down nice and neat. The front motor mount was a breeze. So just remember, 1 - Rear 2 - Transmission 3 - Front 4 - Dogbone (obviously)
After getting all the wiring, cables, drivetrain, shifter cable, vacuum hoses, heater hoses, fluids filled, fuel line, EGR system, and exhaust bolted back together, it was time for the moment of truth. She started up perfect the first try (actually it was the third try...I never like holding the starter for more than 3 seconds). It idled a little rough for a minute, but only because I forgot one tiny vacuum line coming off the intake manifold. I bolted everything else back up, drove it to get aligned (steering work) and boom! Perfect running car. The most noticeable change is how smooth the car shifts. It had a rough time shifting out of first but now, with the new motor mounts, it rides like a dream. I could not imagine this car running any better off the showroom floor almost 16 years ago.
Every drop of fluid in this car is either Mobil 1 (transmission, differential, power steering, oil), Valvoline synthetic brake fluid, or Toyota red (coolant) except for the windshield washer fluid. I swear by Mobil 1 oil and ATF because it is
the
best. I don't recommend anything else to anyone, especially when it comes to coolant. That is a long argument that I won't into it on this post. There are a plethora of threads on TN with people debating this. I, along with some of you, also choose Purolator brand filters. I got my first pureone oil filter and loved it simply because the whole exterior is that grippy-textured metal, so removal is a breeze. I since have converted to their air filters, fuel filters, and transmission filters. I think I have a little room to say that they are the best because of how many miles my car has on it and with how perfect it runs now. I also put on my first synthetic purolator pureone oil filter because of how long I'm going to be in Bangkok...I don't want anything not getting filtered while i'm away and that filter, as far as I know, is second to none. Plus I'm running the extra large sized filter. Quadruple protection
Thank you to everyone who has ever posted something on here that I have read. I wouldn't have had the confidence to do it without you. Please feel free to comment or message me with questions you may have about anything concerning this project or their own. I would love to help anyone who might be in a sticky situation like I have been in a couple times before.
Enjoy! I know I will (once I get back from Thailand! It is killing me being away from my beloved Camry). I'm well on my way to 1,000,000 miles now!