I needed 4 alloy wheels for my yet-to-be-bought summer tires, so I only pay for mounting and balancing once, and got a good deal on KiJiJi on a set for $100.00. They were quite beat-up from road rash though, but no dents or deep gouges, just bad paint and surface corrosion.
While waiting for decent weather and a chance to get at cleaning them up, I lucked onto a set of new tires, which included mounting and balancing, so I decided to mount them and do the repaint after. I was going to redo the wheels without the tires on, to save masking time.
Step one was giving them a good cleaning with soap and water, then getting out my faithful pressure canister sand blaster, laying down a tarp, and having at the sandblasting.
Here's 1 wheel after cleaning and before blasting.
Here's the same wheel after, and I kid you not, less than 45 seconds of blasting at about 110lbs air pressure, #0 sand
I estimate that it took less than 6 minutes to actually get all 4 rims down to bare aluminum. The set-up time and cleanup after meant the entire job was about 1 1/4 hours or so. After re-sieving the used sand, the 4 rims consumed about 3/4 of a $12.00 bag. This is with a pressure blaster, not a siphon blaster though - big difference.
Next was masking each wheel with a piece tight around the edge of the rim.
Then, I cut out a larger piece of kraft paper with a circular cutout just outside the taped part on each wheel. This is applied to each wheel, which I then spray, then move on to the next coat, remove and so on. I only put tape on the masking paper once during the entire operation.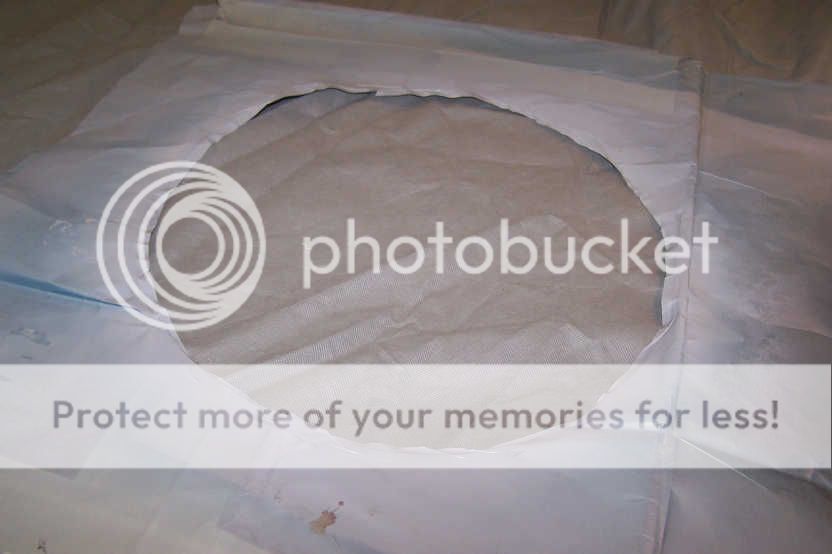 This what the masking paper looks like applied at each stage of the painting.