SOLD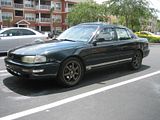 more at
http://s711.photobucket.com/albums/ww116/rusty9_photos/For Sale Pics/
The Basics:
-1992 Toyota Camry, V6, Automatic, 4 Door
-260,000 Miles
-Dark Emerald Pearl
-Location: New Port Ritchey, Florida (Just outside of Tampa)
-Asking
Sold
The Goods:
-Rebuilt 3VZ-FE with custom Arias forged pistons(ready for boost), Port matched and polished heads, ported upper and lower intake manifold, and magnacore race wires.
-Tokico shocks and H&R Sport springs
-Whiteline rear sway bar
-Ultra Racing front strut bar
-SE Steering rack
-ES300 rear brakes
-17" MB Motorsports lightweight "Weapon" wheels, Satin Bronze
-New tires. Ventus V12
-Scepter Rear Panel
-Scepter Headlights(not installed. I wanted to have a relay harness made so I would not have to butcher the factory harness)
-Scepter Taillights
-Scepter Power Folding Mirrors
The Bad:
-Missing passenger side vent.
-Switch for folding the mirrors broke(they still work, just need a new switch or any momentary switch that will fit. Glass adjustment is still functional by the stock adjuster)
-Small leak from the top of the gas tank. Only leaks if you fill it ALL the way to the tippy top with like 17 gallons.
The body is in good shape. It was painted a few years ago. There is no cancerous rust as of last time I checked. There are a couple of small dings on the passenger side and other small imperfections on the rear bumper. The front end is tight, and the only thing that hasn't been replaced over the years is the inner-tie rods(I have a spare set)
Interior is in good shape too. No tears or rips in the seats, or cracks in the dash. It could use a shampooing though. I recently put in a factory stereo from a newer camry/solara with CD and tape. I installed the ES300 headlight stalk with the fog light switch to use for the Scepter headlights, as well as the wiper side which has the multi-speed intermittent wipers.
I also have a couple boxes of spare parts and stuff, as well as the carbon fiber hood. There is so much...stuff...like a Supra BBK with fairly new Centric blank rotors for the front, window regulators, fuel pump, heater core, extra tail lights, the factory mirrors, another set of non powered folding mirrors, various interior bits, a set of injectors and fuel rails...I don't even know what else. It's like a bonus lottery. These will all be included if you buy it.
I AM NOT PARTING THIS OUT.