·
Let The Awakening Begin
Discussion Starter
•
#1
•
Well Well Well, A group Buy on cams its about time right?
I have been in connection with a shop in Canada which is starting a 5sfe performance program. The owner of that shop also regrinds cams, any cam any profile. For the moment though we will be focusing on sfe/fe/zrfe/zz cams, because they use a similar camshaft. 3sgte cams can be made as well, but prices may vary since ge camshafts use a different profile.
Camrys/Celicas/Mr2s equipped with the 5sfe looking for more get up and go this is where its at. For you guys with the 1mz and maybe even the 3vz Cams can be made for you as well, but again prices may vary(If their is interest i can find out right away).
The process:
It takes approx. 3.5hrs to grind the cams. Then ship to the heat treating company; heat treat, check for straight and polish mains. More information on the companies site....
http://www.tedcomponents.com/
When i say they can make any profile i mean it. Take a look at my set up i just received a 272 ex. cam, and i am planning on running a staggered set up 264in/272ex in my 5sfte soon to come.
Oem Left/Regrind Right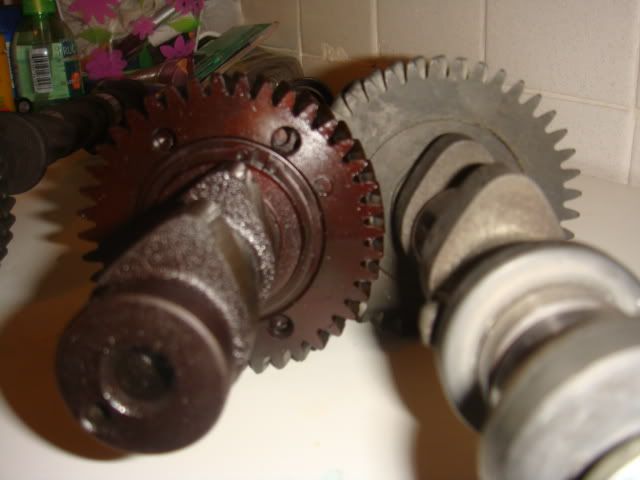 REMEMBER
those sending me cams for the 5sfe you must send Rev 2 5sfe cams. So stay away 90-93 5sfe cams, because the material on these early 5sfe is little and can not go through the process of regrinding.
Pricing:
The good stuff.... Pricing for the above cams sfe/fe/zrfe/zz when going through me and only me is an amazing
$300CDN
which is about $262.50USD i believe. Then shipping would be $70USD. So all together you pay 332.50USD for any profile. Good Price??? Heck yes!!!
(Everyone must send cams to me since it is a regrind)
I will be taking 3 orders at a time, and updating as things move.
TN, lets not miss out on a very good deal.