Discussion Starter
•
#1
•
On my way to work this morning, I rear ended a van. Thankfully, the other driver nor I were injured in this accident. There was barely any visible damage on the vans rear bumper but my camry on the other hand...:facepalm: I was going no more than 10mph when I rear ended the van. Now the cop said it might go through as a non-reportable accident since there was no visible damage to the van. hopefully it goes through as non-reportable since I've had a clean record for 3 years until this :headbang:
I got an estimate done at a body shop near by. and the total came out to $2128.76..my car isn't in the best shape as there are a few scratches on the rear bumper, a sizable dent on the right quarter panel and small scratches here and there. i have about 109700 ish miles on it right now.
I'm waiting for the police report to come up but was wondering what I should be doing in the mean time. I can still drive it (both the cop and body shop guy said it was ok) but of course no driving at night since lights aren't aimed properly anymore.
I should report it to insurance right? and any idea if this will be totaled? NADA and KBB both say about $3200 USD
here's a picture of the damage..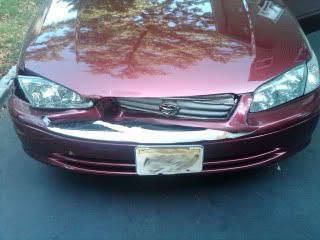 thanks for any help with this.