Discussion Starter
·
#1
·
I need a truck but what kind? This was like two years ago. Then I saw this Top Gear episode with this toyota pickup (hilux over in europe) being raved as the strongest made trucks ever made. They proved it by crashing it, burning it, drowning it in the sea, a wrecking ball to it and the best one, putting it on top of a buliding that was going to be destroyed. It went through all of that, and it still ran. Awesome. I was so impressed that I went hunting for one.
My first truck was blue 89 v6 4x4 manual pickup with rust on the bed, underneath, funky wet dog smell, and low compression #3 valve that I got for $2000. Not bad. It body was lifted to 3" so I felt tall while being in this. I felt like Tim Allen "POWER BABY!" I've never driven a stick before so I learned it from this pickup. I killed the transmission. Kinda devastated too. I found out that this model sucked through further research. I sold it off for $1800 with low compression in #1 #3 valves, dead tranny, uber rust, and with wet dog smell. Not bad.
So I ventured to look for another one here in Cali. No sign of one. Anywhere. So I searched and found one in Illinois that was PERFECT... well to me at least. Fire truck red with shiny nu chrome bumpers, 94 V6 4x4 manual, power everything, moon roof, tow package, aftermarket radio, and best it was BEAUTIFUL! So beautiful that chicks, YES I SHIT YOU NOT, wanted to ride in it. It took them 3 fuckin weeks to get to cali where it orignally came from. But when I saw it, I was moved with tears. It was worth the misery. My neighbors went out searching for one when they saw awesome it looked. It costed everything $8664.76 with no tax! I luv Illinois! Why can't Cali be like that?
The reason why I got one was for my car. Nissan Silvia 84 JDM. The only one in america that been converted partially. I hoping that I can install my SR20det that been sitting in my patio last March. Here's some pics.
This is my TonKa TruCK! You see my other one across the street.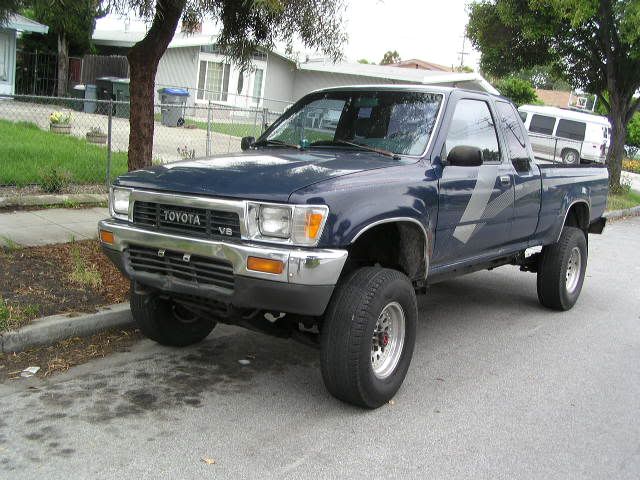 I one I sold. I do miss jennifer. Even though she was a bitch.