Discussion Starter
·
#1
·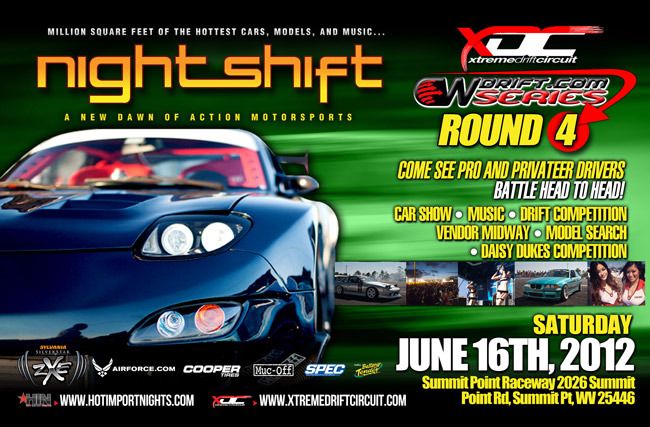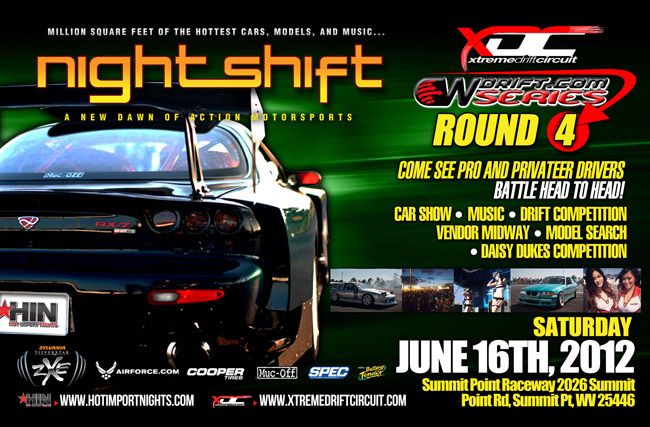 THIS MONTH!
FACEBOOK EVENT INVITE PAGE:
http://www.facebook.com/events/248387658599881/
Hey tuners,
I'm working with XDC events in putting together the HIN Nightshift CAR SHOW part of the Hyperfest/XDC weekend in Summit Point Raceway on June 16th. The Xtreme Drift Circuit (XDC) is the first nationwide drifting series and car show festival aimed at catering to drivers on both the professional and amateur (Pro-Am) level of competition, featuring the rising stars of the drifting world. Let's show 'em what the East Coast can bring out
As of right now, we're looking for SHOWCARS that are willing to participate for inter-group bonding with other fellow tuners, friendly competition, bragging rights,kick-ass trophies and cash prizes.
Hot Import Nights Nightshift CAR SHOW
XDC has added to the experience off the track by introducing the HIN Car Show Competition. HIN will feature a wide range of cars, including exotics, modern muscle cars, and high-performance modified vehicles similar to the cars competing in the Xtreme Drift Circuit. Car club corrals for Nissan, Toyota, Mazda, Scion, Infiniti, BMW, Mustangs, Genesis, K-Cars and Muscle cars will be featured at each HIN event. The Hot Import Nights Tour will be at each stop on the Xtreme Drift Circuit, in addition to the other standalone events across the country.
SHOW CAR REGISTRATION
(Show EVENT): ** Includes 2 event passes. 1 Event pass for bike registration.
*if you and a friend are going-- this is a GREAT deal on tickets and PREMIER PARKING at SUMMIT POINT as well
***Car Clubs or Groups of 5 or more vehicles are eligible for a special discount**contact me by email for inquiry
TEAM CORRALS AND CAR CLUB SPACE AVAILABLE
For Car Show Registration we're giving a group discount for car clubs, EMAIL and SIGN UP TODAY to secure your spot
Car Show Registration:
https://xdc.webconnex.com/summitpointcarreg2012
Online Tickets :
https://xdc.webconnex.com/wvtickets2012
I am also looking for promotional models for our partnering companies/sponsors . Please contact me asap for more information.
**We have vendor areas available on the lot- if you are interested in setting up a vendor booth for your business email-
[email protected]
**
Be looking forward to meeting and working with you guys
Khris Uybengkee
XDC Show Coordinator
[email protected]