Finally getting around to this tire wear problem that is from an older thread. My son's '99 I-4 Camry is nowhere near my location, so I want to send him to an alignment shop that knows what it's doing in Denton, TX if someone can make a recommendation.
As discussed in the older thread, my son's Camry has both front tires worn like in the diagram below with the red arrows: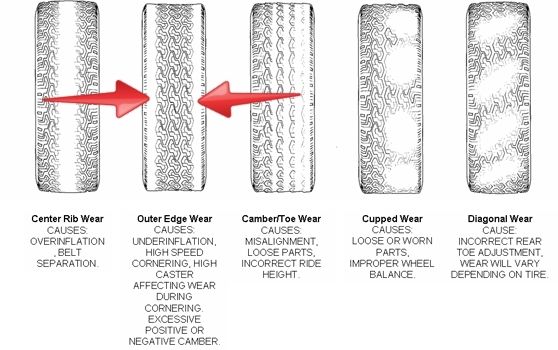 It is not an inflation issue, as the tire pressure was perfect. It drives straight and he does not go around corners on two wheels. I can't check it out since it's so far away, but I don't want to send him to Goodyear or Firestone or one of those kind of places I don't necessarily trust or know. Took my daughter's '97 Camry to a Meineke shop near me (Universal City, TX near Randolph AFB) for an alignment after I replaced the struts and one of the technicians OBVIOUSLY had a hangover, or was operating on no sleep the previous night or both. I'm never going back there. I would appreciate a referral for a good shop in Denton, TX.
Thank you!