Discussion Starter
·
#1
·
I drive a 98 Camry CE. I always saw many other cars have many lights inside, but what my car has is only a small ugly dome light. I decide to DIY a set of map-reading lights using LEDs. I noticed there is a container above the central rear view mirror, which is for sunglasses or garage door automatic controller. I don't what it is called, let me just call it glasses case. I decide to put my map-reading lights on it. After several hours work, I finally made it.
This is what it looks like with all lights off, no much difference from the original one, right?
This is what it is with all lights on during the daytime, still not too impressive?
Now let's see it in the dark.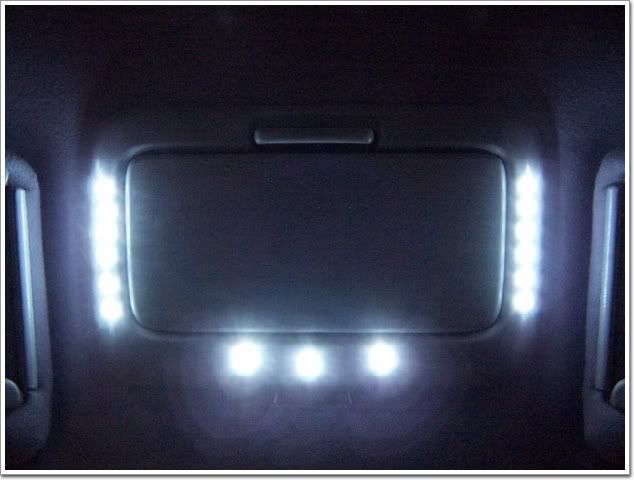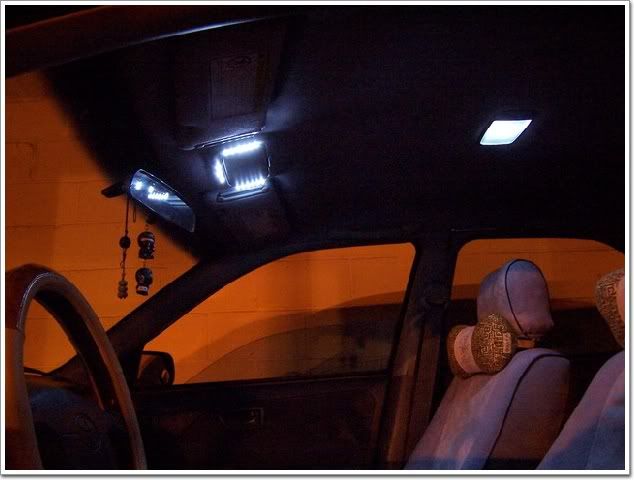 I also put two small three-way switches on front side of glasses case frame, so the lights on each side could be controlled independently in three ways: on, off or controlled by door.
Left:
Right:
How did I make it?
It is very easy to take off the glasses case from dome. When you open the door of it, you will find two screws, unscrew them and you can pull the case off the dome. Observe the case you can find that there is enough space on the inner side of frame, where you can build up you circuits.
I drilled six holes on each side of glasses case frame. The LED I used is 5mm in diameter, so the holes I drilled are also 5mm in diameter, then when you push the LED into the hole, it can hold LED firmly. Those holes should not be drilled vertically because the LEDs are designed to focus light, so they should point to the lap area of seat. Then when you drill, make each hole an angle roughly pointing to the lap area of seat.
The parts I used:
3-way switches *2, 120ohm resistances * 5, 13000mcd 5mm White LEDs * 15.
I drew a very simple circuit diagram here, sorry I didn't use standard identifiers, I hope you can read it.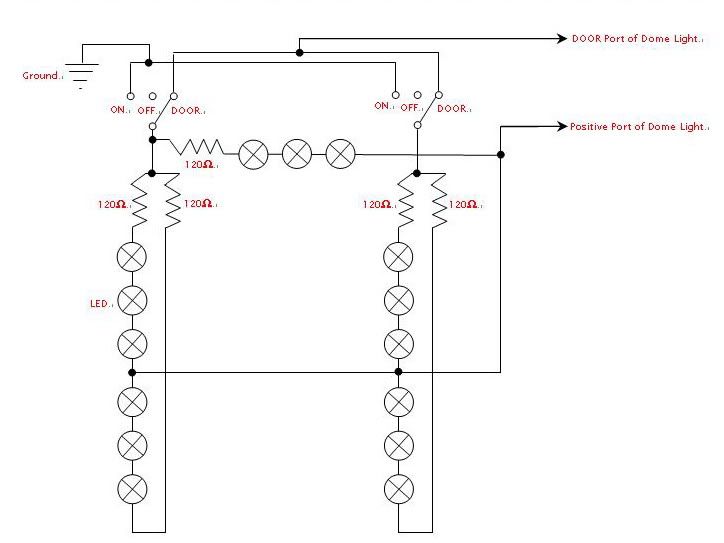 After I built up the circuits, I connected them to the dome light to get power. The wire connecting map-reading lights and dome light could go through the gap between car's top and liner.
You can see there are three LEDs in the front frame, I didn't design them initially, but I drilled 3 holes there. For the hole in the middle, I planed to put there a light sensor I got from an air fresher. My motivation is that I can use this sensor to control lights. When the environment is bright enough, the lights don't light up. But when I put the light sensor into the circuit, I found it work contrarily, when the environment is bright, the lights light up, and when the environment is dark, the lights don't light up. I am too lazy to do the further research on it, so I gave this idea up. I hoped to put two switches on the sides. But after I put them in, I found when I open the case door, it will touch those two switches even damage them. So I have to move the switches to the front. I can't just leave 3 holes there, so I put another 3 LEDs lights there.
The LEDs I used are super bright white ones. With 6 of them on, you can read maps even magazines easily in the night without bothering driver or other passengers since the light is focused. As you can noticed in above pictures, I also replaced the bulb in dome light with LEDs.
For the LEDs, I would like to introduce a good place to buy them:
http://www.ledshoppe.com
, they sell LEDs and LED products at very good price. I got my LEDs from them. They offer free shipping, and you can get a free LED keychain with your order.