Discussion Starter
·
#1
·
I have quite an agenda for my T this summer which includes:
-Clear turn signals
-Add sound dampining
-Redo my door panels
-new carpet
-get bucket seats (I am having a minor issue with this... none here in AK and no one will ship seats... if anyone on here lives near a junkyard that has some, and is willing to pick them up.... I will pay for the seats, shipping, and you for your time....) (I would really like to stick with the T seats
)
-New cd player
-Convert cupholder to ipod holder
-Add a Center console
-Reupholster the seats
-put some 6X9s in the back
-Maybe come up with something more clever to do with my sub....
-fender flares
-fix the lovely dent i put in my bed.....
-take off the sticker from the tailgate and put some chrome emblems back there (anyone have the side T100 badges laying around and want to sell them to me???)
-get a bug deflector
-get a bedliner (taking stuff in and out of my bed is dangerous in the winter... super slick)
I have my work cut out for me!
So here it is as of now... mostly stock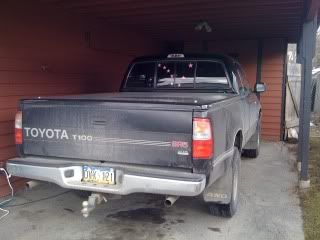 Needs a major spring cleaning... no point in doing it until break up is over though... makes everything a muddy, wet, slushy mess.
Ill post up pictures on here as I go through my list