Discussion Starter
·
#1
·
The Evolution Of Franza1's 98 Glanza​
OK I'll Start out with a Spec list and then I'll Give you a history of the car up to now.
Specs Are As follows:
Engine
Blitz SUS induction Filter relocated behind the front grill
Blitz Sbc ID-3 Boost Controller ( With optional Harness )
Denzo Iridium spark plugs
Blitz Spark Performer 9mm spark plug leads
HKS Silent Power exhaust
Full Earthing Kit in Blue
Blitz Power Meter
WEPR Front Mount intercooler kit
HKS SSQV BOV
"Shop Special" ECU
Sprayed Rocker Cover
Toytuning Mild Steel Manifold heat wraped to perfection
Handling
Cusco ZERO 2 fully adjustable coilovers w/ camber adjustment
TRD front and rear strut bars
Limited slip diff
Standard rear, 3G Front Brake Discs
Mintex 1144 Brake Pads
APP Stainless Mesh Teflon Brake Lines
Whiteline Rear ARB
Whiteline Panhard Rod
Alloys & Rubber
15" Rays Engineering Volk TE37 White Racing Spec alloys
Nankan's.
Interior
Blitz Boost Gauge
Blitz Oil pressure Gauge
Blitz Oil Temp Gauge
Color Coded Interior
MAC Audio Sub And Amp
Sports petals and gear knob
Pioneer Touch Screen DVD/MP3/WMA TV Head Unit
Bride Racing Seat
Triple Pillar pod (Custom made By Me)
Exterior
Tinted Windows all around
Square Number Plates
"Blitz Racing" Sun Visor (Now Gone)
Custom Adapted Supra Splitter
The Story So Far...........
When I got the car First it was basically standard although I noticed a lot of performance mods and body mods were
taken off of it.
Stuff like.
The turbo was recently changed as it had all new bolts.
The FMIC was removed as there were mods made to the bumper to accommodate it.
The turbo timer was missing and the harness was there
But I soldered on anyways
Here are a few pics of the car from when I first got it
The Inside
Some of the first mods I did was to add eyebrows, tinted windows and Visor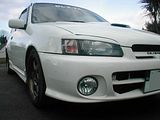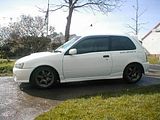 After a few months of the car remaining like this I decided to change it again mainly as I lost one of the eyebrows and it was promptly crushed by the truck following me,
So I decided to tackle making a front splitter by myself and Painting the Prized VOLK TE37 alloys white as the lacquer was virtually gone and they were starting to corrode, Here are a few pics of that stage in the cars existence.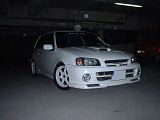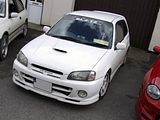 The Cars Engine During This Existence, Basically Standard
After an "encounter" with another car as I pulled out of a car parking spot the front splitter, indicator and headlight were in tatters and the bumper was slightly damaged, so that prompted the most recent change.
I decided let the Splitter rest in pieces (3 to be exact) and mod the bumper as I need a clear air flow to the new FMIC, I'm in the process of making a front splitter which will be finished soon but till then here is the car as it sits now.
I also Sprayed the Rocker Cover Added a WEPR FMIC and a HKS SSQV BOV.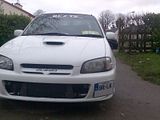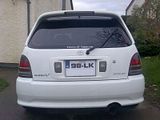 The Engine Bay During this " Evolution "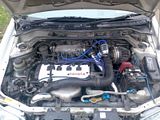 Also around this time i was desperately looking for a Triple Pillar pod and to my Dismay there were none available on the market. So i said Fuck it i'd try and make my own So here's a pic of it
I Added some " I.C.E. " while i was at it and a Blitz Turbo Timer, as well as painting some of the trim.
I went on one of my many Photo Trips when i was bored, here are the results.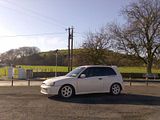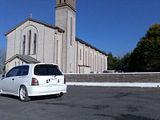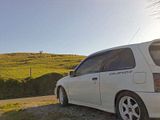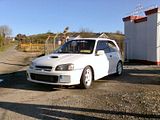 Relocated the Front Number Plate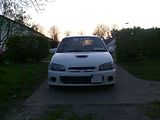 De-Badged The Rear