Today we proudly launch our first
Steer Wheel Control D2208 2 Din Car DVD
! As the R&D strength is becoming more and more powerful in Eonon, now Steer Wheel Control high tech applied in such general unit can be said a another big breakthrough for our 2010 product line! :welcome: to visit:
http://www.eonon.com/Car-DVD-Players/2-Din-Car-DVD/D2208.html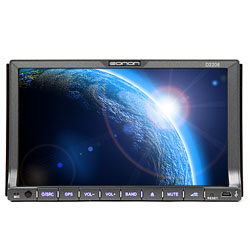 Steer Wheel Control function
enables you to change the song, adjust the volume easily in the steel wheel, you hands don't have to leave! It's really more convenient and safer when you are driving. We used to have steer wheel control Car DVD, but it's only for high end specific models such as
E1052
,
E1059
for Toyota models. Now this time it's applied to general DVD!
Sure there are other impressive new features you will find very useful for this unit:
1. It's
Digital Motorized Touch Screen with latest 3D user interface
as our popular D1303. The high resolution 800*RGB*480 will enables your more clear and better display of pictures.
2.
2 Selectable Colors of Button LED Red and Blue
for your selection, it will make your whole unit looks more colorful and beautiful.
3.
Camera Image display have 2 option, Normal/Mirror.
If you have installed a back view camera in the rear of your car, this could be quite helpful when you are reversing. You will get more clear pictures and your safety will be highly secured!
4.
Bluetooth support.
You can Make And Receive Calls Hands Free, listen to the music by BT MP3 Player Function.
5.
iPod support
, it can be compatible with IPOD CLASSIC/IPOD NANO/IPOD TOUCH.
Get the most cutting edge DVD now at incredible price $219 now! Don't miss it! :thumbsup: