Greetings!
Yes Moose05 & Traildust, I promised I would post up my pics, and here we go.
Well, first off - not new to TN or Toyotas (Have a 2006 S45 Double Cab Long Bed 4X4 - quite modified
) and had a 1996 Rav 4 for four years until kids came along)
So my sig line is all about the truck (my pride & joy). Nevertheless, I had to jump on this one when I could: 2001 Highlander Limited Edition; garaged all it's life.
It had 117,000 & change when we bought it - note this is in kilometres (note the Canadian cluster) and this pic shows mileage last night after several "shake down" ski trips into BC (so at about 74,480 mi) :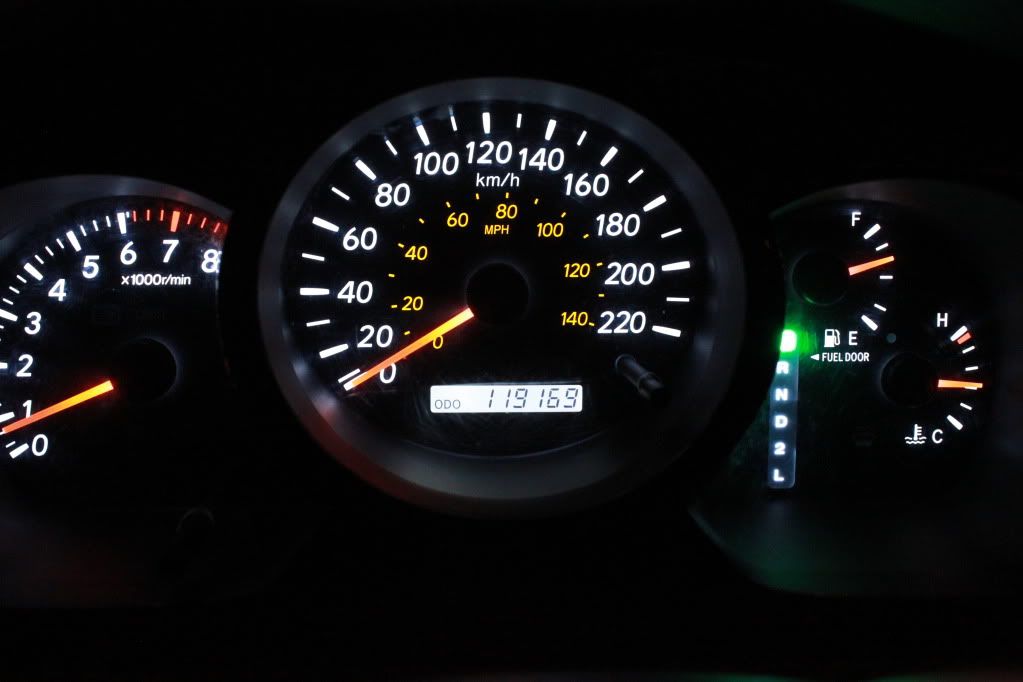 It is a cool midnight black colour (so of course I decided to take pictures at night :facepalm
: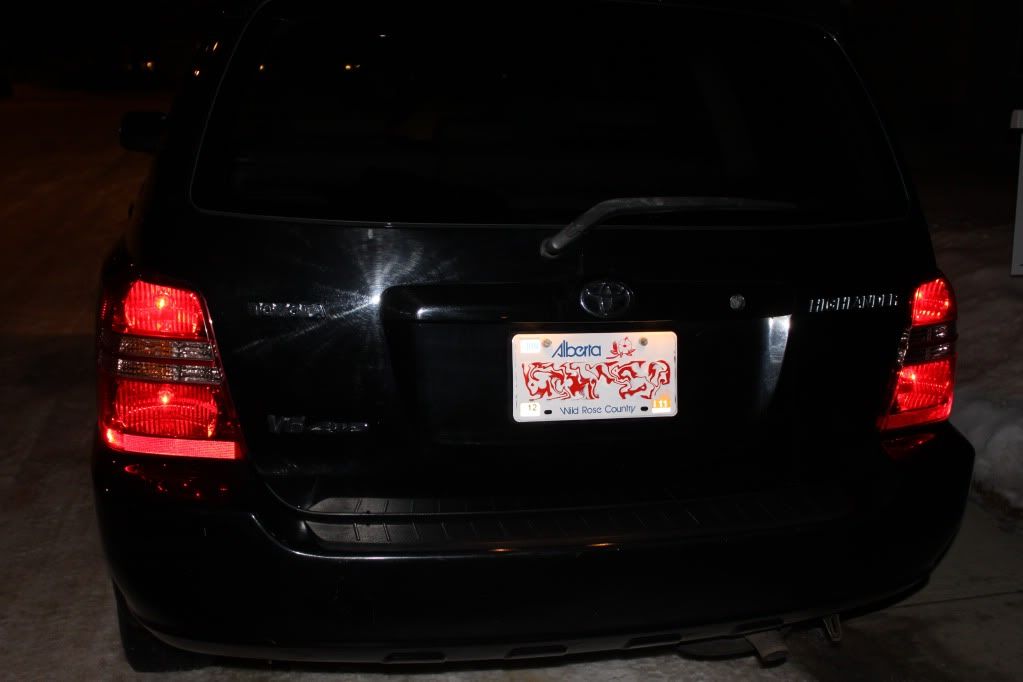 Previous owner added a deflector: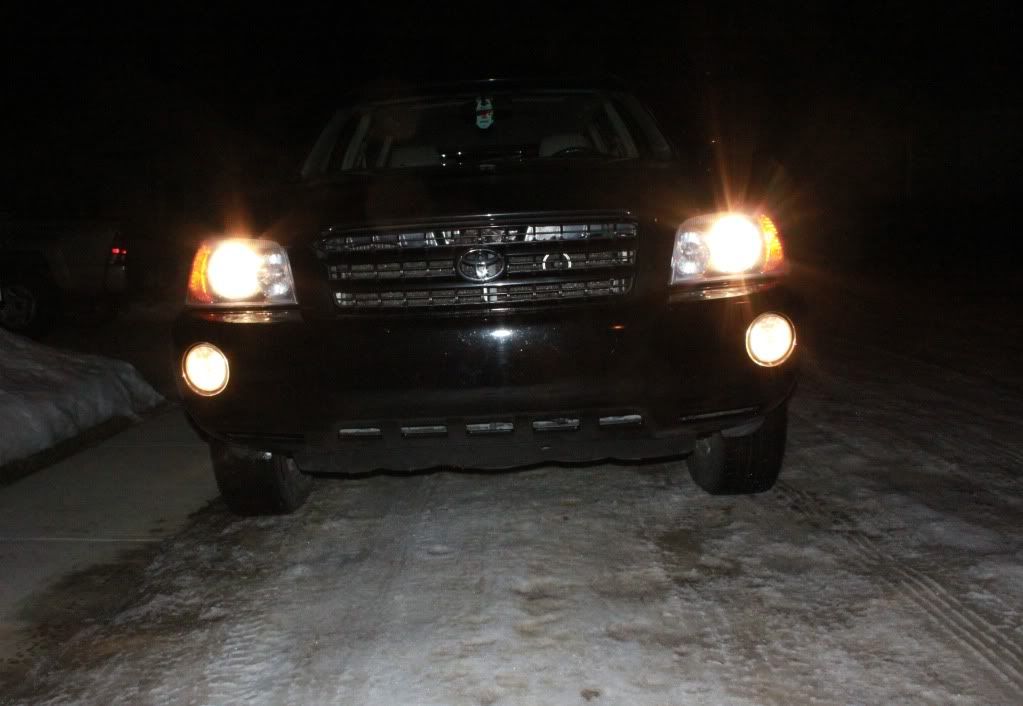 Interior seems *extremely well cared for - still almost smells like new car smell (note all weather mats):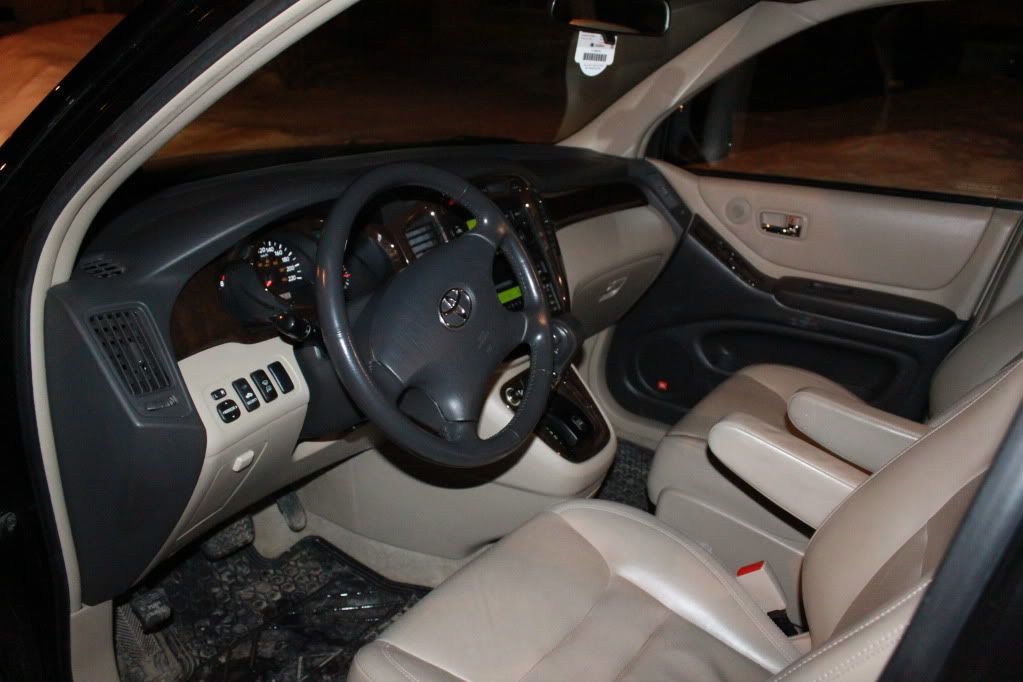 Engine bay also nice:
After poring over the last 3 years of service records, I have determined the local dealership are a bunch of idiots:
they state right on the receipt that they drained and filled the transaxle with tranny fluid AND gear oil :facepalm: (it only uses T-IV fluid)
They claim they drained & filled front diff with 75W-90 oil (which I have confirmed with two currently practising Toyota mechanics that is WRONG - the front diff & transmission (transaxle) share the same fluid, and it's T-IV tranny fluid, NOT gear oil :facepalm:
They claim they "lubed propeller shaft" - which is fine on a 4X4 like my truck, but I have yet to find the grease zerks on the highlander's drive shaft, so I'd really like to know how they accomplished that (and it's also not a recommended factory service item in the service menu for 2001 that came from Toyota)
They charged the guy for 5.8 units oil oil x3 (even though the transfer case & rear diff only use 0.9 litres of oil, and the front none at all.
Holy crap, I knew they were bad after they forgot to put the tranny plug back into my truck last year, but this is ridiculous. :ugh3:
Anyway, I like wrenching, so I will post up some write ups as I work my way forward starting with rear diff. I know there is a guy in Mexico who has some really nice writeups on here (from his Lexus), but the front diff/tranny on our 2001 is NOT exactly the same; so I'll make a 2001 - specific set of fluid change "how-to's." I see our maintenance section here is a little sparse compared to what I'm used to on the Tacoma section. No offence meant by that at all, folks.
If I can believe the dealership, they changed the timing belt at 86,000 km (its on the service records, and there IS a sticker on the timing belt cover, so I feel that was done.) Previous owner was a bit too liberal with getting oil changes done (sometimes went over 8,000 km) so I'll change my own every 6,000 km with a good quality detergent oil for a couple to ensure any sludge forming can be safely dissolved out. Might pull valve cover to check..
Anyone know if the 2001's had the silly service interval light that comes on after X number of miles/km & needs to be reset? Fortunately the Canadian Taco's don't, but if so, I'm sure there's some sequence of pressing odometer button 3 times or whatever to reset it.