Discussion Starter
·
#1
·
I didn't know whether to post this in the NorCal thread or the SoCal thread, or both, so I just decided to make one on its own.
This meet was started from members at customtacos.com, but like me, there are members on there that are also on here. This meet is really a MidCal meet, so hopefully it'll entice members from both NorCal and SoCal to attend. It's in Los Padres Forrest (near San Luis Obispo), so it's about a 3-4 hour drive down from NorCal, and also a 3-4 hour drive up from SoCal. The meet is on Saturday, 3/29/08. The time is still tentative, but I imagine it being sometime in the late morning/early afternoon. This is the weekend AFTER easter, so hopefully a lot of you guys can make it out.
The other guys were talking about making this a mini-camping trip filled with 4 wheeling, target/trap shooting, dirtbike/quad riding (specific trials for these!), and possibly a bonfire. Another thing they mentioned was that,
PRERUNNERS ARE ALSO WELCOME.
Prerunners will be able to ride along on the main trail. It's mostly a forrest trail, so not hardcore 4 wheeling.
Even if your truck is STOCK, it's OKAY
:clap:. There is also a possibility of hitting up the sand dunes at
PISMO BEACH
the next day.
I also wanted to mention that this meet isn't strictly for 05+ tacos. There's going to older gens there, and if you want to bring a buddy that has any other truck, that's fine too!
Map: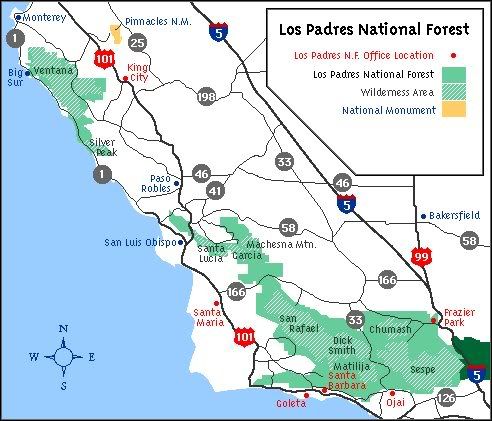 I'm going to be going down there with some friends and we're just going to make a trip out of it. I'm probably going to meet with the other guys for the riding, then do my own thing for the rest of the weekend.
Hope you guys can come. :thumbup:
Here is the original thread from CT:
http://customtacos.com/forum/showthread.php?t=108050