I've been asked a bunch of times about the setup I have on my truck, so I decided to make a build up thread.
Vitals: Stock
2007 Toyota Tacoma TRD Sport
Shortly after purchase
With Tonneau cover, I think it was my first "mod" :lol:
You can also see my LED blue light for the Fire Dept.
A little less stock
Fog Light Mod
Painted Engine Cover
20% Window Tint (Now it's at 3%)
Clear Headlight Mod with some cheap lights from advance auto while I waited for my chrome bulbs
Debadged, then Vinyl badges from sockmonkey, and grillcraft upper
Red interior LED's in shifter, and overhead light. (Poor picture, it shows up much better)
Home made Bumper plugs
Black lower bumper vinyl, and stock toyota skid plate
3" toytec lift:
http://toyteclifts.com/index.php?pa...ategory_id=64&option=com_virtuemart&Itemid=53
884 Coils with top plate spacer
Rear AAL
All with stock TRD shocks
285/70/17 BF Goodrich All Terrain TA KO Tires
No spacers in this picture, on stock 17" sport rims.
Also, unseen, Tom Woods Custom 1 Piece driveshaft
With one of my Toys
Grillcraft Lower
As of Dec 08 with 1/4" wheel spacers (Wheelers) on front wheels (I ran these spacers after taking off the front washers on the lugnuts, to gain back some threads. I still had rubbing with this setup, but not as much as I did without spacers.)
Dual exhaust: Flowmaster Delta Flow 40, Single in, Dual out 2.5" pipe with Black chrome exhaust tips
Rear receiver shackle
Hi Lift Jack mounted in bed
Current as of Feb. 2009
Taillights
Tint-3%
Not pictured or mentioned
Extended steel braided brake lines all around
AFE Cold Air Intake
Wet Okole Seat covers
Fumoto Drain Valve
Tailgate hose clamp
HID's in fogs (6000K)
TRD badges from Sockmonkey
Diff. Breather mod
Weathertech front/rear floor liners
Relocated 7-pin
USA Spec DF15 TOY Ipod adapter
Blue dash lights
Viper 5902 Alarm
FX-R Bixenon OEM Retro-all black with gatling shrouds
4300K
Pictured later on
Shrockworks sliders
Future Mods (this list never seems to get any smaller, but it's starting to!)
Electric Tailgate Lock
Brighter backup lights (so I can see through my tint :lol
Rock lights
Illuminate 4x4 switch
Bed Mat
Minor Audio
Still up in the air about:
A clever name for my truck!
APR X1
Supercharger!
I will update this thread as I mod my truck, or remember mods I've done
As of 6/19/09
6" stage II procomp lift, with 1/4" top plate spacers
315/70/17 Firestone Destination MT
Moto Metal 957 Black rims 17x9 4.53 BS -12 Offset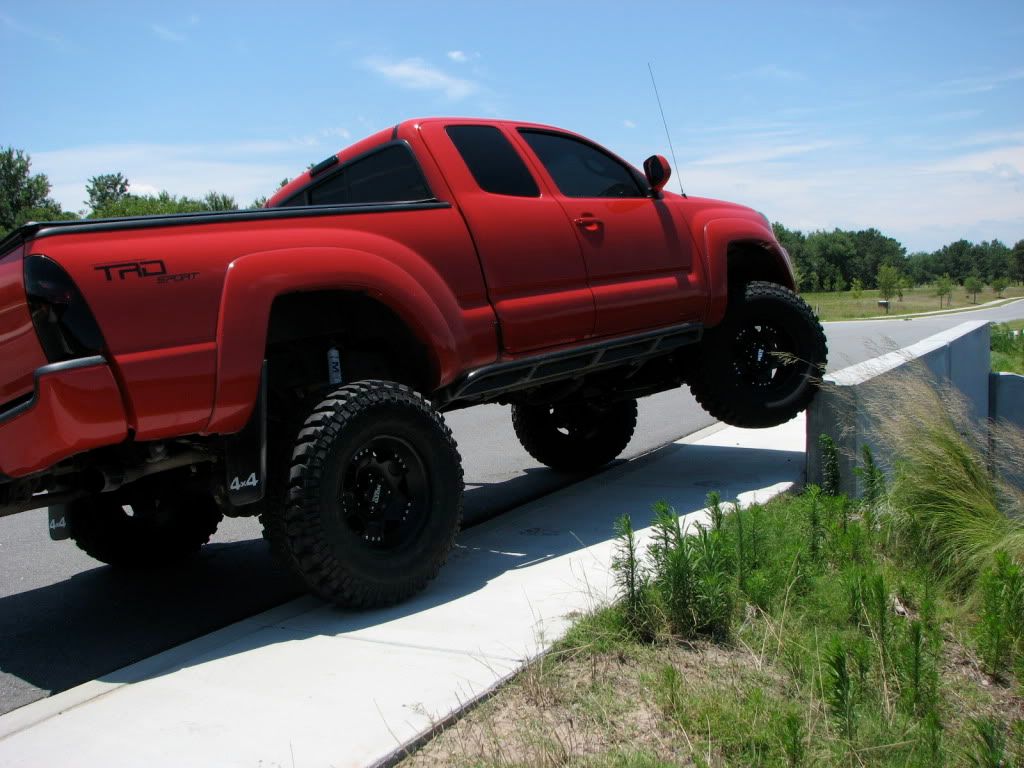 Here are some shots of my FX-R OEM Retro, and a few of Yosh's blue/red LED dash lights.