Discussion Starter
·
#1
·
I'm posting this for Ben, but I am going so let's show them how Cali rolls!!!!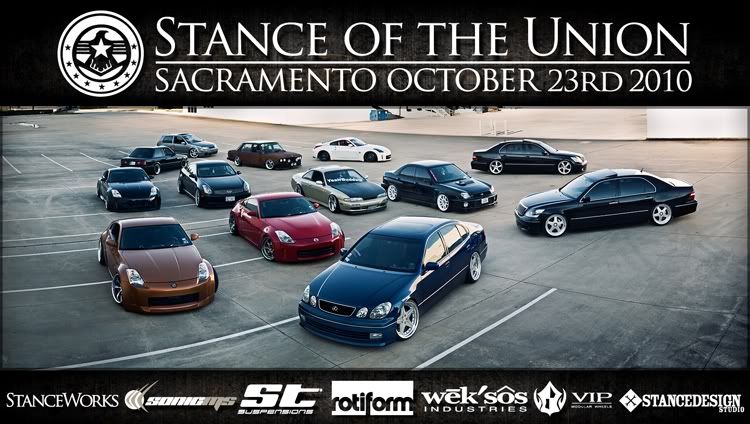 Well, it's finally here... StanceWorks is proud to present Stance of the Union 2010, to be hosted in the capital of California on Oct 23rd. This event has been in the works for a good while now, and we couldn't be more excited about it.
The city of Sacramento has gone out of it's way to accomodate us along with the lead event coordinator, Rob Daehn. He and the city have made it possible for us to have this event in the heart of old downtown Sacramento. We have also managed to make the event free for both participants and spectators. The goal of Stance of the Union is to unite likeminded enthusiasts, of different makes and models to come together all in the name of Stance.
While the event is free for all, we are requiring all cars wanting to be in the event to pre-register. Being that this is a "wheel fitment" event, your car will be pre-screened to insure that you are riding low and aggressive. While we aren't requiring your wheel lips to be kissing your fenders, we don't expect to see sunken wheels within the fenders, nor serious fender gap. We certainly want everyone to come be a part of the event, but ask for those who want to have their car in the show, to get low and aggressive.
There are many more details, which can be found at the Stance of the Union Website. We have hotel accommodations, a series of vendors and a schedule of events all there. You will find registration on the site as well.
Any questions, please do not hesitate to contact Ben at stanceworks.com. Let the countdown begin!
Official Stance of the Union Website​
StanceWorks.com/sotu​