My 06 TRD Off Road Access cab was pretty much all stock including the suspension. Wanted to up the tire size and most of the info out there says that 265/75/16 will fit. Here's my experience.
EDIT - mpg data (good news) and most recent update p2 post #17.
Went with Bridgestone Dueler AT Revo 2 tires. That process is documented elsewhere.
http://www.toyotanation.com/forum/showthread.php?t=353953
Long story, but I got an LT rated, 10 ply tire rather than the typical P rated. Stiffer ride. Might actually have a slightly deeper tread pattern, but I'm not sure about that.
EDIT:
Deeper tread rumor confirmed:
"LTs have 16/32" tread depth vs 12/32" for P-metrics" - thanks Splicer
I'm wonder if that means the diameter of the tire overall is larger as well?
EDIT:
Probably the same overall diameter:
"Bridgestone lists diameter of P and LT as 31.7" for each, but tread depth 12/32" vs 16/32", so I dunno.... there may be a slight difference in OD." - thanks again to Splicer
Here are some before and after pics: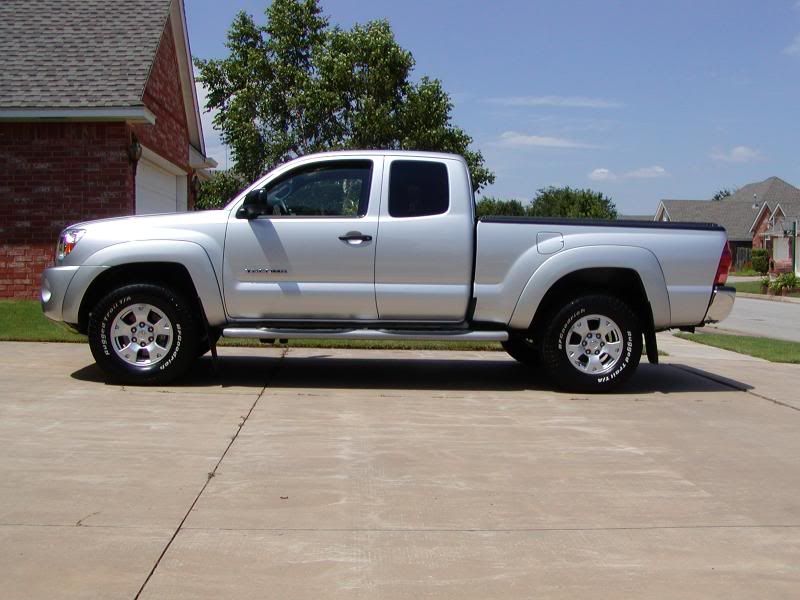 First impressions. Love the look. The pics really don't do it justice. Wider stance, more aggressive look overall. Ride is stiffer - probably because they are LT tires, not due to size. I don't notice any noise at all. The ride height feels very slightly taller. MPG? Too soon to tell.
I had some rubbing right away. Usually with combined braking/hard turn/bump.
The mud flaps were polished in the area that was rubbing so I trimmed them.
Here you can see the shiny black spot on the flap just to the right of the "B"
Trimmed it:
Initially I was proud of myself. But soon I was hearing some rubbing again.
Here you can see another polished black spot - just to the right of the space b/n the B and the R:
So I trimmed that area: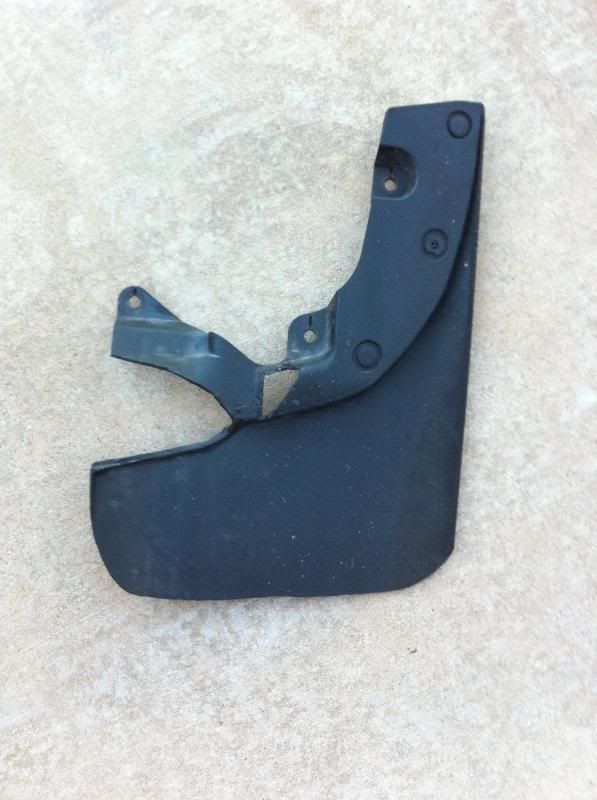 When I put the flap back on I noticed the fender flare sticking through the hole: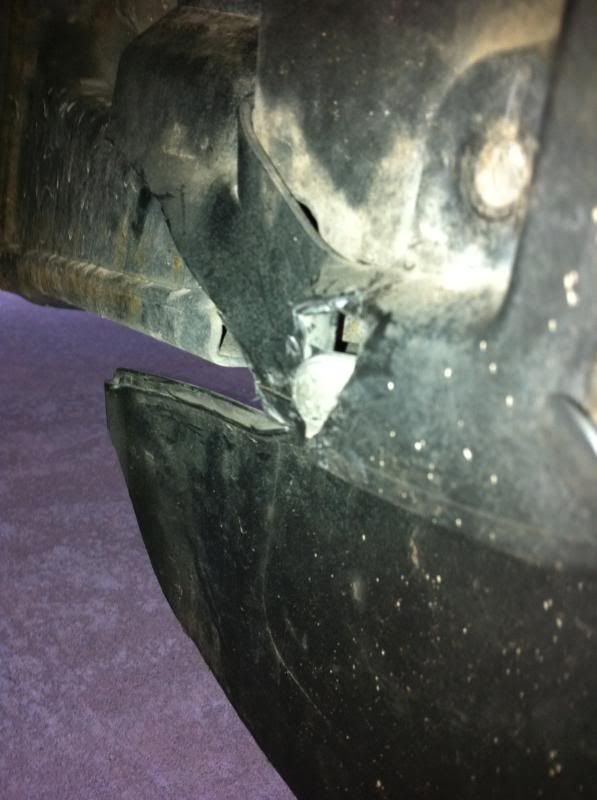 I trimmed that area easily as well. It was plastic and was really easier to cut than the mud flap.
Today I didn't notice any rubbing at all. You can't tell very well from the pics - but the clearance is very tight. I was worried, but was pleased today when it seemed fine. I'll have to see how things go for a while.
FYI - the trimming was easy. I'm totally new to this. Some heavy snips are the right tool. I can't remember who gave me mine or why, but they worked great. So far I'm pleased. The look is what I was after, the trimming wasn't a problem. If I have to do more things might change.
Hopefully this helps someone else like me out there...