Discussion Starter
·
#1
·
Blah blah blah, had Konis in the front and junker struts in the rear. Discovered on taking the Konis out that they'd been blown for some time...as in pissing oil all over themselves and so drained that they wouldn't even rebound when compressed all the way by hand.
The rears, of course, were just as bad.
Can't say much for my strut mounts, either, given that the rubber piece in the front that's supposed to be concave ( \_/ ) was in fact convex ( /-\) and had two rings of cracking on each mount.
Ride quality wasn't great. Soft and floaty on the highway, underdamped, I was sitting extremely flush but mostly thanks to sag. In-town bumps would cause oscillations beyond the initial impact, almost like driving a land yacht. Turn-in was also a little intimidating for passengers. I'd swerve hard into a turn and you could feel the body roll dramatically from the shocks, then a little more from the progressive portion of the springs, then a little more still from sidewall flex. Granted there was more than enough grip that Jez would always hold the line I threw her into, but that initial lurch gave a lot of people a lot of panicked moments when they figured we were going to just roll right over, swaybars/Eibachs/good tires not withstanding.
So, some parts and labor later....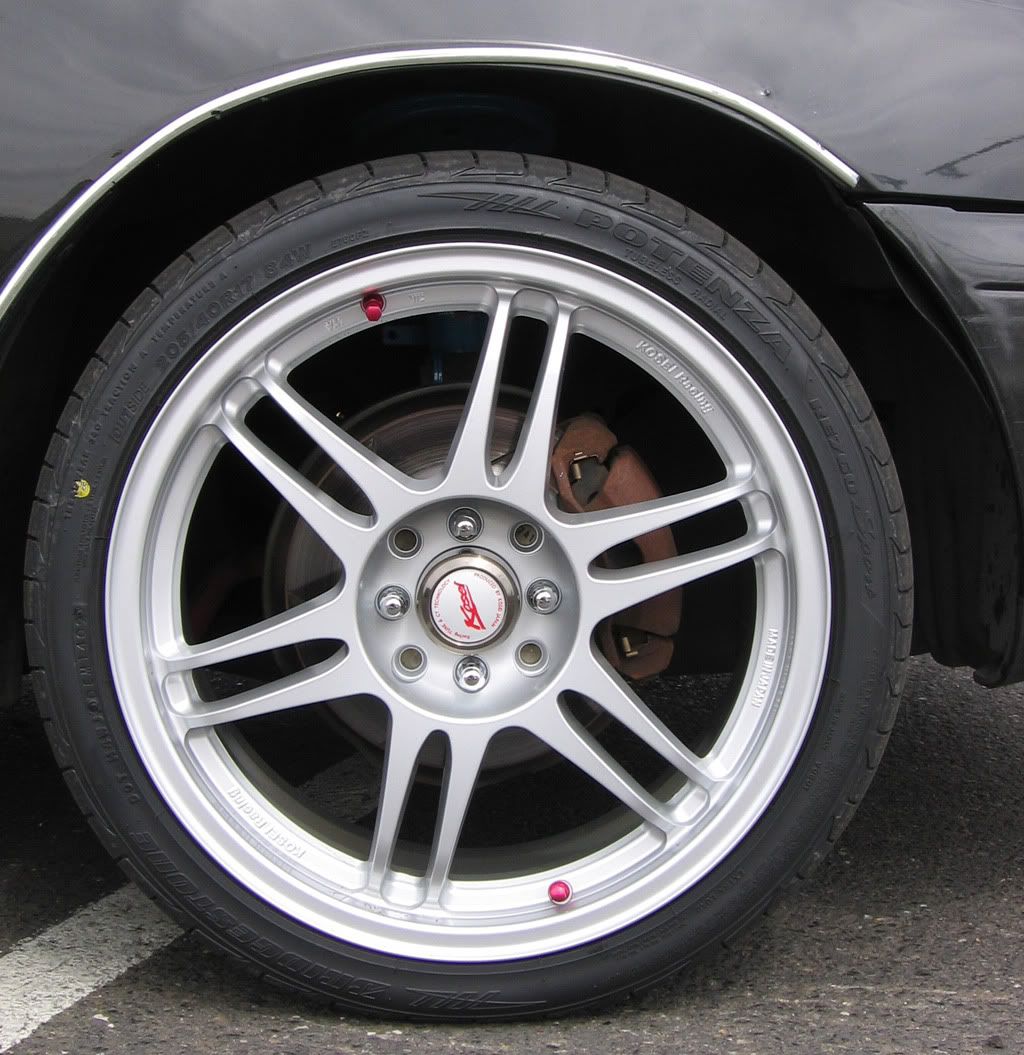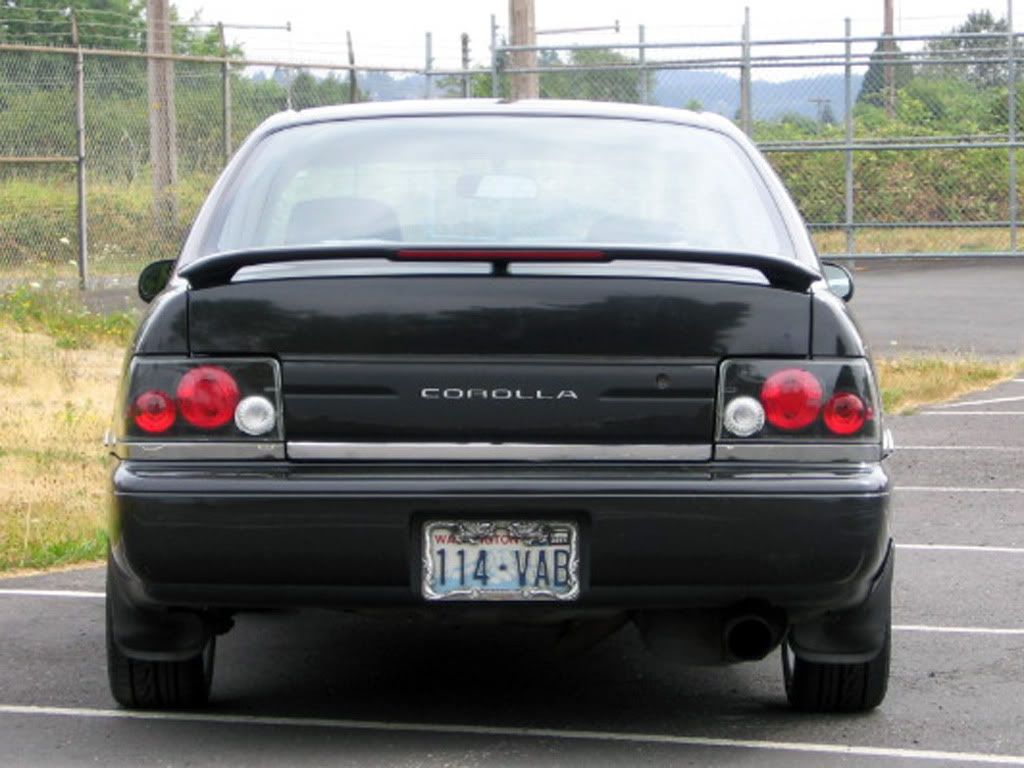 The rear trim panel is giving me fits, I've got the Krylon Fusion to paint it black so it STAYS that way and I've got some silver vinyl chrome tape on the way to replace that mockup matte-silver stuff on there now...but one of the bolt studs is utterly stuck in the fascia so putting a wrench on the nut just spins the stud. I can't pry it off by pulling on the rest of the panel while wrenching, I don't want to risk snapping the panel in half by pulling harder, there's no real way to get under it, and it'll be infeasible as hell to try and put down newspaper in the panel gaps so I can paint it while it's on the car. I may have to rip it entirely off and just start working on a new one. *Sigh* Anyway, the wheels are nice and wide.
And now the moneyshot.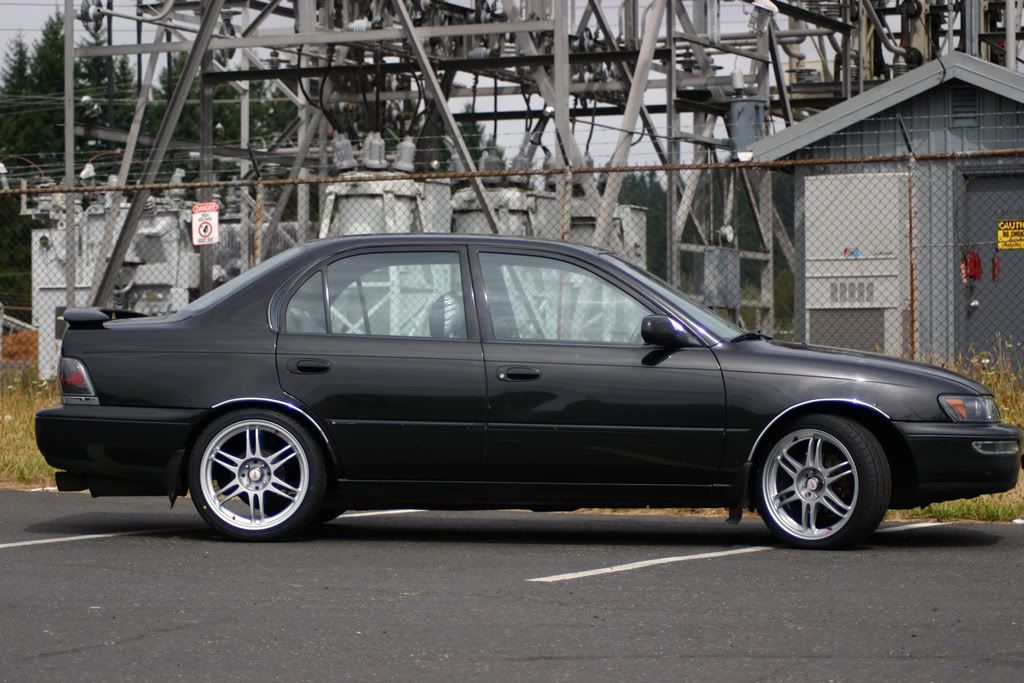 The ride is still very informative, a bit harsh, but bumps damp out quickly. I found a place in town that rolled the fenders for $100 all around and so far it only rubs a little in back when I've got a 300-pound passenger and hit some of the bigger road surface irregularities. Yes, I've already gone up and down pothole/speedbump-fillled roads at speed, because I have NO USE for a car that can't back up the looks with ability. Riding on the highway is actually a little quieter than the 185/65/14s were but I can feel the increased weight in the wheels/tires when I go to turn, or accelerate, or brake. It's hard to describe, maybe a bit more of a resistance in the steering, but I'm aware they're there. There's a slight tracking tendency for road surface ruts (running the factory-recommended alignment) but the turning response is just unbelievable now. A super-tight onramp that I used to take at ~45 in a four-wheel drift, steering with the throttle and leaning way back in to counteract the body roll, I can now take at 45 with no noise from the tires, body roll only the camber of the corner, and with my foot planted flat to the floor, meaning the only reason I'm not going faster is because there's not enough horsepower to both accelerate and steer with that large of a contact patch. That ought to be taken care of in a couple months.
Tomorrow I'm heading down to Brookings via the mountain passes on 5 and little back roads through the national forests. I'll be sure to report back on how big of an improvement this setup really is in my familiar stomping grounds.
Anybody want a set of 14" Kosei K1-TS wheels, complete with 3 General Altimax and 4 Kumho Solus HP4s, 3 Generals and 1 Kumho mounted & balanced and three spare Kumhos, about 60-70%+ tread left on all of 'em? Hit me up, I'd like to see $500 (plus shipping) for the whole shebang. Pictures available, missing two center caps ($13.50 at Tire Rack, c'mon) but I've got the lug nuts and the tools and the centering rings and everything.