Discussion Starter
·
#1
·
So... anyone following anything I do knows I have way too many cars and way too many parts and way too many projects....
Had a 7age in the ae92 that lasted a whopping 50 miles.... it had a completely stock 7a shortblock (all original) except for rod bearings and new smallport 4age pistons & rings.... spun a bearing.... took a risk, block had 200K on it and nobody in town can turn a crank...
So, the ae92 got just another JDM smallport 4age.... which was a fiasco in of itself.
This car was destined to have a 4agte.... until I got my old 87 hardtop supercharged & megasquirt car back with a blown motor.... well, the 4agze from the t-top went into the hardtop (which is on the road again).
So... now once again the 87 t-top gets left in the dust.... except that I really want to have a t-top in the summer and I have a lot of spare parts, including this 7a with one spun bearing....
I also have a friend..... (yeah, I know, really)..... he has some spare 7a parts.... full crank & rod set..... he also has a set of adjustable cam gears for a 4age..... I have a spare JDM bigport motor lying around that he wants..... so....
The 87 t-top will have a 7age, C50, and running on MS.
7age will have:
adjustable cam gears
smallport 4age head with cleaned valves and new valve stems
smallport 4age high comp pistons (a whole 50 miles on them! :lol
with new rings
New oil pump
New main and rod bearings & thrust washers
Hopefully this go around it works better :ugh3:
I will get photos as it goes.... so far I have the 7age on the stand with pan off, oil pump and bearings in the house, and should be getting the crank, rods, and gears tomorrow.
Here are photos of the first go around:
As it sits now: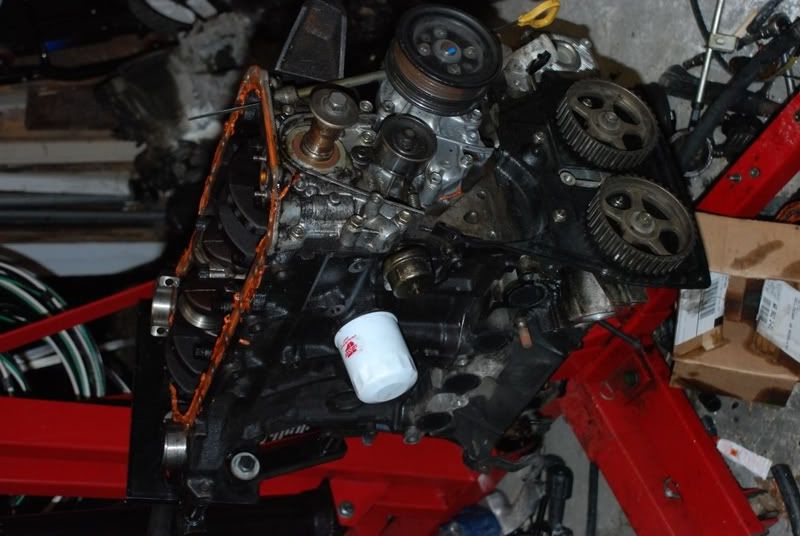 The biggest concern I have at this moment is that the ae92's header was modified to clear the 7a... I have a couple spare 4age headers, but the shop that modified the ae92 header shut down.... to make matters worse, the 2 spare headers I have and the ae92 header all use different down pipes.... so, not sure I can even use the ae92 header without modifying it for the aw11 AND modifying another header for the ae92.... :thumbsdow