Background:
Ram air doesn't work, CAI doesn't gain anything more than the stock box and they both cost money. IMHO The only reaso to buy any of the *expencive* CAI setups is for the metal pipe bling factor. I can achive the same bling with sand paper and Duplicolor Engine spray paint, sorry...
Theory
The more air in a cylinder, the more fuel you can burn, the more power you have.
Instuctions
Two mods you can do by themselves, or in combination.
1) The stock box is already CAI, however there are two things you can do to improve it's function! When you take out your battey, and unbolt the relay and fuse boxes, you can see the CAI that goes behind the fender from the bottom of the stock box.
By taking that pipe out and replacing it with <insert cheap, large diameter pipe here> 4" dryer ducting, we obviously have an easier time drawing in air, especially around 3500-4000rpm and from 5000rpm on.
2) Cut the bottom of the original airbox out. While some may argue that it will then injest hot air, this is untrue. If you take the box out you see there is a huge path striaght to ground for air to flow. It's there, so you might aswell take advantage of it if you don't want to do any other intake mod.
I will also now say 100% that the sound from #2 is astonishing. (depending how much you cut out) It sounds IMHO better than any of my friends v6 Maxima, Accord, or domestic V6's, and I've gotten many compliments from them not only about how good it sounds, but that it's free.
****************************************
*Edit*
Even better... Remove the entire intake system. No filter box, No filter, No piping, No un-necessary restriction,
NO PROBLEM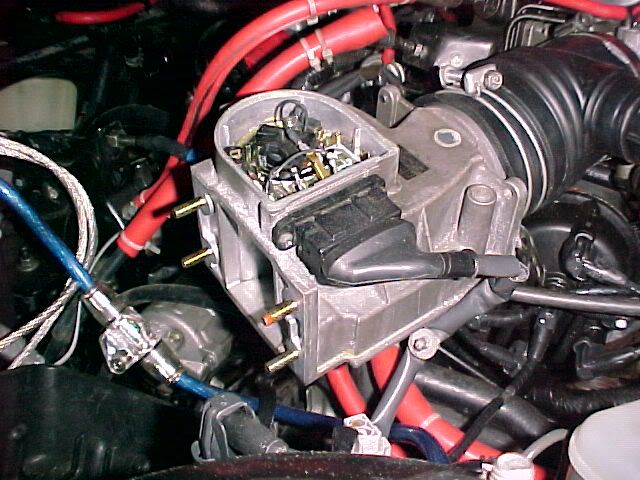 ****************************************
Other Articles in the Series:
Part I Quicker Transmission Shifting
Part II Adding Airflow
Part III Taking Advantage of Intake/Exhaust Upgrades
Part IV Cheaply Monitoring the ECU & A/F
Part V How to pick up MPG, and sleep with her too!
Part VI Acing Aerodynamics
Part VII Cheap Water Injection
Part VIII Electronic Transmission Controller
****************************************