Hello everyone and hopefully I have this in the right section. I am completely new to the car world. Having had a truck for the last 6.5 years and a bunch of ******* friends, I haven't had the luxury of dealing much with cars. Very recently I just picked up a 2014 Camry Se Sport and I am in a bit of a pickle. While I know one of the major differences is the wheels compared to the SE options, I basically wanted it for the sunroof with the idea of getting aftermarket wheels later on. I tried browsing the site to help minimize newbish sort of questions but I am still learning how to maneuver around the site and much of what I searched on showed older generations and I just wanted to make sure I was on the current up-to-date information.
Essentially, I am considering selling my tires and wheels. I am leasing the vehicle so I know it will void parts of my warranty but that is entirely fine with me as I will most likely just sell or buyout the vehicle when it gets closer to the the due date. Problem I am coming across is a price for them or even what's reasonable. My co-worker is considering just getting the regular SE and buying my wheels off me and he threw out a number of $500. I understand that OEM wheels are expensive and while I am not trying to make a killing off them, ideally knocking down the difference in a new set would be great, especially with graduation coming up. Some posts I saw noted that a steal price for the set is $600-800 while others said more. If someone could give me a ball-park or guide me in the right direction that would be wonderful or even hints on where to be looking. To give a visual, this is where I am sitting currently.
Now to the fun stuff that is actually interesting. Wheels and Tires are a new concept for me in the car business. On my truck, I knew exactly what companies I would deal with both tire and wheel. Well, cars are a bit different and ultimately I am no where near familiar with them. I typically purchase my sets from America's Tires. I am hoping to get a black with red lip combo. I like typically a star pattern with decent width going to each side.
A set they had that caught my eye on their website was the Drag DR-23 with black and red stripe.
Another set that I seen that caught my eye was 18 XXR 962 Black Red Stripe.. When found these though they fit on a 2012 so would have to further research if all would work on my vehicle.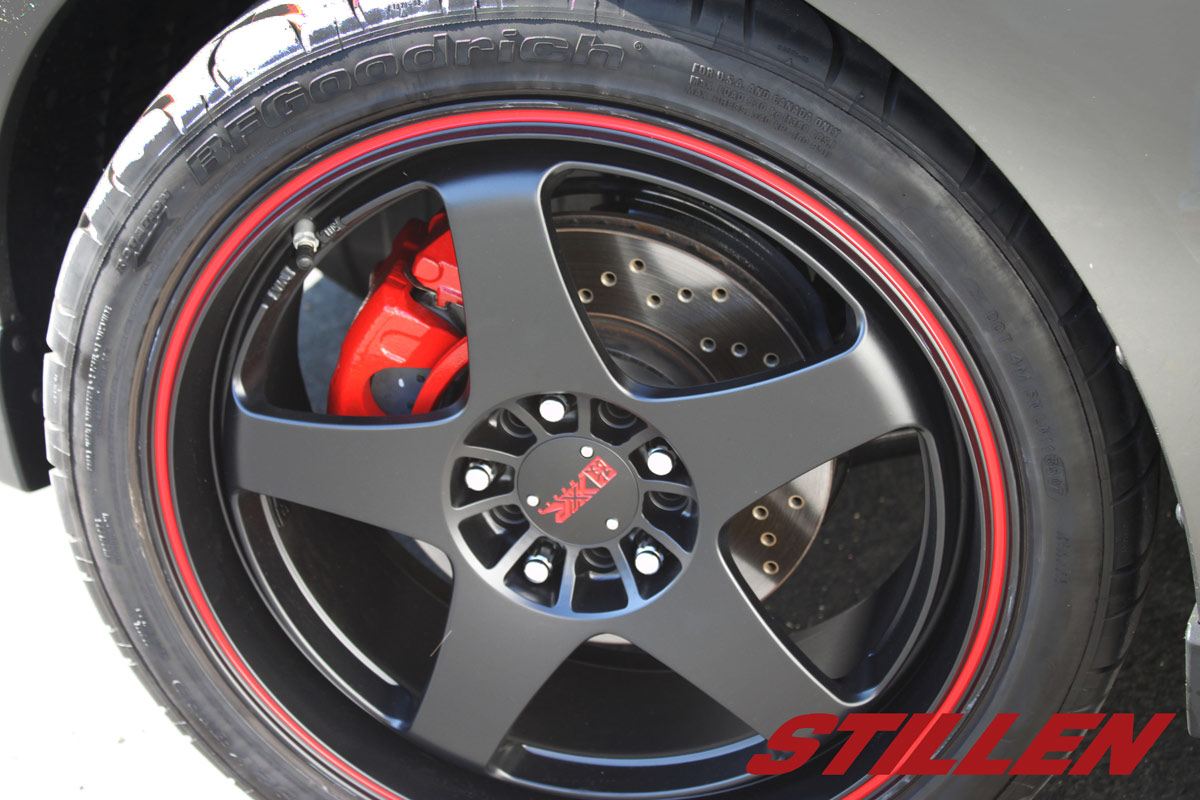 Ultimately, that is the design I am thinking of leaning towards. I haven't ventured into much else yet as most don't catch my eye. I want to keep my vehicle basically just black and red with few places that chrome pops out but mostly just the factory chrome. I like the contrast it puts on the vehicles. Another thing I plan on doing is painting my calipers Red which I think would work well with black wheels. I saw some people saying that Drag Dr was junk wheels but some swear by them as well. My co-worker said a cheaper good quality wheel is XXR so that is kind of what lead me to those two categories.
I am not familiar with a real good set of tires for this vehicle either. I am planning to put a lot of miles on my vehicle until June when I graduate. I am hitting about 2200 miles a month currently. After that point, hard to say if they will increase, decrease or stay the same. With that in mind, I am hoping to search for a decent all weather tire for the rig. Something that looks nice, durable, decent life and aggressively priced compared to the rest. Basically something that will get the job done but won't break the bank as well. I do a decent amount of fishing / camping / hiking / and just whatever outdoors so I will occasionally come in contact with snow, mud and rocky trails. I understand that it is a car so I don't plan on going off-roading in it by any means (this last weeks snow fall though, she did pretty good for the most part on the 14 inches we got)
Monday will be my last day at my current job which will allow for me to actually take the time to dig into things further and truly get a feel for what hits the spot but until them I am fairly caught up with school and two orgs I am in. Any recommendations or guidance would be much appreciated. Even opinions would be great. My first vehicle was a Honda which somewhat reflects on my interests in wheels. I'm open minded to direct criticism as I would like the vehicle to look great.
Also, if I am in the wrong section please let me know and I will move my post. I just know the first post talks about wheel and tire related questions getting pushed here.
Thanks again guys and pleasure joining the Toyota family.