Discussion Starter
·
#1
·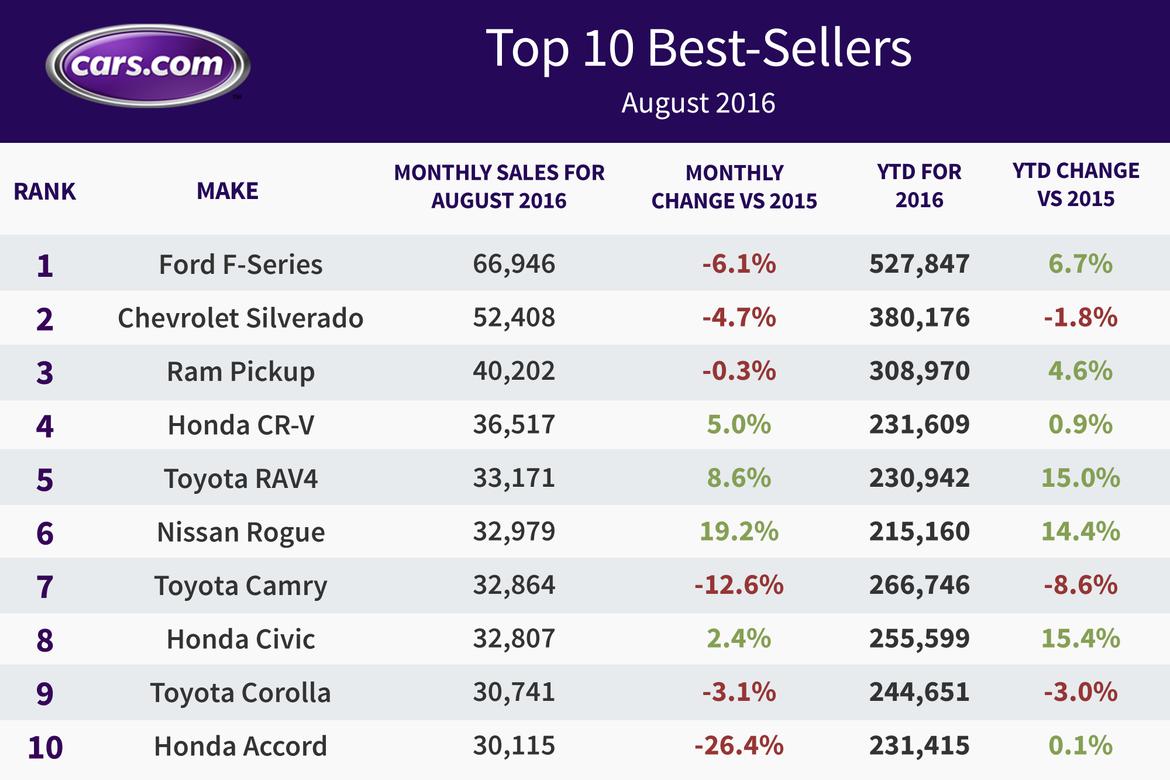 https://www.cars.com/articles/top-10-best-selling-cars-august-2016-1420690244108/
CARS.COM — If you had any lingering doubts that consumer tastes have shifted to SUVs, August's sales figures should erase them. Besides the top-selling pickup trucks, the best-selling new cars in August were the Honda CR-V, Toyota RAV4 and Nissan Rogue — three compact SUVs that outsold the sedans shoppers once reliably preferred. Through the last 60 months of auto sales, there hasn't been a single month where three SUVs topped the rest of the non-pickup class.

Consumers love SUVs. Among non-luxury segments, compact SUVs gained 4.9 percent in August sales while subcompact, midsize and full-size truck-based SUVs all had double-digit gains. Meanwhile, popular sedan segments declined in August as overall sales for the top seven automakers fell 4.4 percent. Analysis predicted the trajectory despite strong economic indicators for the month; August marks the third monthly decline in 2016 by Automotive News' sales tallies, though year-to-date sales for the top seven automakers are still up about 1 percent.

"After several years of strong gains, growth is stabilizing," said IHS Markit senior analyst Stephanie Brinley in a commentary. "What is important to read out of the August results is that the industry is largely disciplined on incentives and production. Though incentives will play a more significant role for some specific models and segments as is typically true, average transaction prices are also reported to be coming up, reducing the net impact of incentives increases."

Sales fell for six of the 10 bestselling cars, with double-digit tumbles for the Toyota Camry and Honda Accord — a snapshot of shoppers' sentiments toward non-luxury midsize cars, which fell 26.1 percent in August. By contrast, the Rogue, RAV4 and CR-V climbed a combined 10.4 percent with no significant increase in factory cash incentives versus last year, according to Automotive News. Shoppers drove all three nameplates up despite a late-month spike in gas prices, though fuel is still cheaper than it was a year ago.

Full-size pickup trucks still dominated the chart, but the segment fell 5.6 percent despite housing starts — a key driver of pickup sales — hitting a five-month high going into the month. Pickup shoppers in August flocked to midsize models instead: Bolstered by the redesigned Honda Ridgeline and a big bump in Nissan Frontier sales, the segment gained 39.2 percent in year-over-year sales. (Honda sold a modest 3,437 Ridgelines, but it had just a 30-day supply to start the month, per Automotive News. That's way below the industry's 61-day August average.)

Curiously, the drop in new-car sales came as used cars continue to get pricier. Auction company Manheim's index of wholesale used-car prices entered August at a five-year high. One more sales tidbit: Hyundai reported initial sales for its new Genesis luxury brand, whose first car is the G80. Essentially a rebadged Hyundai Genesis sedan, the G80 accounted for 1,497 sales last month. That means it outsold the Cadillac CTS and Lexus GS without its own retail network. If these numbers are any indication, good things could be in store for Hyundai's shot at luxury.
RAV4 sales are going in places they've haven't gone before, while Camry has been dropping while the Civic can't be stopped.