Discussion Starter
·
#1
·
Valentine's Day Specials from Adam's *Save 15%*
Hello all TN members! Give the gift of shine this Valentine's Day with Adam's. Save 15% on your favorite Adam's products now through February 14. Simply use the coupon code
TN
when you check out at
Adam's Polishes
.
Absolute Essentials Kit - SAVE $43
Our Absolute Essentials Kit is our absolute top recommendation for detailing perfection. From the fire-hose spray nozzle and grit guard bucket insert to super plush microfiber towels and top line dressings and polishes, the Absolute Essentials Kit is stuffed with everything you need for a complete hand detail. Save $43 on your Absolute Essentials Kit with our Valentine's Day sale price.
Order here.
Detail Spray Refill - Free Super Plush Towel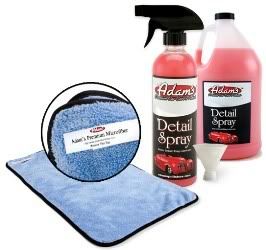 Detail Spray without microfiber is like Cupid with no arrows. Get a FREE Super Plush microfiber polishing towel and funnel with the purchase of our Detail Spray combo pack that includes a 16oz sprayer and a gallon refill. With the 15% sale and FREE towel and funnel, you're saving $20 on this combo deal!
Click here to order.
Thanks for checking out our Valentine's Day Specials and please contact us with any questions!
-The Adam's Team
__________________
Justin Politte
Detail Tech
[email protected]
www.adamspolishes.com
:Bruce: