It looks like I'm going to have to take my 1993 Camry to a mechanic to find out what's wrong, but before that I wanted to see if anyone has any other ideas about why this is happening so that I can at least give them idea.
As I said before, the tail lights stopped working. The brake lights do work. I looked inside the Lamp Failure Sensor and one of the connections in the tail light relay was blown and the board was burned. It looks like this: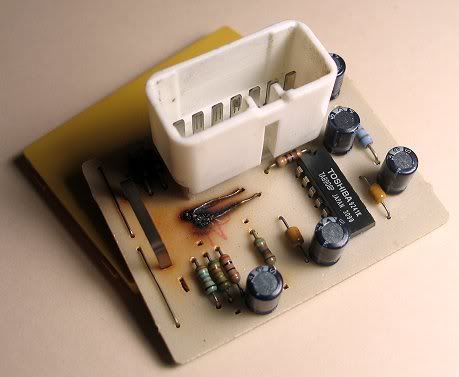 Resoldering the connection fixed the tail lights, but the wires overloaded and burned again. I got a working replacement sensor and it overloaded exactly the same way, so the problem must be somewhere else in the system.
Can anyone give me any ideas about why these two specific wires inside the box would be overloading, and why it's happening specifically at the point where they connect? None of the wires in the trunk show any signs of burning or breakage and no other parts of the circuit board appear to overheat (including the other parts that carry the tail light current). (EDIT: This isn't true. The other parts of the board that carry the current have also singed a bit, it's just not as noticeable.) If there's too much current passing through the tail light wires, why isn't the tail lamp fuse breaking? Is there any obvious reason why there would be too much current going through the wires if that's what's happening?