http://www.motorauthority.com/tata-working-on-nano-for-the-us.html
Hate to see one of these in a crash but i'm sure there will still be buyers.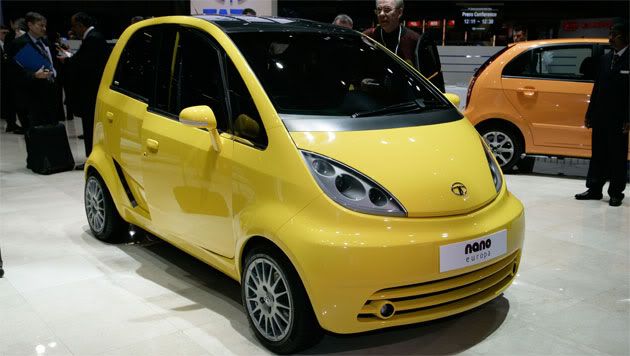 Just this week Tata finally launched its Nano in India, instantly taking the title of "world's cheapest car" with its sub-$2,000 price tag. Now word is emerging that the company has its sights set not just on India and Europe, but the U.S. as well.

Building the Nano to meet U.S. requirements for safety and speed will be a difficult task, and is sure to drive the price up above the incredibly low price of the Indian-market Nano. Tata gave us a preview of what a U.S. Nano might look like in the form of the Europa, on display at the Geneva Motor Show earlier this month.

That car is larger, features a larger three-cylinder engine much like the Smart ForTwo, and is packed with more features than the car launched this week in India. Ratan Tata, Chairman of Tata Motors, even hinted at the possibility of U.S. sale at Geneva, saying, "We are delighted to present the Nano Europa for future launch in such markets."

Today a report emerged in the Financial Times indicating that Tata is considering the Nano for U.S. launch by 2011 or 2012. The short time frame lends further credence to the idea that Tata would use the already semi-developed Europa platform for a U.S. vehicle.

The question then becomes one of American tastes and tolerances - will U.S. buyers be willing to set aside issues of quality and size for the low, low price that even a relatively expensive version of the Nano is likely to bring?